Brazil: FIFA confirmed Confederation Cup venues
source: StadiumDB.com; author: michał

All six stadiums submitted by Brazil were accepted by FIFA, even though two met with severe criticism a few months back for construction delays. Now we present current status (and photos) of all the chosen venues.
During a visit in Sao Paulo FIFA representatives announced their final list for the 2013 Confederation Cup, perceived as dress rehearsal before 2014 World Cup hosted by Brazil. Games are to be played at three of the country's largest venues and three smaller, that will host group phase in 2014. Current progress info on each of them can be found below.
Along with venues we also heard of ticket prices. Those presented by FIFA will surely be out of reach for most Brazilians. Cheapest ones, for group stage and 3rd place match, are priced at $60-120. Opening match and semi-final tickets will cost $80-140 and final game entry starts at $100 and ends at $220.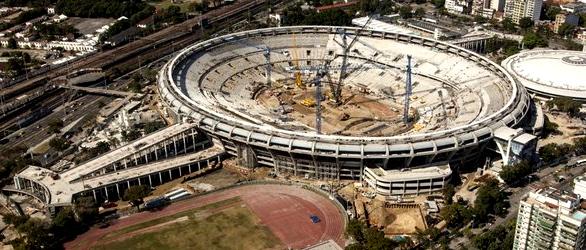 Football's biggest temple exceeded 70% in mid-October on the way to host both tournaments. This means construction won't end in 2012 as projected, but should be done in early 2013. Double-tiered stands are already converted to a giant single tier with roof cables being prepared on the ground for lifting.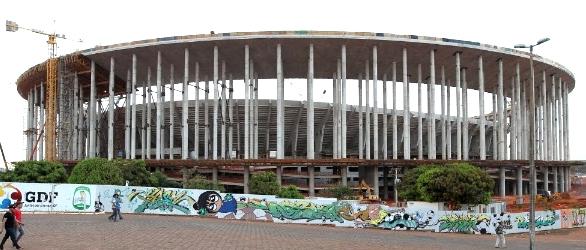 Progress at the so-called national stadium (most probably there won't be one, in fact) in the capital stands at 81%. Stands are ready and so is the massive concrete ring surrounding it which will give support to the roof. This part is yet to be done.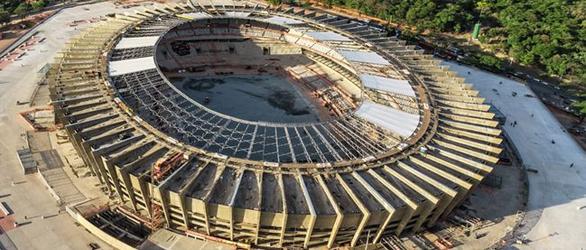 It will host just under 70,000 people during the tournament – significantly less than before. But almost half the stands were recreated to better encircle a football pitch. As stands moved closer to the field, so does the roof which is now being covered with membrane after growing to cover all people. Infrastructure inside and esplanade are still being worked on as well with complete progress moving towards 90%.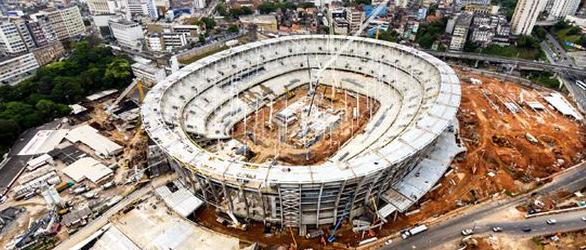 Cable roof structure is already in place with steel frames being added to support the future membrane cover. All three tiers for audience are ready and cladding works are starting on the exterior. FIFA raised questions over construction delays, but significant acceleration in recent months made it almost reach 80% already.
The most advanced project of the tournament stands at 93% already with concrete works all done and roof structure in place, awaiting for the sheet to cover it. External cladding of aluminum netting is also being installed now.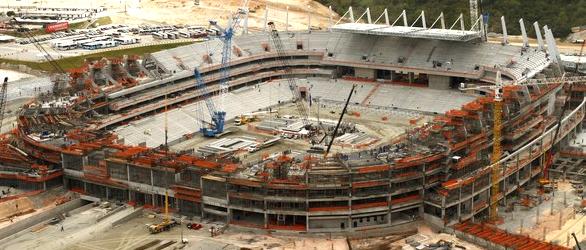 Until recently the least advanced venue of the tournament now managed to get past the 70% mark with most of the concrete structure in place and roof installation ongoing. A 20% increase in a matter of weeks may be seen as outcome of FIFA's doubts whether to keep it or drop from the 2013 host list.