Euro 2012: Why some aren't all too enthusiastic
source: StadiumDB.com; author: michał

The closer to the event, the more signs of discontent about Poland hosting Euro 2012. Though most people are still happy about it, it's worth knowing why others aren't.
With Michel Platini announcing that Poland and Ukraine are the next hosts of European Championship, time stopped for a brief moment of disbelief – did he really mean us? One of those memorable events in your life that you remember exactly what you were doing when first hearing of it. And from that moment on everyone knew things will change because they have to if we are to invite all of Europe to our two countries.
Back then having four world class stadiums seemed like a distant dream with only the national one in Chorzow meeting basic requirements for international games. Today, while writing this, it's hard to find a city or town that hasn't got a new stadium already or isn't planning to have one done soon, as you can see in our construction section. We're talking about some 30 new football grounds in just a few years.
But in the atmosphere of building a whole new football world, something was lost. Social studies performed by scientists in Polish Euro 2012 host cities have shown that citizens, and among them most strongly regular football supporters, don't feel they will benefit from the tournament. As if it was done for someone else's gain, but at their expense. Within months the mood changed from euphoric to skeptical and even hostile. The closer to the opening game in Warsaw, the more tensions seem to appear with last matchdays of the Ekstraklasa and first open training sessions being an opportunity for supporters to express their disregard for the tournament. And back in 2007 they were making tifos to support it. How did we come to this?
One might think it's a typical "against modern football" attitude that despises extensive commercialization of the sport presented especially during tournaments like this. But that wouldn't even be half right as large efforts have been made to antagonize supporters from the event. The situation inside Polish venues is deteriorating rapidly contrariwise to the infrastructure that was supposed to be built for all of us.
Polish Cup Final, Bydgoszcz
Crucial moment was May 2011 and the Polish Cup final in Bydgoszcz. Photos of that evening's events traveled around the world sending an image of rioting hooligans during (though in fact it was after) a game of major significance. All this on eve of first event of such grandeur given to Poland. This only brought the tension higher.
Media hype projecting Polish hooligans will sabotage Euro 2012 started. Huge pressure of the public opinion lead to very firm reaction by the government, which was a rather unfortunate one at the same time. Stadiums of Legia and Lech who played the cup final were closed on the basis that they're unsafe. Ironically one of those stadiums was at that moment ranked as the safest in the country (Warsaw) and the other, Euro 2012 venue in Poznan, was announced closed before policemen even came for their safety check, making the decision sound ungrounded. At the same time the clearly unsafe stadium in Bydgoszcz remained open and organizers of that game who were largely responsible for nearly nonexistent security measures were left untouched.
New laws
Works on new anti-hooligan legislation began already in 2009 to secure Poland ahead of Euro 2012. It was supposed to copy best practices from England and Germany, but proved not to over time. First changes were implemented in 2009, last ones just a few months ago. When new legislation was published, it turned out football supporters were deprived of basic civil rights. Not without opposition from the constitutionalists or Polish Ombudsman who however had little impact on the changes.
To give a few examples – clubs were granted the right to issue stadium bans on any basis without the fan in question having a trial or chance to appeal to any exterior organization but the club itself, with no-one overlooking the clubs' decisions. In practice this meant clubs could easily ban people for going to the toilet, as stadium regulations often deny them the right to leave their seat without steward's approval. And in case you're laughing, there were numerous cases almost as absurd as this. One woman was given the highest possible stadium ban by Legia Warszawa for approaching a security guard and asking him not to spread tear gas which affects not only someone causing trouble but the whole stand. I asked two MP's who supervised works on this legislation, what if a supporter was banned wrongly, like the lady in question. Grzegorz Dolniak, member of the Commission of Interior Affairs (later among victims of the Smolensk tragedy), admitted they didn't actually consider a possibility that fans can be punished without being guilty, but "left it that way temporarily not to block works on the new law" (indeed, this was later changed and improved the fans' position a lot). Another example: once you step inside a stadium you may be taken into custody by the police on any basis and without the right to question the arrest in court.
April 15th 2012. Lech Poznan ultras mock the claims of them being a threat to Euro 2012. "We like risk and we play rough. Hordes of hooligans, beware you louts"
New practices
Almost all possible penalties were increased with elements like pyrotechnics seeming to be of top priority. Currently when flares are lit inside stadiums, police analyze DNA samples and fingerprints. High fines and court banning orders are given for fairly harmless use of curse words like "f#ck" or standing in the stairways.
Kielce who opened the first modern stadium back in 2006, is a city that became famous all across Poland for similar sentences. A big report about policing practices there was published by Natemat.pl, showing how one can be treated like a criminal for taking an empty seat in a half-empty stadium that differs the one allocated on his ticket. After each game this season, dozens of fans were being arrested based on similar charges. When the supporters trust organized a lawyer and started winning in court, all supporter-related cases were started being assigned to one judge who only allowed the arresting officers as witnesses, bringing the banning statistics back on the rise. As a result, the players of Korona Kielce launched a protest and Aleskandar Vukovic, team's captain, pledged guilty of using abusive language inside the stadium and demanding a ban for himself on national TV. Korona's president issued a statement in which he demanded fair and reasonable treatment of people who come to the stadium. Organized supporters left the stands to protest restrictions with the players and club's understanding. Attendances dropped to lowest level in years.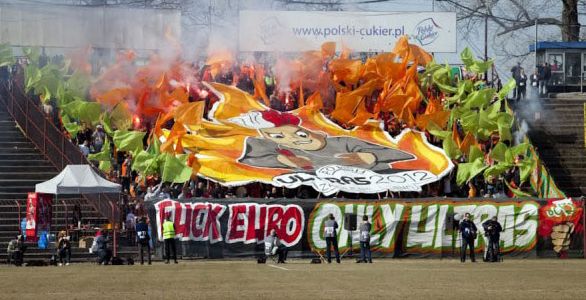 March 23rd, 2012. "F.ck Euro, only ultras" - say Zaglebie Lubin on away day in Lodz. Photo: Legionisci.com

Finally, in late April this year police have issued a nationwide ban on huge flags or in fact any flags inside stadiums that allow for people to hide behind them to light flares or put on a mask "to perform crimes" - how they literally wrote it. This isn't a law, just interpretation of one, but caused huge opposition. Not only among supporters who treat flags as means of expression (though it did happen that pyro-launchers were hiding behind them, indeed), but also among highest profile penal law specialists. This interpretation was not implemented by clubs so far, but there is a threat officers may use blackmail to impose it on them. Along with new legislation came new possibilities given to the police that may effectively block any game or make it an empty-seat fixture.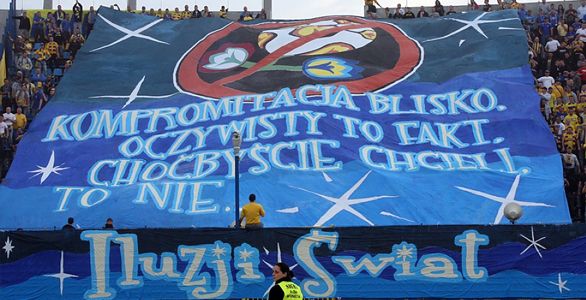 May 9th, 2012. "Compromitation is near and that's a fact. No matter how much you'd want it, it's not the world of illusion" - by Arka Gdynia during away game in Bydgoszcz. Photo: Wojciech Szymanski, Arkowcy.pl

New stadiums for new viewers
When you see the Warsaw National Stadium during the opening day of Euro 2012, keep in mind many people were prohibited from seeing it live just because they were... Polish. As police spokesman told "Gazeta Wyborcza", this venue was built for big, friendly, international events. Not for domestic games. Interestingly, the Sports Minister Joanna Mucha repeated this argument, by claiming that Polish fans are more "rabid" than those from other countries. In practice this approach means the Polish Supercup between Legia Warszawa and Wisla Krakow, planned to be played in Warsaw, was canceled just three days before scheduled date and didn't happen. After long search police found one thing that gave them excuse to close the venue – their own walkies-talkies didn't work in the lowest level of the underground parking lot that was either way going to be closed for the game.
May 6th, 2012. Widzew supporters wrote in English "Let's meet on Euro". Wrong grammar, message supposed to worry authorities.
They used the same excuse in April when Polish Cup Final was planned to be played yet again at Warsaw's National Stadium. And again it didn't happen. Search for alternative venue brought a few interesting findings: none of the Euro 2012 stadiums was able to host a game of two Polish clubs. Poznan wasn't even taken into account as supporters there are antagonistic to the finalists and safety in the city itself might have been an issue. Gdansk unofficially couldn't secure such a game (claims by the FA later denied by the police), Wroclaw was also ruled out as it was still under construction and didn't have permission for any games at that time.
Old results
It needs to be outlined that Poland has a very obvious problem with hooliganism. However it is a problem that has been decreasing for years now with the events of Bydgoszcz 2011 being an incidental case. This season we've seen disturbance of similar sort during only one Ekstraklasa game. They are equally unacceptable and should be prosecuted with full determination – most supporters in Poland would probably agree that there should be no room for people who come for violence. The question is – does hunting hooligans legitimize depriving all viewers of their civil rights? Should fight against hooliganism include penalizing all improper behavior inside stadiums equally? Current events show that identical sentence may be given for actual rioting and for sitting on a wrong seat. All this contributes to the frustration and images you're seeing attached to this text.
May 6th 2012. Wisla Krakow making clear what they think. Similar short messages were sent out from various stadiums.
There is an ironic part to it too. Can anyone guess how many pitch invaders the police actually identified after the events of 2011 Bydgoszcz final? To date only about 120 of well over 1,200. And of those, as the police admit themselves, vast majority are fans who invaded the pitch to celebrate the trophy with the players as it was done for decades, not to cause trouble. Fact is that very few people who were aggressive that night were brought to justice. They didn't hide behind flags and the game was played at a stadium with proper surveillance. Still, now they're doing very well, the hooligans. Yet statistics show the number of banning orders in Poland is growing like an avalanche. All this for the sake of Euro 2012 preparations and higher standards for the future. Or so the public is told.
If you can get a ban for any possible reason, if you are not allowed inside best Polish stadiums just for being a supporter of a Polish club (which may indeed sound insulting), there may be a part of you that will eventually say "enough". This is what I believe is happening now in Poland and is a huge shame. Because a fair dialogue and more balanced approach to football supporters would only bring positive outcome, while for the time being both supporter groups and police, with the government's backing, are winded up in hostility. There may be demonstrations of club supporters during Euro 2012 (first signs seen during trainings), some even speculate about fans seeking revenge on how they've been treated lately and planning incidents to humiliate Polish organizing committees. Most possible scenario, though, is that Polish ultras already had their say in recent weeks and will step aside as vast majority of them are simply not interested in the event. Let's hope for a great tournament as we await the first whistle!