Stadium of the Year 2021: We are halfway through the voting
source: StadiumDB.com; author: Robert Saganowski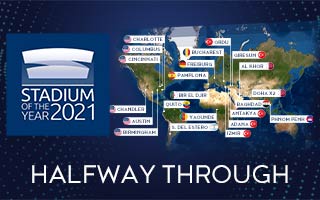 March has begun, and that means half of the voting in the 2021 Stadium of the Year competition is already over. Thank you for your active participation so far! If you haven't voted yet, we remind you that you only have time until March 14 to do so. Who knows, maybe it is your vote that will decide on the final classification?
This year's Stadium of the Year contest is special for several reasons. Not only did we nominate as many as 23 arenas from 5 continents, but for the second time in a row we had to adopt modified criteria for evaluating stadiums due to the global pandemic situation. Remember, you can choose your favourite venue at this link: Stadium of the Year 2021.
Among the nominees you can find as many as 6 arenas from the USA, 5 from Turkey and 3 from Qatar. Among the latter are the arenas on which we will have the opportunity to see the world's best footballers during this year's World Cup. In addition to those listed, we have nominated venues from 9 other countries, including Algeria, Cameroon, Ecuador, Cambodia, Spain, Argentina, Iraq, Germany and Romania.
For over a week now, we have been promoting the candidate stadiums daily on our Facebook, Twitter and Instagram to help you make the decision. For the second time, we have also prepared a video presenting the nominees:
So far, the system has counted over 11,000 votes, for which we are extremely grateful. We would like to remind all those waiting to vote that the platform will be closed at midnight [CET] on March 14. And since voting is simple and free, it's worth choosing the best stadium of 2021 with us!
Once again, we would like to remind you that you can vote at this link: Stadium of the Year 2021. There you will find a list of nominated stadiums, along with their descriptions. Remember, you have to choose five arenas (distribute 15 points between them - the first gets 5 points, the second 4, the third 3, etc.) and click "vote", only then your choice will be counted. You can vote only once - subsequent attempts will not be counted. We invite you to have fun together with us!