Fans might not see the changes, but 2021 has a lot of them
source: StadiumDB.com; author: michał
As top leagues return for the 2021/22 season, they're all bracing to give the same level of excitement despite some uncertainty still remaining about public health. Some changes will not be felt straight away but could be here to stay.
Summer of 2021 could be a breakthrough in more ways than one. After 1.5 years of issues, football is back with crowds in most countries of the west. Whether it's 50% of capacity or up to 100%, like in Premier League, we're back to the enthusiasm, noise, joy and common, shared experience.
Typically, this includes pre-match meetings with friends, lively banter in the stands. While matchday programmes turn from paper to digital, some fans might also feel inclined to place a bet and after the game… their experience will once more depend on the score rather than restrictions.
But, while it may seem like 'same old' experience, it's not entirely like it. Stadiums around the world have been preparing for this moment, with new safety protocols and sanitary standards. While the vast-surface drone disinfection of mid-2020 might not be around in the long run, it seems some solutions could be here to stay.
One primary area is cobotics, or the cooperation of humans and robots in covering crucial tasks. Ahead of their first home match of the season, Tottenham Hotspur have promoted their new solutions, which see autonomous cleaning vehicles mopping vast areas of the new Spurs stadium.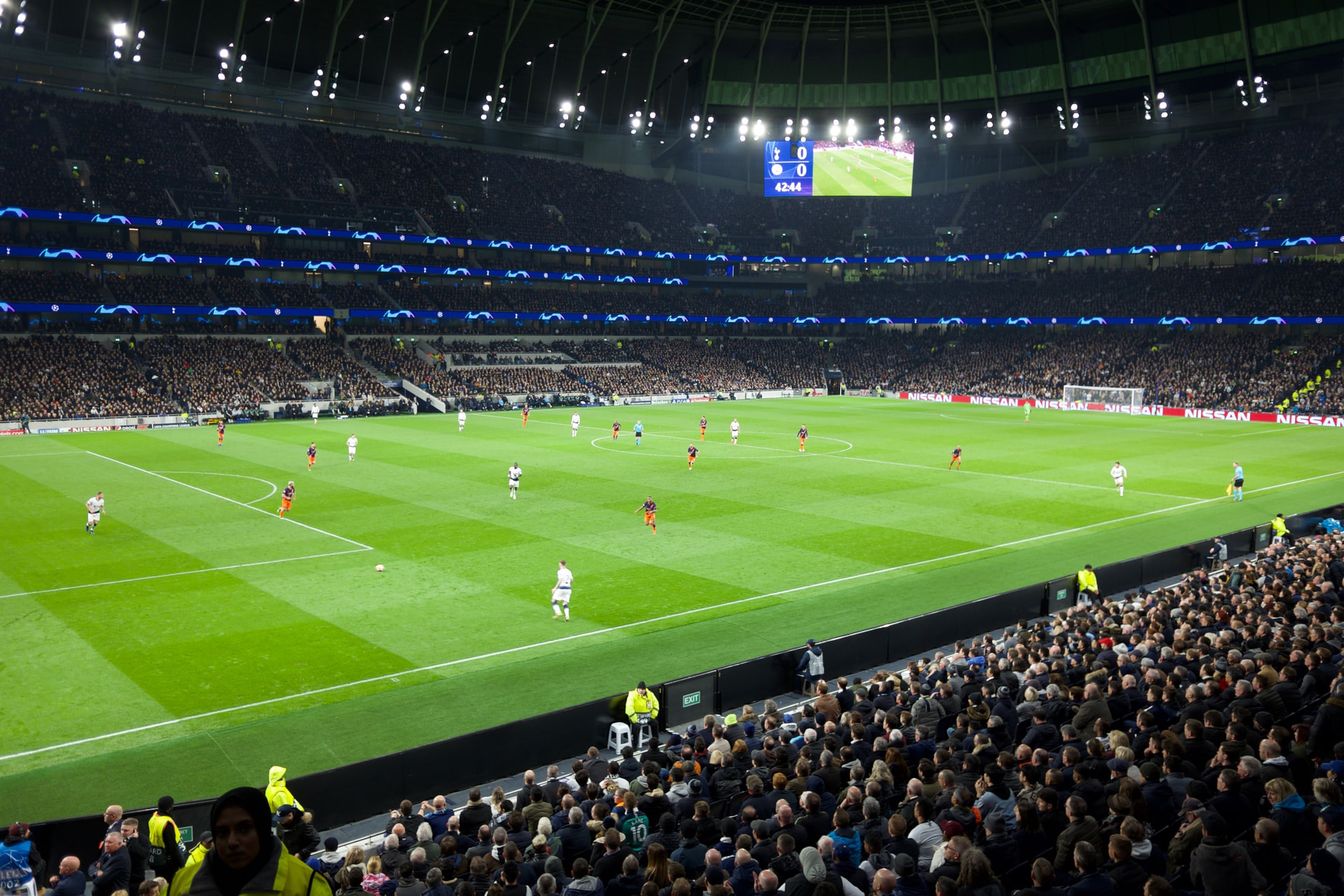 © Tim Bechervaise
Like the popular cleaning robots used in households, these machines learn their stadium's map and can outperform people. They also require limited in-person oversight and can be launched at various times, making matchday logistics easier.
After all, stadiums are rather quiet and empty most of the time but when fans enter in their thousands, litter is pouring out of bins and any help is appreciated. Clubs and stadium operators are working on changing the habits of fans and improving waste management (like by the introduction of reusable cups instead of single use plastic), but the fact remains: you cannot have 60,000+ people at an even and not worry about cleaning up afterwards.
Because of the dynamics of stadium operations, solutions saving time, money and energy are clearly seen as beneficial. One more idea promoted by Tottenham is fogging, or deep cleaning of large surfaces with fog created out of a disinfectant solution. While not required in all spaces of a stadium, it could stick around in hospitality areas, having already been well known in both catering and care industries.
This, of course, is combined with more and more functions being packed into our phones, limiting in-person contact and exchange of physical money. Not only sources of entertainment and match stats, smartphones are now our matchday tickets (with nearly all top English clubs either offering or working on such solutions) and might soon take over as the main payment method. They help reduce queues on matchdays and boost revenue in the ever-so-competitive world of football.
Sure, the transition from paper tickets to digital isn't always going smoothly, but it's one of those little changes we might just need to get used to. For fans still in love with paper tickets for collection purposes, options of printing them out remain in all clubs we've managed to check.
Just like tickets and purchases, nearly all aspects of stadium operations are being reconsidered, from the tiniest details to crucial elements. On the big expense side, some stadiums have been investing heavily in air-purifying technologies or new surface cleaning. Lucas Oil Stadium in Indianapolis, for example, has implemented air filters to control the quality of air inside and limit both pollution and transmission of any viruses. Philips Stadion in Eindhoven, went ahead and installed UV luminaries across player-related areas to disinfect them quickly and on a daily basis.
But even seemingly smallest actions are being reconsidered. What happens when a ball is kicked into the stands? Usually, fans throw it back and it's used in play again, even if not instantly. Well, now some clubs require any such ball to first be disinfected and only then given back to the players. Organisation of queues inside stadiums has also been changing, just like distances between mobile concession points. Most of these solutions are expected to be retained at least in the medium term, even once restrictions of 2020 become a distant memory.
If you're a fan, you might have not noticed any of the aforementioned changes, except possibly for having no more use for cash or paper tickets. And yet the way stadiums operate is constantly being transformed to make the most of the current situation and insure the venues re futureproof.