Poland: Raków's everlasting stadium curse
source: StadiumDB.com [MK]; author: michał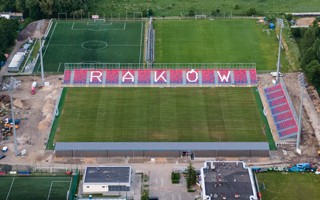 For years the city of Częstochowa had neglected its obligations and now constant delays and financial difficulties just won't stop. Just when Raków has grown to be one of Poland's top teams on the field.
In May they celebrated the first ever Polish Cup victory, on Saturday they managed to defeat favoured Legia Warszawa in Warsaw, reaching for the second trophy this year, the Super Cup. This comes on top of ending second in Ekstraklasa. It's by far the most successful season for Raków Częstochowa, a proper way to celebrate the club's centenary and a Cinderella story in the making.
It would have been fantastic if not for the fact, that supporters weren't really able to see much of the historic events live. The team was homeless throughout the 2020/21 campaign, forced to play in Bełchatów. Initially, the hiatus from Częstochowa was supposed to end in the second half of the season. League authorities even imposed penalties of PLN 30,000 (€6,500) for any home game played outside their home town past January.
With the 2021/22 season upon us, Raków is exactly where it was last year: with no stadium to call home. Their Europa Conference League tie against Sūduva Marijampolė and potential clash with Rubin Kazan (should they advance to 3rd qualifying round) will not take place in Częstochowa.
In order to be able to accept fans, the club moved both fixtures to Stadion BBOSiR in Bielsko-Biała, a whole 130 km away. Supporters will be provided with group transport options by the club. In the league, Raków asked for the first home game (August 1) to be switched to away fixture as their interim stadium will not be conditionally approved for Ekstraklasa until August 6.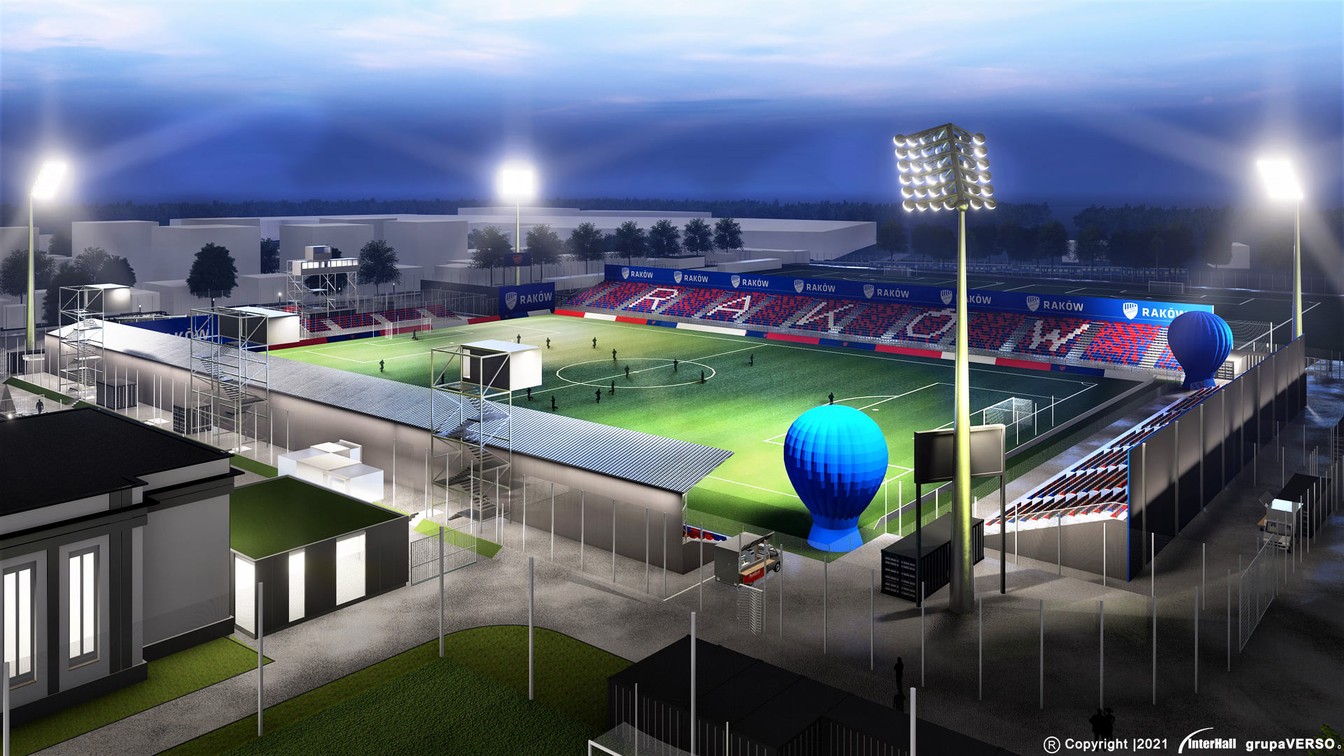 How the stadium is supposed to look. © Grupa VERSO
Why an interim stadium only?
Seeing Raków's rapid growth from third league, the city of Częstochowa in 2018 decided to follow the example of Nieciecza, where a compact stadium was delivered within a few months. Except that... the adapted concept proved far beyond Częstochowa's financial capabilities.
The city had PLN 7.5 million set aside for the stadium, while the PiS government promised up to 20 million more during the preceding local elections. But since PiS' candidate didn't win, it ended with 10 million for the 2019 tender, leaving a total of 17.5 million (€3.8m) secured. Meanwhile, the cheapest offer in the tender was worth PLN 78 million (€17m).
The tender was cancelled due to lack of funding and the football club – at that time already in the top flight – came up with a rescue plan: stadium built with modules and demountable tubular stands. It was widely agreed to be the fastest way for Raków to play at home, with design+build time expected to be app. 8 months. The scheme was approved by the end of 2019.
Things just won't fall into place
While the concept was a sensible one and within the city's financial abilities, obstacles began piling up soon. With time being of the essence for Raków to return home during 2020/21, tender complications alone caused a 4-month delay.
General contractor InterHall was finally selected in mid-summer of 2020, which meant the new stadium should have been ready in late March of this year. However, it soon became evident that construction pace is too slow. The contractor suggested COVID impacted the schedule and delays are possible, even if the city suggested everything is OK even in early 2021.
The budget of PLN 17.5 million (€4m) wasn't retained in the end, with additional works being forced by the Polish FA (PZPN) and the police, worth PLN 1.6 million. Of course, this also caused further delays. Now, with Poland's labour and construction markets falling into instability and sudden price spikes, there are issues with supply of even basic elements needed to finalise the works.
As a result, the interim stadium is now expected to be delivered as late as mid-October, nearly 7 months behind its 8-month schedule!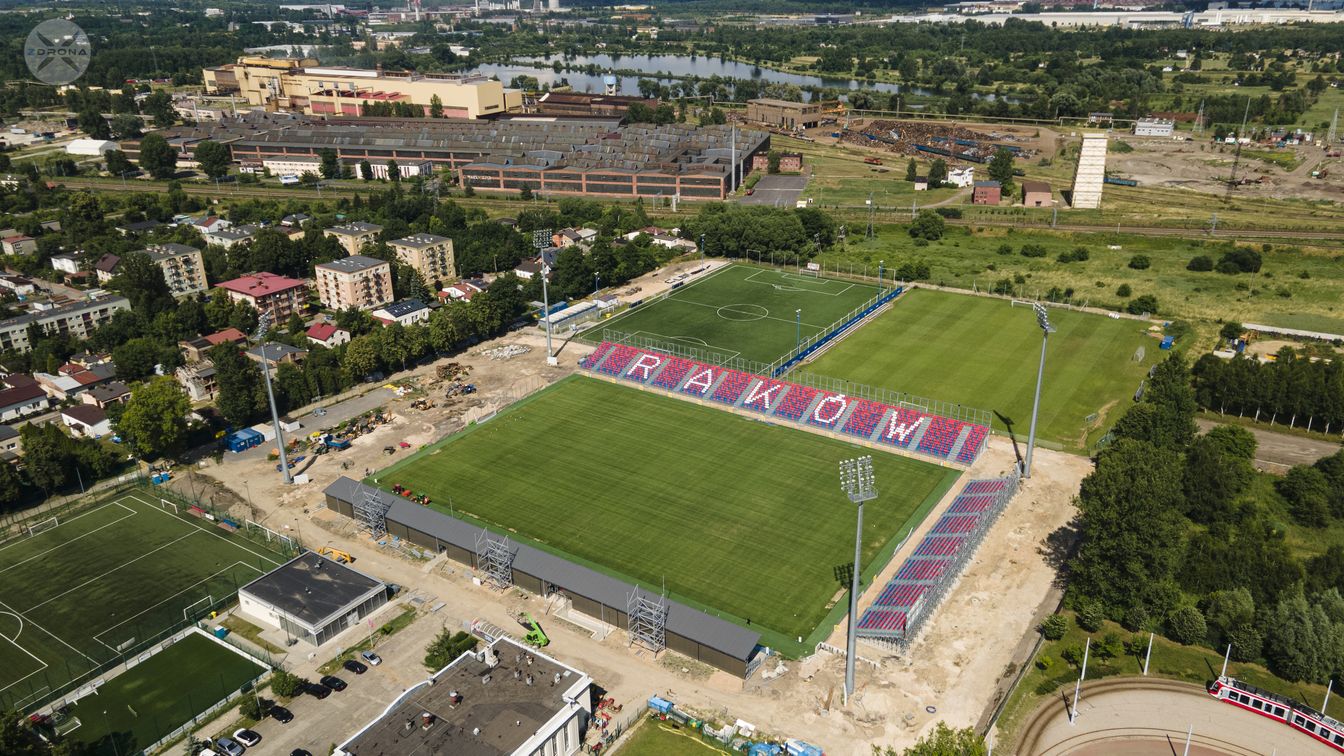 How the stadium is looking now, as of early July. © zDrona
Any chance for a better stadium?
And even when it opens for all fans, the new ground will be by far the poorest venue throughout Ekstraklasa, lagging behind the revamped stadiums in other cities. While its structure will, by definition, be temporary, the old saying that "stopgaps last the longest" might come true for Częstochowa, sadly.
The city is in dire financial situation after the government's legal changes (diminishing revenue and increasing spending on local level, making cities more dependent on central funding) and might not be able to afford a big stadium project in the next several years.
As confirmed by mayor Krzysztof Matyjaszczyk in an interview yesterday, it's not possible to think of a better stadium without external funding. Meanwhile, current programmes of the sports ministry and the EU don't include subsidies for professional sports venues.
The domestic recovery investment fund, Polski Ład, might prove helpful, as it offers sports project subsidies of up to 90%. Except that there's no clear way to get Polski Ład funding, it depends on unilateral green light from the government. This was also the case during the last recovery fund programme (RFIL) and ended up with PiS-governed municipalities receiving bulk of the funding, while opposition-governed places – little to none, in extreme cases. And remember, PiS failed to win back Częstochowa in 2018.
As per his last interview, mayor Matyjaszczyk sees the biggest chance in new EU funding for 2021-2027. Priorities for this period aren't clear yet. If sports projects are back on the agenda, Częstochowa might follow cases of Rzeszów, Lublin or Białystok, which succeeded in delivering major stadiums with EU support.
Negligence, Częstochowa's original sin
It has to be mentioned that Częstochowa was lagging behind other cities in sporting terms for many years. Even with Raków's improving standing, there was very little interest in investing in their dilapidating stadium. At times, the municipality's left-leaning majority was openly in conflict with the football club. Had a project been launched a decade ago, the city wouldn't now be in its sad predicament.
Author: Michał Karaś