Euro 2020: Investigations launched into Sunday's debacle
source: StadiumDB.com [MK]; author: michał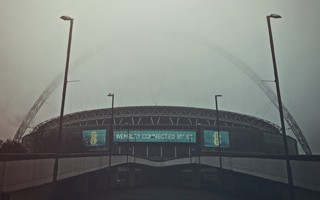 UEFA, the FA, the police – everyone is now investigating how the organisation of a continental tournament final turned into a disaster within hours and despite early warning signs.
If we didn't tell you where all this happened, you'd never think it would have been London. Things like the aftermath of Sunday's Euro 2020 final are what European media tend to patronisingly cover whenever an epically mismanaged game takes place somewhere in the Global South. But here we're talking about the final of a record-breaking European Championship.
Just like the intense penalties, these scenes from Sunday will be remembered: crowds storming Wembley in multiple places, drunken mob throwing bottles and other projectiles randomly, ticketless fans bribing stewards, hooligans attacking opposition supporters, completely overwhelmed, outnumbered security personnel. That list could go on far longer, describing what can only be seen as a failure of the FA, stadium personnel, UEFA and the police.
BELOW: One of at least five storms at/near the Olympics Steps
The FA to review and investigate
Before the dramatic footage from Sunday saw viewership in many millions, England's Football Association issued a statement, calling the behaviour of many fans unacceptable, dangerous and showing total disregard for the safety and security protocols in place.
While this was used to describe thousands of fans trying to get in without a ticket, the FA also argued it was prepared better than required for what unfolded: Security and stewarding numbers for the Euro 2020 final exceeded the requirements for the match and were greater than any other previous event at Wembley Stadium. its Monday statement reads.
Even more, FA chief Mark Bullingham got into hot water after he tried to shift the narrative and claim that – across all 8 matches – the operational team at Wembley has done a brilliant job.
If that were true, the FA wouldn't be promising a review and investigation in cooperation with the police, the Greater London Authority, the Safety Advisory Group and the tournament delivery stakeholders.
BELOW: Gate L giving way, storming fans stampeding and collapsing over one-another.
Not enough, two investigations by UEFA
Monday's announcement by the FA proved insufficient within 24 hours, as on Tuesday UEFA officially confirmed two disciplinary investigations against the FA for the incidents and shortcomings at Wembley.
The first investigation is a routine disciplinary one. The FA is charged with spectator-related incidents that come quite close to filling all possible offences: booing the rivals' anthem, throwing of projectiles, pitch invasion and pyrotechnics. While xenophobia isn't part of the list, it might theoretically become one after numerous incidents inside are being reported.
One peculiar issue didn't arise during the Sunday final: pointing lasers at players. But if this sounds familiar, it's because it had happened the previous game, as Kasper Schmeichel was saving the penalty. Already after that the FA had to pay €30,000 for the laser, pyrotechnics and disturbance during the national anthem, and UEFA has stricter treatment for second-time offenders.
The second investigation will be carried out by a dedicated inspector and it covers the events within and around Wembley on matchday. Most crucially, the numerous incidents of ticketless supporters trying to enter the stadium.
From physically scaling the outer walls to tearing down provisional perimeter fencing, fans were trying to get inside in many ways. Once the invaders reached the inner perimeter with turnstiles and stewards, they were either trying to bribe them or simply ram them. One significant point of entry was the eastern disabled fans' gate. There are no official estimates of how many people ended up inside without tickets but it's likely thousands rather than hundreds. Despite numerous cases of fans falling onto one-another, there were no severe injuries reported.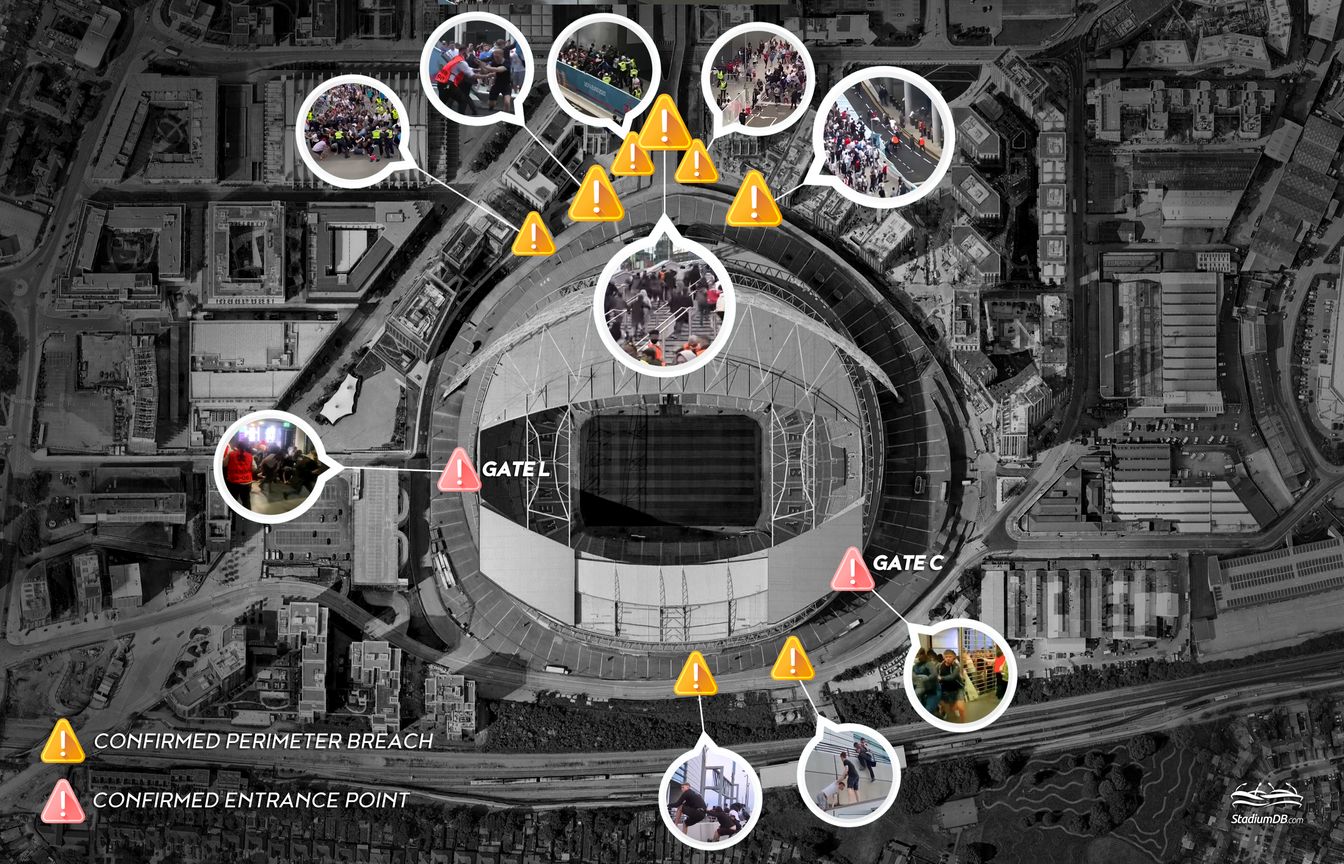 Note: We weren't able to identify signage on other videos showing rammed gates, there may have been more entry points for ticketless fans.
Wembley couldn't keep up with false statements
In the game's 8th minute, Wembley confirmed there was an incident at the outer security perimeter but stressed that there were no security breaches of fans without tickets getting inside the stadium. Both parts were already untrue at the point of release: there were many incidents and ticketless fans were already inside.
By the end of the first half Wembley issued one more statement, this time claiming there was a breach and a small group of people got into the stadium. Anyone […] without a ticket will be instantly ejected.
Once more, both parts were false: there were many groups successfully inside, hardly small ones, and ejecting them was impossible, even though stewards were trying hard to find impostors. In fact, some sections of the stadium were already packed beyond capacity and there was no way to check anyone, let alone everyone.
UEFA failed but still comfortable
It's a bizarre set of circumstances that sees UEFA as the organiser when it comes to the positive aspects, like revenue and marketing rights, but not really when safety and security is in question. Those areas are left to locals and UEFA isn't directly responsible. In fact, the Disciplinary Regulations point the finger at the side whose stadium it is and whose supporters are causing issues.
Theoretically, then, UEFA cannot be blamed and was able to afford not issuing any major statements for 48 hours. But the truth is, tournament organisation is a system of interconnected processes and UEFA's management also came short, from the top to street level volunteers.
The latter aren't of course to blame personally (especially after being trained online, with little to none practical experience), they simply fell victim of higher-ups not recognising the risk, which later those very volunteers had to face.
It should be stressed that already during the semifinal between England and Denmark there were alarming reports about actual crowd size being far larger than the official one. New York Times' Tariq Panja was reporting already then that there were people able to enter without ticket or COVID checks. With England having reached the final, this happening at a much larger scale now seems to be obvious.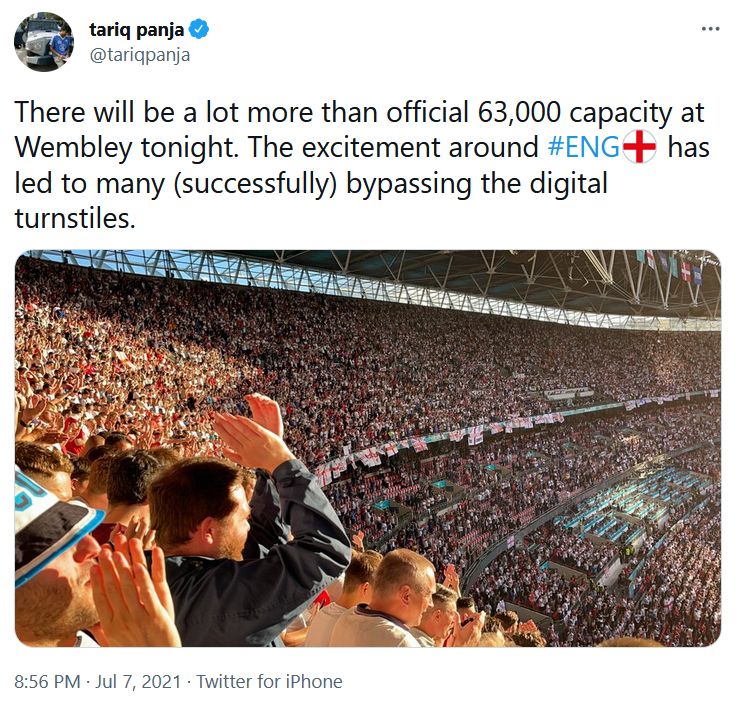 Police outnumbered and helpless
After the Denmark semifinal there were also reports of tensions and abuse against regular Danish fans inside the stadium. And we don't mean booing the anthem, that part is nearly a non-issue at that point. Aggression against Italy, especially if England were to lose, was also something that should have been anticipated as one of the scenarios.
Especially with fans gathering around Wembley 8 hours before the game and many of them, quite obviously, having too much time to drink. And yet it wasn't until 4 hours later that the police appealed for ticketless fans not to come to the stadium's vicinity.
By that time the Olympic Way (commonly Wembley Way) was heavily crowded already. So when the storming began, within seconds the number of officers deployed proved insufficient. Even after the situation outside was back under some control during the game (with the crowd attacking police rather than being able to get inside), there was risk of major disorders. That's why all pubs within a 5-mile radius were ordered to close right after the game, for people to go home.
BELOW: One of the most watched and also most misrepresented videos from that night. It shows fans inside trying to help stewards stop the influx of ticketless people. Most certainly NOT, as some major media have claimed, English hooligans attacking Italians.
More incidents than ever before
The numbers from Wembley alone might not show the events' true scale. 49 arrests and 19 officers injured sounds like a riot, though, not a regular football game. But on Sunday there were 875 football-related incidents across England and Wales (nearly 500 inside pubs or other venues), with total number of arrests at 246.
Throughout the tournament there were nearly 2,300 incidents and 622 arrests reported, more than during any other tournament in history. These numbers don't include people who are now being searched after Sunday's events.
Unfortunately, aggression towards Italians is also on record now. We have seen random attacks on Italians... Italians celebrating the win have been attacked. We haven't seen massive numbers but there have been far too many. We do see these incidents when England get knocked out of tournaments in terms of the targeting of foreign nationals. Cheshire Constabulary chief constable Mark Roberts, who is the national lead for football policing, told The Independent.
Author: Michał Karaś