Euro 2020: What capacities will stadiums have?
source: StadiumDB.com [MK]; author: michał
Will Bilbao and Dublin lose their hosting rights? Some media outlets got into speculations about potential replacements but it seems to be far from decided. Here's what we know about Euro 2020 venues allowing fans inside.
On April 7 UEFA's deadline passed for all Euro 2020 host cities to submit their most likely hosting conditions. The European governing body expected assessments on how many fans – if any at all – could be expected during the continental tournament.
The least desirable scenario is playing behind closed doors. That, although mentioned as unacceptable by president Alexander Ceferin himself, wasn't excluded by UEFA. The lowest desired level of occupancy was, supposedly, 25% of regular capacity. Anything above that level is great news from UEFA's perspective.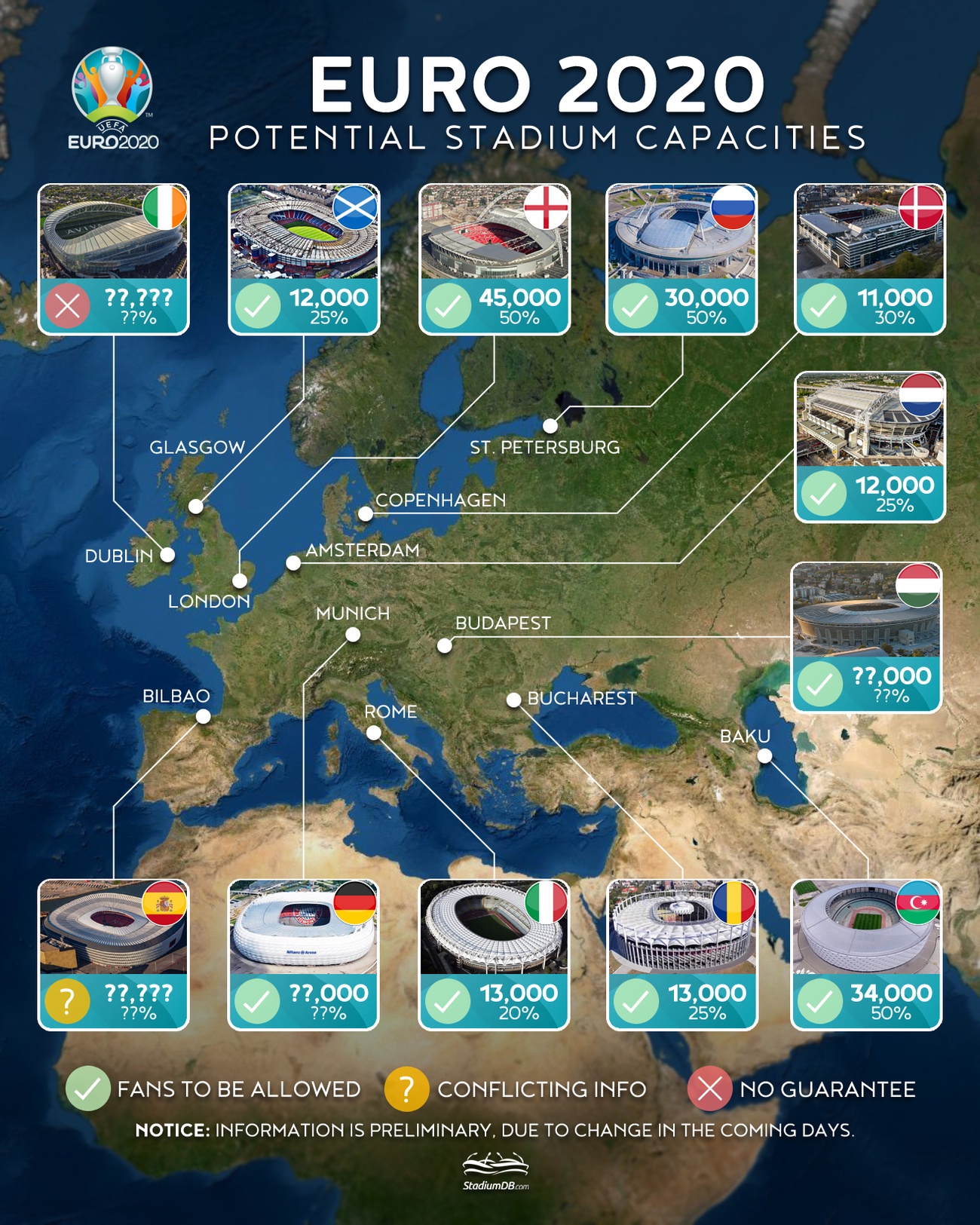 All local committees have met UEFA's deadline and on Friday, April 9, UEFA confirmed that final strategies are to be submitted by April 19 at the latest. Here is what we know so far, based on official statements for all of the 12 host cities:
Amsterdam | Johan Cruijff ArenA – 12,000 spectators. As confirmed by KNVB and Dutch authorities, it should be possible to safely allow just under 25% of the overall capacity. The Netherlands are to reopen stadiums in April with limited capacities, so the number seems solid.
Baku | Olympic Stadium – 34,000 spectators. The Azerbaijani organisers have today assured they are willing to accept fans during the tournament, putting the number at 'up to 50%' of regular capacity.
Bilbao | San Mamés – behind closed doors? Spain's case is problematic because of difference in perspective. While the Bilbao city hall suggested Euro 2020 could safely be held with 25% of regular size, the Spanish federation (RFEF) later denied that claim. In the official paperwork submitted to UEFA, the federation declared no fans inside the stadium, citing requested conditions of the Basque government as impossible to meet.
Bucharest | National Arena – 13,000 spectators. Both the Ministry of Youth and Sports and the football federation of Romania have confirmed that 25% is a safe margin for the tournament.
Budapest | Puskás Aréna – 61,000. In late March the government suggested the national stadium will be open, however only to vaccinated visitors. On April 8 Hungarian FA (MLSZ)'s spokesman Jenő Sipos has assured the public that Ungary will welcome fans, as many as safely possible. On April 9 it was confirmed that, under strict conditions, all of the stadium will be open to the public.
Copenhagen | Parken Stadium – 11,000+ spectators. By late March the Danish authorities (both the government and DBU) have confirmed that roughly 30% of Parken can be occupied safely during June's games. This could mean a number closer to 12,000 in practice, though final estimates are yet to come.
Dublin | Dublin Arena – behind closed doors? Yesterday the Irish federation (FAI) admitted there can be no guarantees at this point. The minimum scenario for Dublin is thus playing without fans, though FAI has assured continued talks will determine further developments.
Glasgow | Hampden Park – 12,000 spectators. Confirmed both by the government and the Scottish FA, the number represents app. 25% of the historical national stadium's capacity.
London | Wembley Stadium – up to 45,000 spectators. Because of London's role as semi-final and final host, this estimate is crucial for the entire tournament. Wembley's reopening is supposed to take place already this month, during the FA Cup semifinals. The starting capacity is 4,000, though by May 15 (FA Cup final) it should be 21,000. For Euro 2020 the number should safely reach 45,000 for the final three games, presumably significantly lower during early stages.
Munich | Football Arena Munich – no information. Although the Germans have expressed the desire to accept fans overall, there's no solid strategy in place. And it's no wonder, the situation in Germany is difficult and Bavaria's prime minister Markus Söder has criticised plans to demand scenarios at this moment, with the situation changing very fast.
Rome | Olimpico in Rome – 13,000 spectators. The football association of Italy has declared capacity of 20% of the regular one, the government agrees fans could come by June. One of the tools utilised might be the Mitiga app, which displays a person's vaccination or test status. The Italian Olympic Committee, however, has doubts over UEFA's request to guarantee anything at this time.
Saint Petersburg | Saint Petersburg Stadium – 30,000 spectators. Russia is doing its best to show how well they're handling the public health crisis. It was one of the first countries to declare any number at all and the level they began with is 50%. It could be more, if conditions permit.
When can we expect final decisions?
Disturbing news from Bilbao and Dublin have immediately sparked speculation about the cities being dropped and possibly replaced by others, even from outside the host list. Particularly some English media outlets were keen to point to Manchester's Etihad Stadium as possible replacement for the not-so-distant Dublin.
However, UEFA has assured there are no final decisions coming in the next several days. Although progress was expected on April 20 (UEFA Congress), the actual cut-off date for detailed spectator estimates is April 28. If COVID-19 has taught us anything, it's that a lot can happen within a few weeks. Because it's an unprecedented situation, reduction in the number of host cities is possible, of course.
Author: Michał Karaś