Stadium of the Year: Public Vote for Sultan Ibrahim Stadium!
source: StadiumDB.com [MK]; author: michał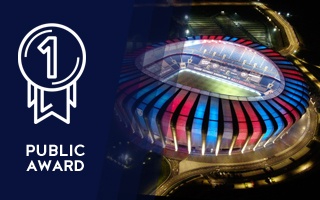 It wasn't an obvious bet but among the predictable ones. The growing power from Johor left no doubt, scoring nearly three times as many points as the second most-supported stadium.
The 2020 Public Vote had a few strong contenders this year and from the start we anticipated the fight would be decided among them. But, while the victory of Sultan Ibrahim Stadium comes as no surprise, the scale of its lead is astonishing!
Out of 21,821 votes cast, over half came from Southeast Asia, particularly from Malaysia but also neighbouring states. That's where Sultan Ibrahim Stadium made the biggest waves last year, becoming the top football stadium, first one built without a running track in Malaysia, and for a club that's rising to international prominence.
As a result, the winning stadium managed to collect nearly as many points as the three (!) following contenders combined. All it took from Johor Southern Tigers (JDT) was announcing the vote and encouraging fans on social media to take part, which shows exactly how much enthusiasm on the ground exists for the candidate. Kudos, a much earned show of community spirit.
Although our system has identified votes from approximately 100 countries and territories, the final outcome was decided – as has been the case since the start – by whether the home crowd identifies with the nominated stadium. Even amazing coverage across the Middle East didn't push the vote in favour of any of the two Qatari nominees. Seeing the rapid growth of JDT, it cannot be surprising, surely a club to watch in upcoming years!
Below we present the podium of the Public Vote. You'll notice that Allegiant Stadium and Ahmad bin Ali Stadium were just a couple hundred votes apart. Interestingly, for 10 days they were head to head, becoming the most popular second choices among all Voters. These two stadiums were tied several times, making it fascinating to watch when we oversaw the vote's progress.
Complete list of results will be presented shortly for both votes, you'll find it on the competition website. Once more, a huge thank you to all Voters, especially to our fantastic Jury, it's been a fantastic pleasure to host the competition for the 11th consecutive year!