Tweet
Stadium of the Year 2020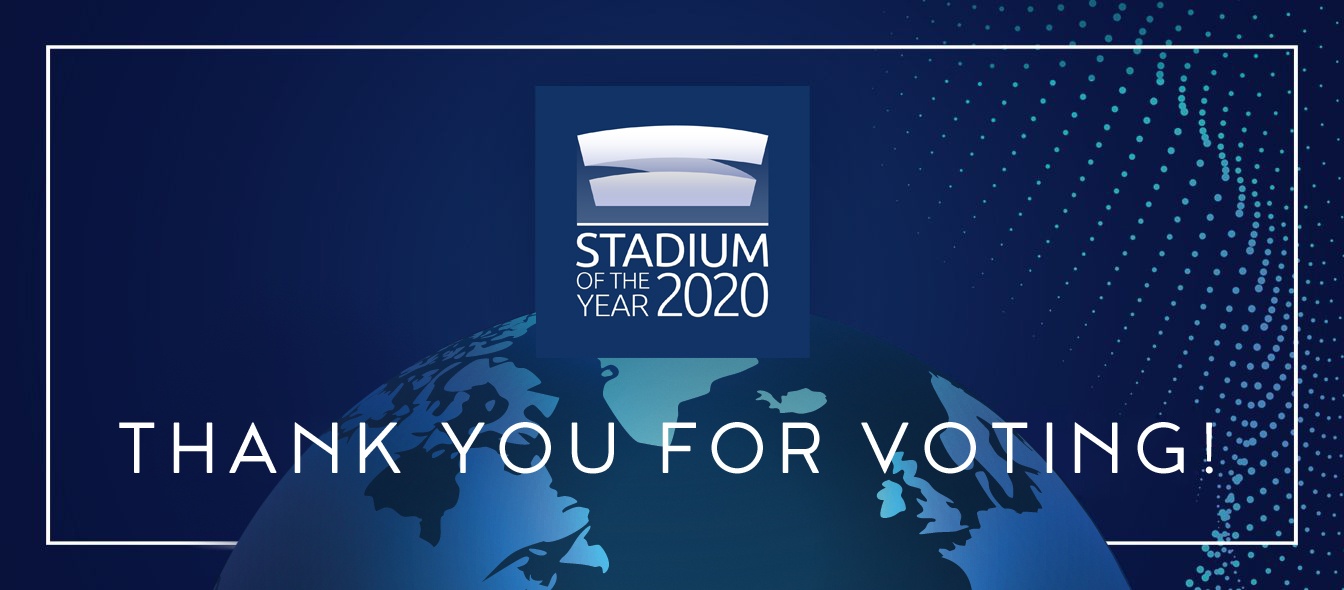 Popular Vote
Welcome to the world's largest online stadium awards! For the 11th time we're selecting the best stadium opened over the past year. We're honoured to have you with us. Rules of the competition are very simple.
To vote, please select your 'top five' stadiums from the list of 20 candidates, giving 5 star rating to the best stadium, 4 stars to the second and analogically with 3, 2 and 1 star. Remember to select five stadiums, otherwise your vote won't be counted! When all points are distributed, press 'Vote' button below the list. And that's it, your contribution is then accepted.
Please mind – only one vote can be sent from every device. To learn more about each stadium before voting, please click its name or photo to visit its presentation at StadiumDB.com. Take your time to know them, the vote lasts until midnight [CET] on March 7!
TL;DR: Select five best stadiums, give each a star note and click "Vote!" button below the list of candidates.
Nominated stadiums:
Stadium of the Year Regulations
Voting schedule: Your votes will be accepted starting February 8, until midnight on March 7, 2021 (Central-European Time). The above form is the only means of voting, please do not send e-mails or private messages with votes, they will not be included. Each person is entitled to cast one vote, selecting your top 5 venues (giving them 5, 4, 3, 2 and 1 point, respectively).
Voting restrictions: Every user is welcome to share information or links regarding the competition, however voting may not be subject to commercial incentives (i.e. being rewarded for voting or subject to separate contests with prizes). Any such attempts will result in cancellation of all votes coming from identified sources. Similarily, individual voters attempting to give more than one vote will not be included in the voting process at all. Because of such precautions you may find that multiple votes from on WiFi network could not be cast.
Nomination process schedule: Jan 25 – Feb 2, 2021. (nomination period closed)
Submitting nominations: Every User of StadiumDB.com may submit a nomination. Unlike many competitions, ours is user-oriented, so we don't require any fees, costly text messages, e-mail submissions, liking us on facebook, following on Twitter or on Instagram (we do appreciate it, though!).
Nomination requirements: To be eligible, a stadium has to meet several criteria. It has to hold at least 10,000 people and be opened in 2020. Usually this means having all sections opened to the public, but due to 2020's COVID-19 lockdowns we also allow venues opened without fans. Stadiums built from scratch are taken into consideration, as well as those that have undergone a thorough redevelopment. The competition is focused on football stadiums, which means we choose between venues that are capable of hosting a football (or soccer, if you prefer) game. They may still have running, cycling or speedway tracks around their pitch, or have pitches larger than football-specific ones (like cricket, hurling or AFL). However, football use has to be taken in mind.
Jury Vote
For the 7th time we include a Jury of architectural experts who cast their votes independently of the Popular Vote. Their vote will result in a separate Stadium of the Year title. Or, maybe we'll finally have one stadium grabbing both prizes?
Jury members

KARSTEN FIEBIGER, FIEBIGER GmbH Architekten+Ingenieure, Kaiserslautern | Karsten is principal at F* FIEBIGER GMBH and studied in TU Darmstadt and ETH Zuerich. During his young life, he was exposed to various stadium projects designed by his father Folker Fiebiger, and while working for Peter Eisenman.
Karsten has gained a broad experience in stadium projects, including Fritz-Walter Stadion for FIFA Club World Cup 2006 (50,000), Bruchwegstadion Mainz in Germany and the extension of FC METZ Stadium (30,000) in France, currently under construction. His portfolio also includes the design of Odessa Stadium and Makeevka Stadium in Ukraine as well as the extension of the arena for FC Kuban Krasnodar, Russia.
Karsten has gained a broad experience in stadium projects, including Fritz-Walter Stadion for FIFA Club World Cup 2006 (50,000), Bruchwegstadion Mainz in Germany and the extension of FC METZ Stadium (30,000) in France, currently under construction. His portfolio also includes the design of Odessa Stadium and Makeevka Stadium in Ukraine as well as the extension of the arena for FC Kuban Krasnodar, Russia.

BILL MASSEY, SASAKI, Boston | Bill is an architectural principal and leader in Sasaki's sports practice, recently responsible for the new Hongkou Stadium design, replacement of China's most famous football-specific stadium. He specializes in athletic and recreation projects with a particular focus on higher education, community recreation buildings and public sporting venues. He has over 20 years of experience in the design and implementation of exceptional sports projects in the US, Canada, South America, Central America and Asia.
Bill has experience across the spectrum of sports venues including stadia and arenas, intercollegiate athletic facilities and fields, indoor practice facilities, student recreation centers and community recreation centers. His well-rounded experience and in-depth knowledge of the social and functional considerations specific to these facilities along with their unique technical requirements assures the best result for high performance outcomes that maximize the experience for athletes, spectators and recreation participants alike. As a result Bill has accumulated a long history of successful projects and strong client relationships.
Bill holds an undergraduate degree from Vanderbilt University and a master of architecture from Virginia Tech. He is an active member of the American Institute of Architects, NIRSA, and the Society for College and University Planning and speaks frequently at national conferences on trends in athletics, recreation, and sustainability.

MASSIMO ROJ, PROGETTO CMR, Milan | Massimo Roj graduated in Architecture and Urbanism from the Politecnico di Milano in 1986. Since 1987, he has been a registered architect. In 1994, he founded Progetto CMR in Milan, today top Italian integrated design firm, where he holds the position of Managing Partner and Global CEO, managing international developments in the fields of Architecture, Urban Planning, Space Planning and Interior Design. Since 2011, Progetto CMR has ranked among World's Top 100 Architectural firms.
Aside from his practice, he's also a visiting professor at several universities worldwide and named an ambassador of Italian design. While his work covers master plans, skyscrapers, hospitals, research centres and much more, our focus is football. Among Massimo Roj's most recent projects you'll find the proposed new Milan stadium, to replace San Siro, as well as Cagliari Calcio's new football arena.

NIKOS SIAPKARAS, A&S ARCHITECTS, Athens | Nikos was born in Athens in 1975. He studied Architecture at the National Technical University of Athens. He holds an Integrated Master from NTUA (2001), and a Master of Science in "Architecture – Spatial Design / Architectural Design – Space – Culture", (Advanced Architectural Design Issues) – from the NTUA (2004). He is one of the two principals of A&S ARCHITECTS, which he co-founded in 2004.
Taking up numerous challenging projects, Nikos earned a long list of delivered buildings, many of them highly specialised, in the fields of banking, data storage, airline, theme park, healthcare industries and more. His work in stadium architecture includes Greece's most impressive projects of the last two decades, like the Votanikos Stadium for Panathinaikos and PAOK's new Toumba in Thessaloniki. A&S Architects also delivered the design for PAS Giannina FC Stadium, as well as being involved in the greater Education City Stadium plan, covering Education City Future School.
Jury Vote Regulations
The Jury Vote runs independently from the Popular Vote. Its result will reveal our second Stadium of the Year winner.
The Jury consists of highly-experienced architects from various countries. Each year we invite different specialists with fresh experience in stadium design, based on our appreciation of their work.
Each Juror grades every stadium individually. First, a quick round reveals a shortlist of finalist stadiums. Then every finalist is ranked in three categories: architectural value, functionality and innovation.
The stadiums are graded based on best available audio-visual materials and texts. Due to extremely limited schedule visits to the sites are impossible. The criteria are limited only to aspects possible to verify at this early stage of each stadium's operation, as many venues still have work to be done in the future and should not be scrutinised unnecessarily.
Announcement of the result is expected around March 10, 2021, along with results of the Popular Vote. Date subject to change depending on vote progress.