Alkmaar: Symbolic day, mega truss in position
source: StadiumDB.com [MK]; author: michał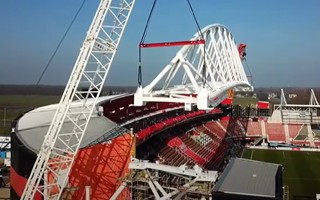 Two crawler cranes have lifted the 630-ton mega truss atop AFAS Stadion. Thousands of people watched the operation live. Now the stadium reconstruction can enter the final phase.
Exactly at 8:00 AM livestream began for today's crucial operation in Alkmaar. AZ launched the online broadcast in order to satisfy demand and avoid crowds around the stadium, which would be undesirable due to COVID-19. Still, some people enjoyed the view in open space, even if from a distance.
At home or outside, thousands were watching two massive crawler cranes lift the primary steel truss of AFAS Stadion's new roof. The structure is 170 wide (and 19m tall at peak) and it needed to be lifted above the stadium, then lowered onto two pillars. Each crane moved roughly 50 meters during the operation.
© AZ Alkmaar
In order to make it happen, concrete pathways were laid. This helped to create a level surface and also protect the asphalt around the stadium from damage. After all, the mega truss weighs 630 tons alone, on top of the two cranes, each assembled from 100 truckloads.
The mega truss alone consumed a fourth of all the steel needed for AFAS Stadion's new roof (2,500 tons in total). It's thus no wonder that moving it into location was expected to last between 2 and 6 hours and could even be cancelled if it got windy.
Thankfully, the operation went smoothly (it took under 4 hours), much to the joy of thousands of onlookers. This symbolic moment happened exactly 592 days after the 2019 disaster that saw part of the roof collapse. It's not the end but a milestone. While the roof structure atop all other stands is ready (now being covered), above the main stand it's about to be assembled around the mega truss.
AZ Alkmaar are hopeful of being able to welcome fans under the new roof for the 2021/22 season. Capacity won't change noticeably at this point, however the new roof leaves room for increase to app. 20,000 people in the future.
Author: MK