Stadium of the Year: Don't forget, YOU select the next best stadium!
source: StadiumDB.com [MK]; author: michał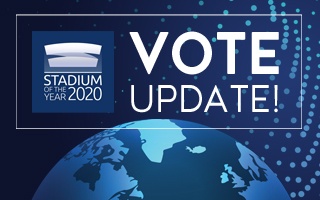 Almost two thirds of the Popular Vote are behind us, time for an update. We're nearing 14,000 votes, is yours part of that number? See why we're asking.
11th edition of Stadium of the Year is exceptional for a number of reasons. Not only is the competition a week shorter than the previous one, it's also the first in history during which we're selecting stadiums almost nobody saw live. After all, 2020 saw entire tournaments cancelled or hosted in very limited capacity, usually with fans not allowed to enter. In a way this works as an equalising factor: we all know the stadiums from media coverage.
For nearly two weeks we've been using our social media channels (Facebook, Instagram and Twitter) to present one candidate stadium daily, in order to help you decide. The countdown will last one more week.
For the first time ever we've also created a video presentation of the candidates. It shows all 20 nominees and explains how to vote in very simple terms.
So far our system has counted nearly 14,000 individual votes, for all of which we're extremely grateful. If you haven't cast your vote yet (and remember, you only have one!), keep in mind the voting platform will remain open throughout March 7 [until midnight, CET]. And since the vote is easy and free, be sure to select 2020's best stadium with us!
Jury Vote – final coming soon!
Separately from the Public Award, another one is at stake. Second Stadium of the Year title will be awarded by expert architects. This year's Jury is unique, packed with big names and brands. You can find information on all four Jurors on the competition page already, on Friday (Feb 26) we'll present them officially through our channels.
Like every year, the Jury is first selecting a shortlist of 10 finalists, in order to then select the winning stadium from the shortlist. We can confirm that presentation of the finalists will take place on Monday, March 1. Stay tuned, exciting news ahead!