Bulgaria: Dramatic appeal from Levski to cover leaky stand
source: StadiumDB.com [MK]; author: michał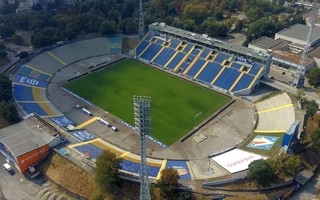 Reconstruction of Levski Sofia's stadium began 8 years ago and the first phase hasn't been finished to this day. The main stand is flooded after every rainfall, prompting the near-bankrupt club to ask the prime minister for help.
2020 was a shocking year for Levski supporters. It's not only about COVID-19 and empty stands, although this aspect was financially painful particularly for teams with high attendances and Levski had Bulgaria's top crowd. But in 2020 the club's disastrous financial situation came to life, following a decade of mismanagement in the name of success.
Club's ownership changed in mid-2020, with former legend Nasko Sirakov taking over as majority shareholder. Draining star contracts were terminated, new signings are either short term (and mostly Bulgarian) or home grown. Incidentally, the football academy of Levski is the only part of the club to not have its budget slashed.
Outstanding debt was reduced from BGN 5.5 million to 4 million (€2.8 to €2m). Currently Levski is closer to relegation than fighting for European campaigns but 9th place is hardly the biggest problem. Survival is the goal.
If you think that thanks with several contracts Levski has saved itself, it is not so. Levski starts every month with BGN 280,000 of debt to the NRA (National Revenue Agency). Separate is the debt accumulated over the years. Nasko Sirakov said yesterday during "Igra v Centra" a livestreamed program.
© PFK Levski Sofia
He admitted that the club is 4-6 months behind with salaries to some players, coaches and administrative staff, while quarterly revenue from sponsors wouldn't even cover the monthly NRA payment (240,000 earned from June to September).
Plea for stadium salvage on air
During the show Sirakov mentioned Levski's ongoing stadium issue. As you may remember, between 2013 and 2016 Levski built a new main grandstand. But it was never entirely finished, to this day lacking the designed roof and facade.
Completing this phase is the short-term goal. Not just to increase the stadium's commercial potential, the grandstand is constantly flooded with water from leaks, after every rainfall. Not just impacting daily operations, this 5-year-old issue may be impacting the entire structure in the long term.
Sirakov had talked with prime minister Boyko Borisov already last summer, yesterday he reminded everyone that Levski's stadium issue remains. The expected public support is beyond Levski's own resources but objectively is a modest one: BGN 2 million (€1m). This should be enough to provide a roof, hardly enough for the facade and other secondary elements.
The appeal for financial backing was subject to controversy across Bulgaria yesterday evening, though it definitely shouldn't. First, the stadium is still a public facility (owned by the city) and Levski has already invested millions into it. Second, the government is currently supporting stadium projects nationwide with far greater amounts, which recently allowed the Hristo Botev Stadium construction to be revived. In that respect, investment in the main stand at Levski would be more justified than support for Ludogorets Razgrad's private project, which was granted.
Grand plans still in limbo
The old Georgi Asparuhov Stadium was to be redeveloped one stand after another, along the vision presented in 2012. The final outcome would be a stadium with 28,000 seats, most of them covered. The phased development was initially to run from 2013 to 2017 but only the starting date proved true. Until late 2016 only the main stand was opened and remains unfinished to this day. It holds under 6,000 people and consumed BGN 11.5 million.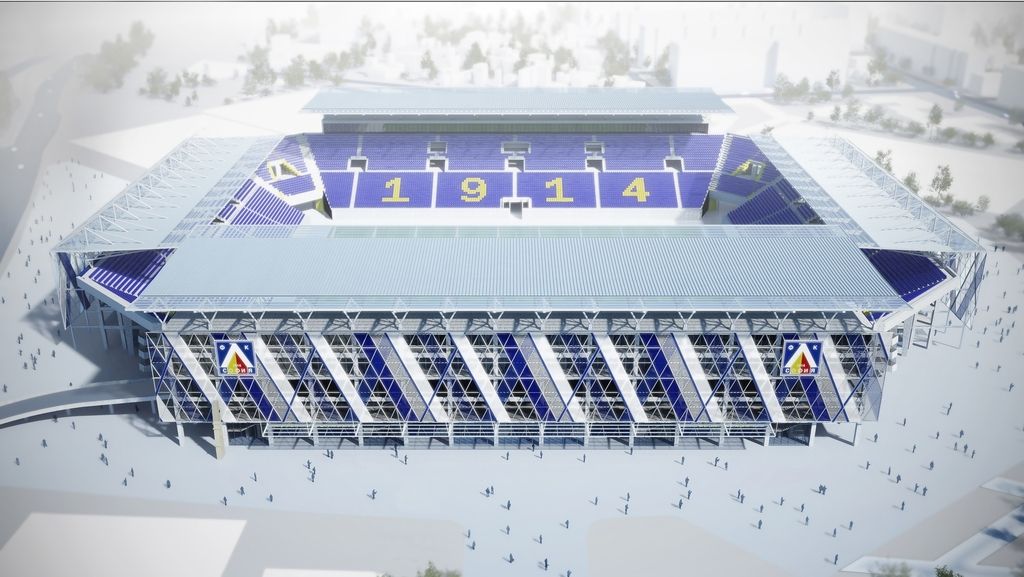 © PFK Levski Sofia
Should further works rely solely on Levki's own resources, as was with the first phase, it seems unlikely for the stadium to be delivered in foreseeable future. However, if an opening for further assistance from public authorities (central or local) appears, the project could go forward within the next few years.
Author: Michał Karaś