Frankfurt: Eintracht's update on expansion to 60,000
source: FR.de; author: michał
The goal is music to our ears: more tickets in the lower price segment. In ordr to achieve it, Eintracht will increase number of standing places from 7,435 to 20,344! But just not yet...
July is a month of changes in Frankfurt. It's the first month with a new commercial name. After 15 years of Commerzbank Arena the stadium is now officially known Deutsche Bank Park. And sure, many fans will simply ignore it and carry on with the historical Waldstadion naming, but a 7-year deal worth €38 million is probably worth it for Eintracht.
But it's not even them biggest planned change. Last week local politicians visited the stadium for a presentation, during which Eintracht was explaining its goal for the medium term. After all, taxpayers are still the owners of the stadium, even if Eintracht is reaping many of the rewards.
Structural changes won't be significant enough for many people to notice, especially if you mostly recall the stadium from the 2006 World Cup. The most crucial ones will include strengthening the structure of the norh-west end and extending its upper tier downwards by several rows. Here's how the change could look, based on a 2017 concept by GMP Architekten: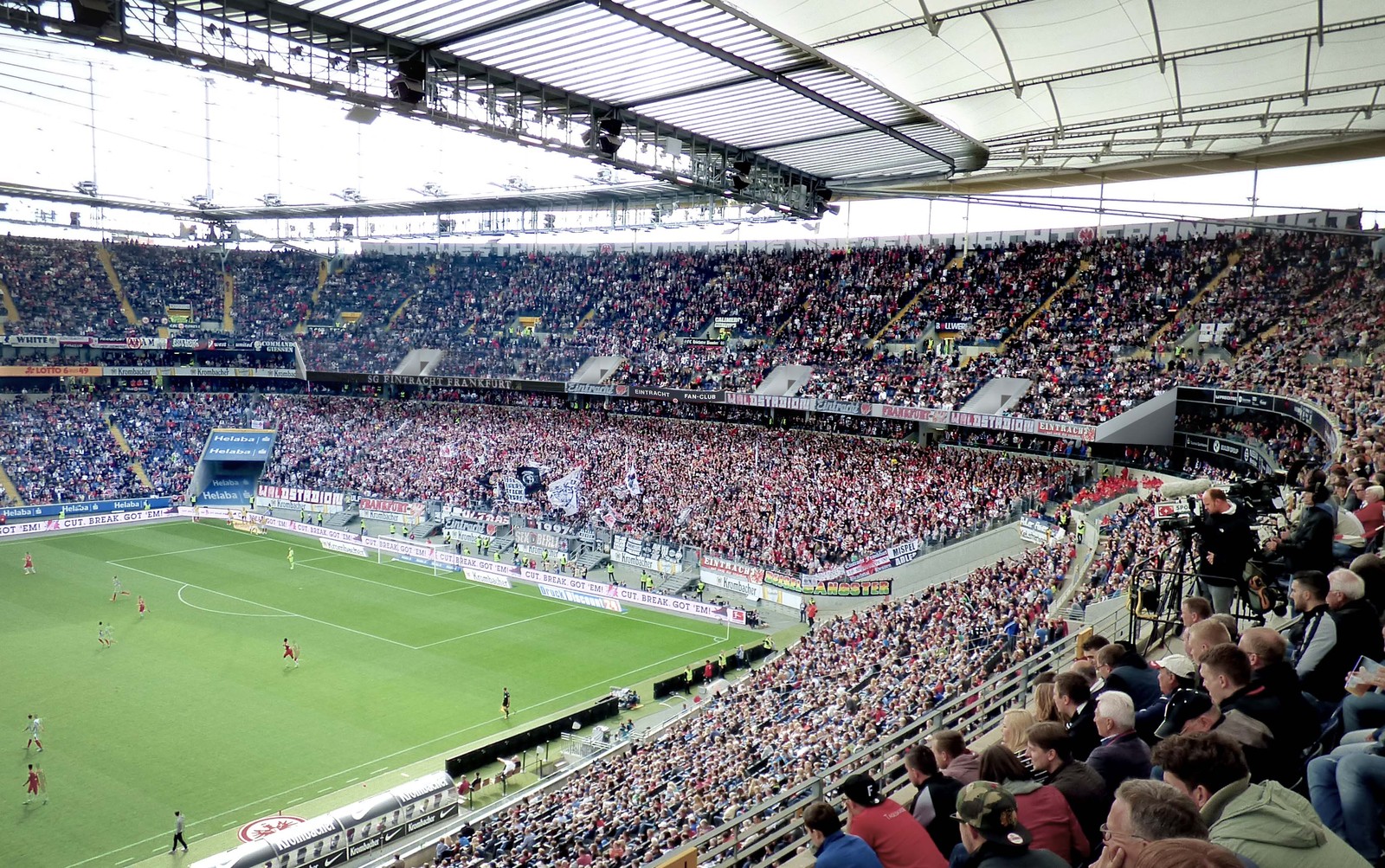 Nothing spectacular, right? Not visually, but in terms of concept the change goes strongly against modern trends in football stadiums. Instead of adding corporate seating at the expense of regular matchgoers, Eintracht is going to remove private boxes and create some of the cheapest-ticket places across the stadium.
As it was explained during last week's presentation, the goal is "more tickets in the lower price segment". With many young people in Frankfurt being eager to chant but priced out from the more expensive seats, expansion of the standing area is key both for a more vibrant atmosphere and expansion of the fanbase.
Currently Deutsche Bank Park has some 9,000 standing places, of which 7,435 are located in the lower north-west end (remainder in the away block). Demand is far greater and Eintracht is famous across Europe for the large fanbase of active fans. Once the upper north-west stand has seats removed and rows added, it will bring additional 12,909 standing places.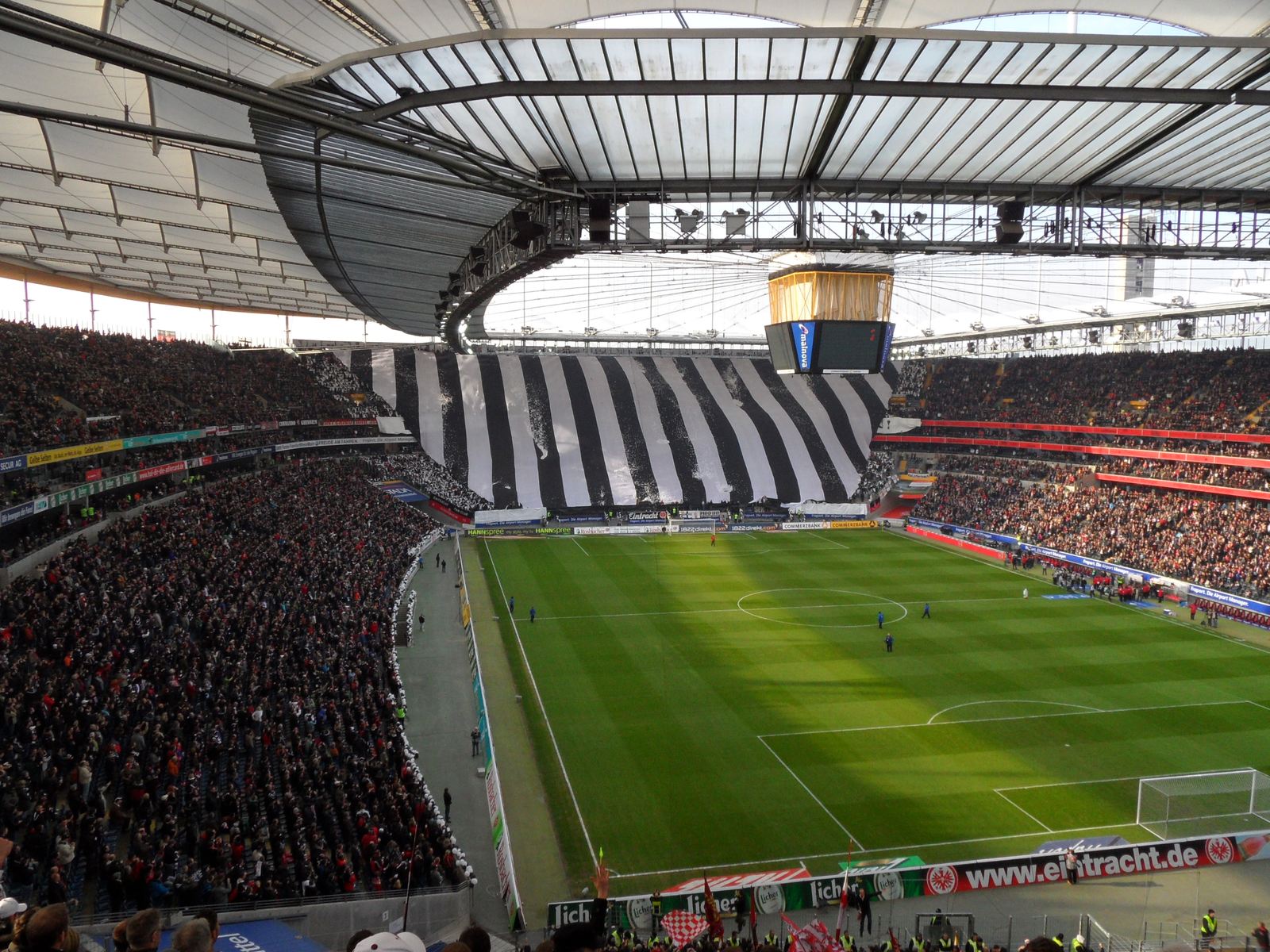 © Steffen Hüther
This in turn means Eintracht's standing terrace will reach 20,344 (covering all the space shown above), becoming the second largest worldwide, only behind Dortmund's Südtribüne (24,454). And Eintracht's representative did admit during last week's presentation that Borussia was somewhat of an inspiration for the changes. While in Frankfurt it would not possible to create a single-tier terrace without extremely costly demolitions, removal of skyboxes dividing the stand is an economically viable way to almost merge both tiers.
The proposed changes will bring domestic capacity from 51,500 to nearly 60,000 people. Of course, during UEFA games the all-seater rule is still enforced and would require temporary installation of seats across the stand (which is already a common practice in the lower tier). But thanks to some alterations and the extra few rows international capacity will also grow, from 48,000 to 49,700, a noticable increase, especially ahead of Euro 2024.
The city of Frankfurt is asked to contribute €10 million to the changes, which isn't a massive amount. The part covered by Eintracht isn't clear at this point. Because changes are to be carried out gradually, without disruption to league fixtures, the operation is expected to last 30-35 months. The final, symbolic step of removing all upper seats is expected to take place during the Qatar World Cup in late 2022. This way capacity will grow from 2023 onwards.