Frankfurt: Commerzbank replaced by Deutsche Bank
source: Eintracht Frankfurt; author: michał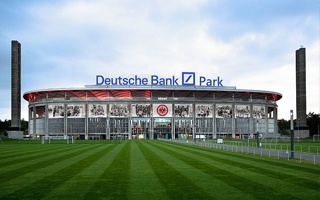 We thought it's April Fools' at first, but Eintracht Frankfurt were actually serious. They did in fact reach an agreement with Deutsche Bank to claim naming rights for at least 7 years.
Ever since the new Frankfurt stadium opened, replacing the aged Waldstadion, it had a commercial name. Starting in 2005 it was Commerzbank-Arena, even if many fans still use the old, historical naming.
Now Commerzbank's naming is history itself, as yesterday Eintracht announced agreement has been reached with Deutsche Bank, the team's partner for a few years now. Until June 30, 2027, the stadium will be called Deutsche Bank Park, with option of extending the deal further.
We should expect the yellow signage change for blue within months, though that might depend on the COVID-19 issue unfolding. The same goes for details of the partnership, which should be given at a later date. It's clear that both entities have something more than naming rights in mind.
As for the price tag, Eintracht and Deutsche Bank decided not to reveal any number. This, of course, didn't stop the Bild tabloid from suggesting how much the deal is worth. Apparently, it's €5.4 million annually (nearly €38m in total). Should these figures be true, it might be a very good deal in current circumstances.