New stadium: Stal returning home
source: StadiumDB.com; author: michał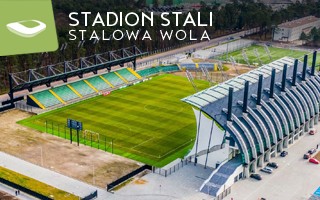 It's not the biggest, nor the best stadium you'll find on StadiumDB. But it's the home tome for one of us and first home game after 2.5 years in exile is not something we could just skip. So here's the presentation of new H15, home ground of Stal Stalowa Wola.
It's been a long wait for supporters of third-league Stal Stalowa Wola. Since 2017 the team had to play away, but tonight that changes. Exactly at 19:38, the hour representing Stal's establishment date, Stal will compete against league rivals Bytovia in the first floodlit game in the town.
To mark the occasion, with great help from Rafał Bieńkowski's Stalowa Wola z lotu ptaka, we can show you the stadium today and below you'll find the long way it took to get to tonight!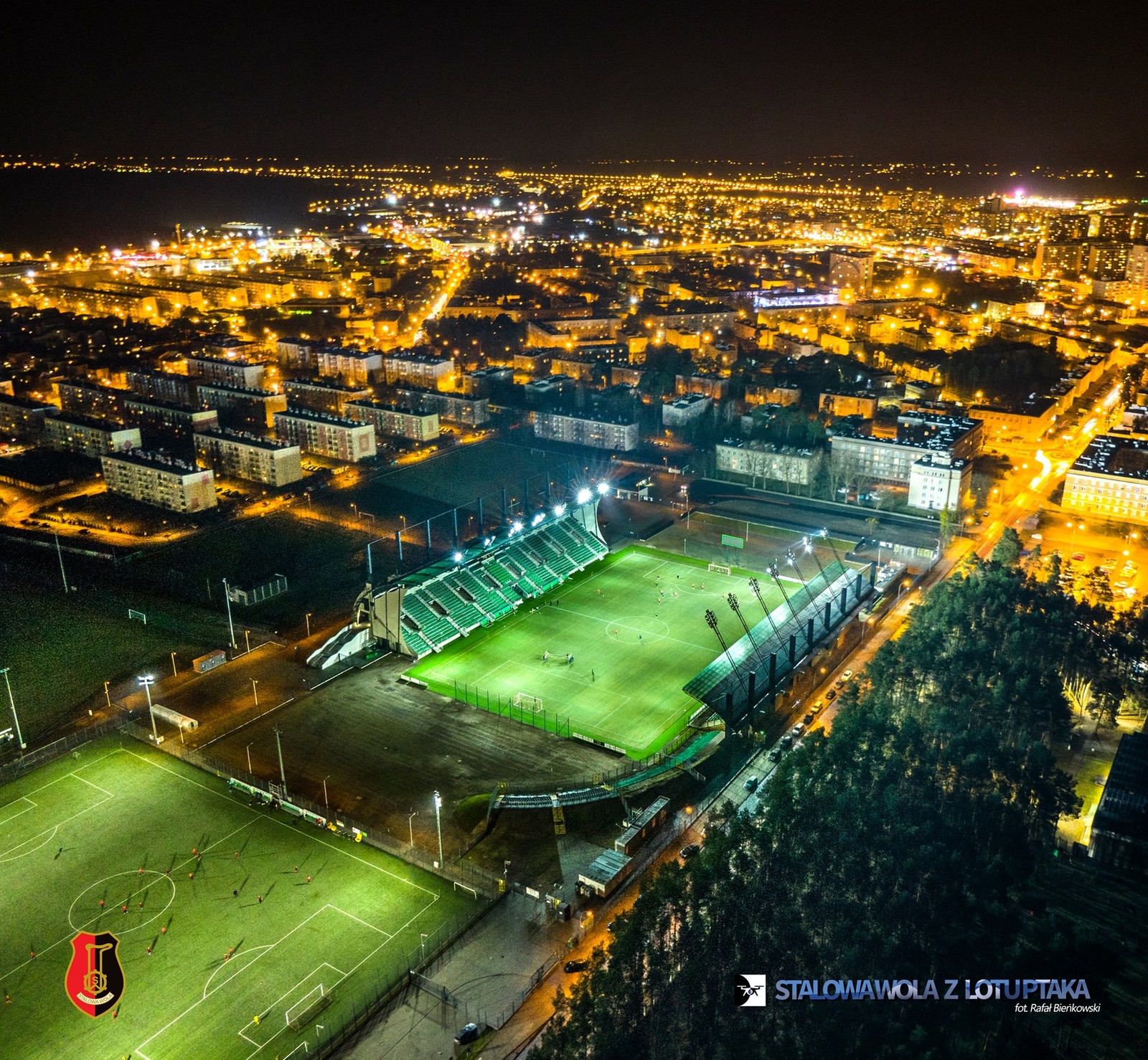 © Stalowa Wola z lotu ptaka - Rafał Bieńkowski - Fotografia Lotnicza
The architectural competition for Stalowa Wola's new stadium was held in 2008, drawing major contenders from across Poland, including international offices. However, local architect Marek Gierulski was eventually selected as the winner, having presented what was considered the best solution to limit matchday noise to residents of nearby blocks. His vision for a 10,000-seater was to have one continuous ring of seating with the exception of the main stand, where a double tier was to be used, divided by hospitality areas.
Delivery proved far more challenging than expected. Price tag of PLN 40-50 million was underestimated but even if it wasn't the city couldn't afford to deliver such project on its own, while EU and ministerial funding sources have just been shut down for professional football at that point. It also became apparent that matchday demand would never warrant 10,000 seats in a town of 60,000+, which is why the concept was scaled back to some 7,000-8,000.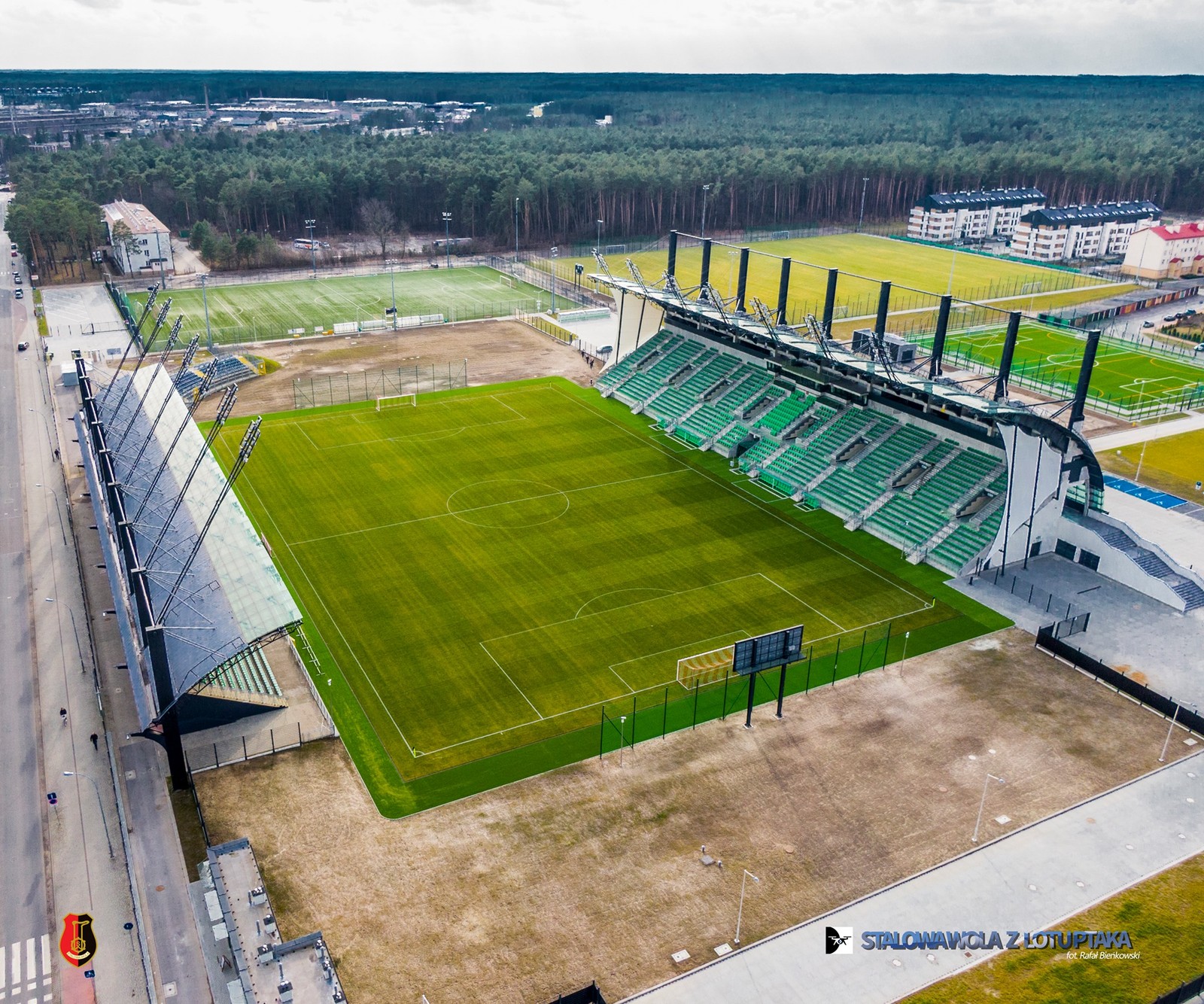 © Stalowa Wola z lotu ptaka - Rafał Bieńkowski - Fotografia Lotnicza
Works were carried out in phases in order not to overburden the budget. In 2010 contractor for the east stand was selected. With 1,430 seats, the 80-meter long grandstand is recognisable for its signature roof covered with 1,315 m2 of tin and glass. It was opened in early 2012. Delivery cost of over PLN 6 million wasn't excessive but the building did not offer any sanitary or catering facilities (those were planned to come with new corner sections that were never delivered).
With lack of resources for further phases (main grandstand alone was expected to consume over PLN 20 million), another shift in planning was made. Now the stadium was left without any sections behind goals and the main stand was scaled down in terms of floor space. In order to receive ministerial funding (only available for training academies at that point), the new main stand became the heart of a major training complex with a total of 4 fields, one of them synthetic.
The investment received the name of Podkarpackie Centrum Piłki Nożnej (Subcarpathian Football Centre) and became the biggest football academy across the region, priced at PLN 44 million. This way PLN 15 million was received from the sports ministry. Construction began in mid-2017, following demolition ongoing since late 2016.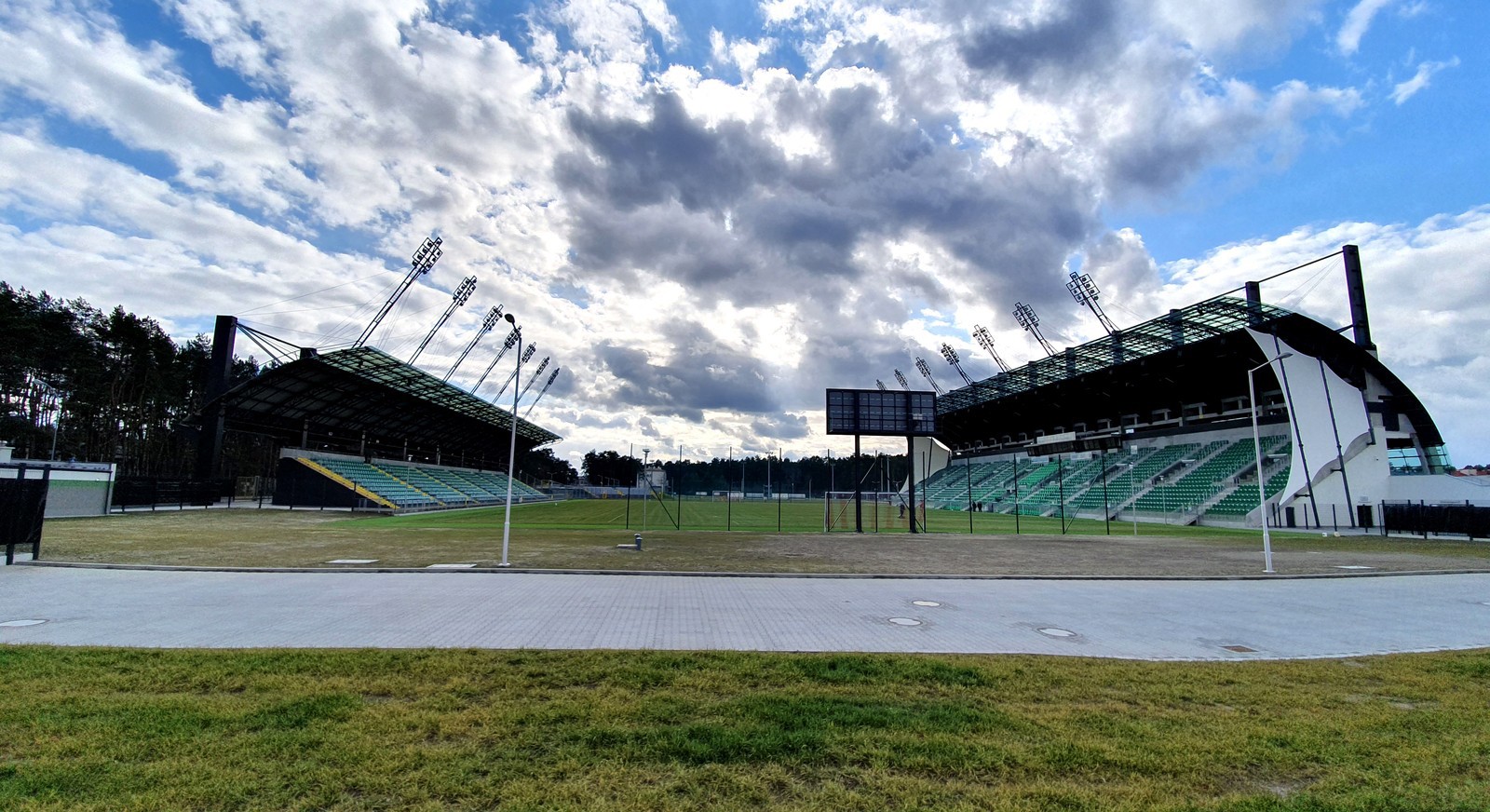 Bringing the first set of floodlights and under-soil heating to the stadium, the project was expected to cost PLN 44 million, though eventually the price went up to 55 million during delivery. It also came depressingly late (opening in February of 2020 instead of late 2018), which forced Stal Stalowa Wola to play all official games for over 2 years in distant Rzeszów nad Boguchwała.
Along with the new main stand and training fields two pavilions were delivered. One serves as reception and ticket office, another finally brought sanitary facilities to the east stand. The new main grandstand became a leap in quality compared to the dilapidating old one, holding some 2,000 people under cover, with very distinctive 'sails' installed on the sides to limit discomfort from wind.
The main stand offers two levels of facilities. The upper one is dedicated to matchday amenities along the main concourse, while below the focus is on players' facilities. Not limited to senior teams, the stand offers enough room for three games to be played at the same time across the complex.
One very small remnant of the old stadium remains to this day, however. It's the away fans' section in the south-east. It's still based on the very same embankment that used to constitute the old ground.