Sydney: Sydney Football Stadium more expensive and less supported
source: SMH.com.au; author: michał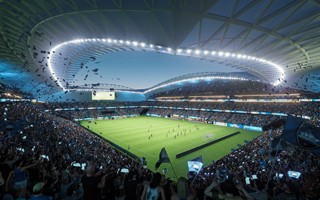 Resignation of previous contractor means the major stadium project will be $99 million more expensive. Cost blows up and yet a key feature expected by three crucial tenants has been cut from the project, causing further outrage.
As you may remember, replacement of Allianz Stadium with a brand new Sydney Football Stadium has been hugely controversial almost from the get-go. With quite significant opposition the government of New South Wales decided to build a new 45,000-seater in the place of a not-so-old 45,000-seater.
The price has also raised quite some eyebrows, estimated to be $729 million (US$ 511 million). That was even before the expected general contractor Lendlease announced resignation in July of 2019. NSW authorities had to find a new company and we now know the project will be carried out by John Holland for $735 million.
While it may seem like a very modest price change, these numbers don't tell all the story. The initial budget included demolition of Allianz Stadium, which has already been carried out and paid for. So the actual change is from $729m to $828m (US$580m), yet another reason to criticise the project.
But, to make it even more controversial, the final price tag doesn't include one feature that has reportedly promised to football and rugby clubs expected to use the new stadium: a LED curtain able to cover the uppermost tier, cutting capacity for less popular fixtures.
It's a major element because the new stadium will host majority of its game with crowds under capacity. The curtain would have allowed organisers to avoid the 'empty seats effect' which discourages attendees from returning to games.
Future hosts of games at the stadium are Sydney FC (football), NSW Waratahs (rugby union) and Sydney Roosters (rugby league). All three of them were apparently assured during consultation that the curtain would be at their disposal.
Now that it's out, Sydney FC went as far as to retract their support for the project if it doesn't include this feature. For a team attracting some 15,000 on a regular basis, it's understandably a question of viability if they are expected to play with 45,000 seats rather than 25,000 to 30,000.
Sydney FC chief executive Danny Townsend said all of the tenants of the former Allianz Stadium "have always been adamant we needed it to function in two modes. Once they announced the funding envelope and the stadium design, the one thing that wasn't included ... was the curtain," Mr Townsend said.
"At which point we went, hang on, we only agreed to this if we could operate and function in two modes, and in order to function in two modes, you need to be able to cover one of those modes."
Two remaining teams aren't as outraged or at least as vocal as Sydney FC. Nevertheless, Waratahs and Roosters also regret they were misled to believe the NSW government's promises and both call the curtain as a key "feature" and "priority".
The government argues a curtain might be delivered in the end, however it would depend on commercial partnership and private funding.
Despite nearly half a year of delays caused by contractor change, the new Sydney Football Stadium is expected to be delivered within the same timeline, with opening expected in October of 2022.