Amsterdam: ArenA expansion wins planning approval
source: StadiumDB.com; author: michał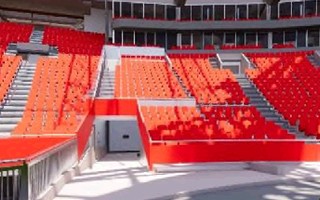 The largest stadium across the Netherlands is about to get even bigger, by some 1,130 new seats. While capacity can only grow so much, the stadium's image (particularly during broadcasts) will change fundamentally.
The winter break is all but over for Dutch Eredivisie. This doesn't mean nothing has been going on between Christmas and now. The league's largest stadium, Johan Cruijff ArenA, is growing already. First very modestly, by some 60 seats that will be added in the new VVIP lounge.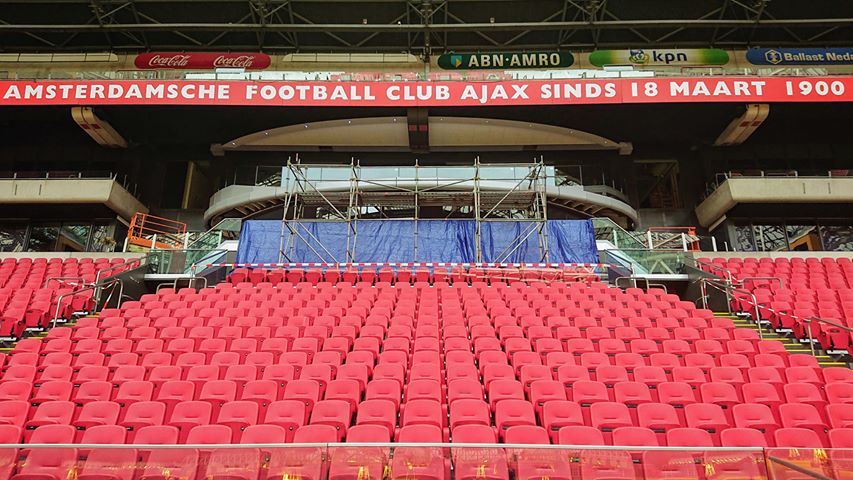 It's not the end, rather the beginning of pre-Euro 2020 changes. Last week planning approval was granted for the filling of all corners with seats. We informed you about this plan back in November, now it's much more solid. Instead of 800-1,000 estimated new seats the plan should deliver app. 1,103 seats, putting total capacity beyond the 56,000 margin.
Now possible opponents of the scheme have – as provided by Dutch law – 6 weeks to comment on the documentation, which means it's available to the public. We took the opportunity to explain with images how ArenA is about to change.
While not crucial, the changes will surely be appreciated by the 1,000+ fans who will be able to attend Ajax games. They will also change one of the most distinctive architectural features of the stadium. Since its opening in 1996, ArenA has been recognisable inside by its vast, curved entrances in each corner. Now considered a waste of already scarce space, these will vanish for good.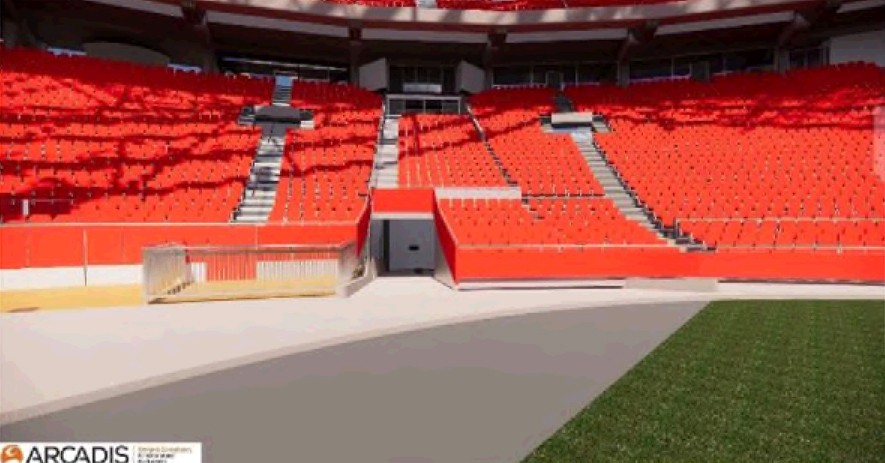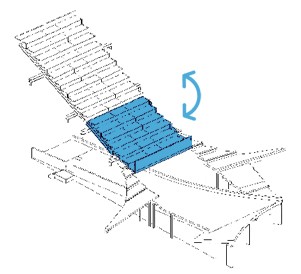 As shown in the below drawing, all four corners will have a nearly identical layout. The colours included divide added seating in terms of kind of structure on which they are based. Dark blue seats will be added permanently, removing the curvature of current entry gates. Light blue seats will be placed on telescopic steel sections, which will be moved upwards when needed to make way for truckloads (for example, with concert equipment). Finally, purple seets are demountable sections that would be removed entirely for passing trucks and put back in place for games.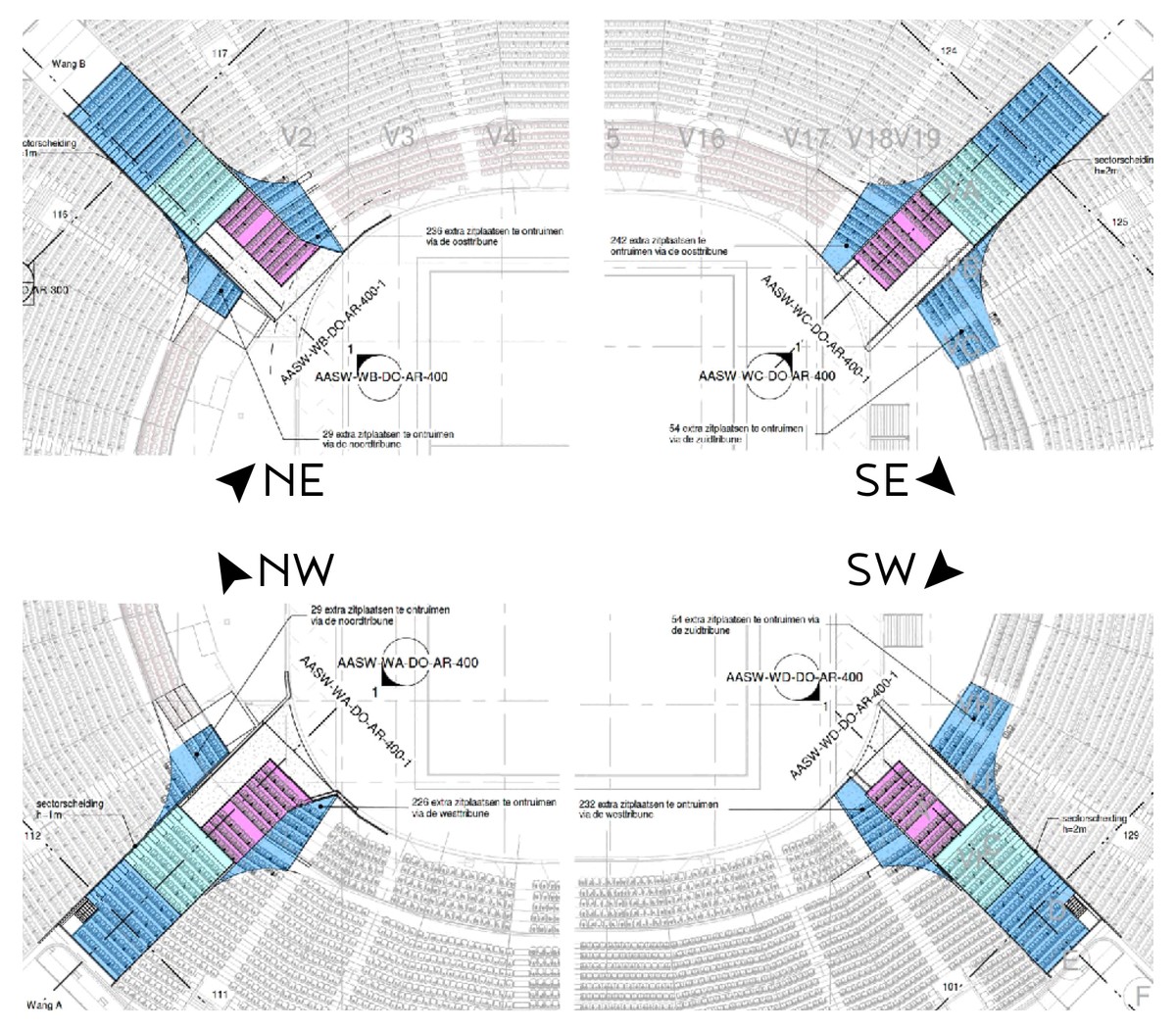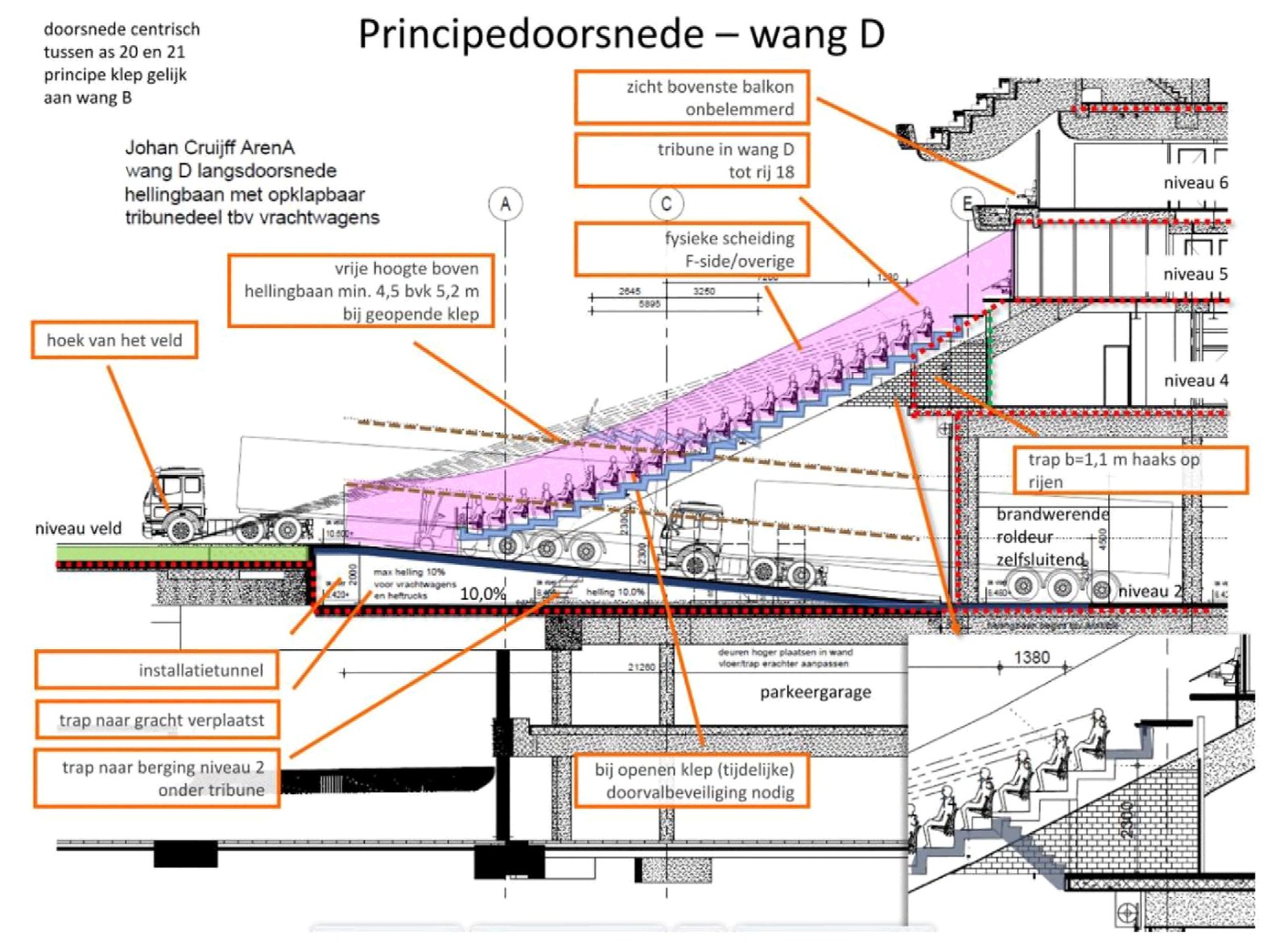 StadiumDB understands that enabling work at the stadium (with the south-western corner first) has already been launched to make way for these changes. They come as the latest stage of upgrades, which include, among other, extension of public concourses and new ETFE cladding (east), replacement of all seats to reflect the colours of Ajax and expansion of wheelchair platforms to over 250 (+ the same number for companions), which meets the UEFA criterion for stadia of this size.
Marc, StadiumDB Contributor