Liverpool: The Reds reveal new Anfield Road Stand
source: StadiumDB.com; author: michał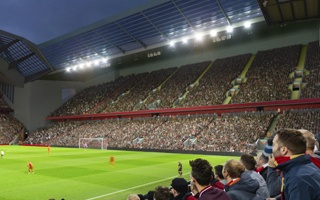 With capacity of 16,000 fans, this phase of Anfield revamp would bring total size to over 61,000, much to the joy of supporters on season ticket waiting list. Today sees launch of public consultation, more details are expected in 2020.
So far there are only two renderings but they already give a great overview of what might soon happen at Anfield. Two massive tiers with new away section and few corporate seats would correspond in terms of size to the new, large main stand.
Earlier this year Liverpool FC had allowed the previous planning permission for new north stand to lapse. That outline permission would have seen a new Anfield Road Stand with extra 4,800. Meanwhile now the club's aspiration is to add more, 7,000 new seats behind the north goal.
Today the first stage of public consultation began for the proposed development. The main goal is not to convince LFC supporters because their approval is nearly certain. What may be more problematic is persuading local residents to get on board. LFC found out about it the hard way last year, when they filed for permission to hold summer concerts without proper outreach to locals and many of them were furious.
"I think it is clear we didn't perhaps perform a consultation for the concerts as well as we could have done and we are always looking to improve. I think we did a really good job on the Main stand and the objective here is to run the best consultation process that we can." said chief operating officer Andy Hughes.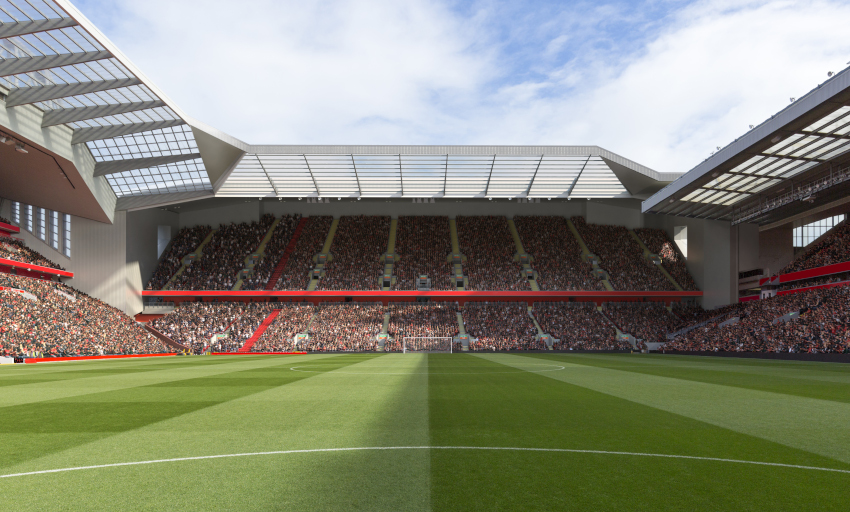 © Liverpool FC
The consultation process should be carried out thoughtfully because it's not just expansion of the stadium that the Reds are hoping to achieve. They also aim to extend its use beyond football and temporary agreement to hold concerts. Now a permanent approval for not just concerts but American and Gaelic football is on the table.
There's one more problematic aspect. With 16,000 seats the new grandstand will have to encroach on Anfield Rd, forcing its partial closing and making car traffic more problematic. Pedestrians and bicycle drivers would still be able to pass freely and the club promises not to take any of Stanley Park's green space.
Support from fans, local community and business is only part of the equasion, though. What more is the club forced to ensure? "Secondly, that we have the right sustainable financial and economic model in place to deliver a long-term sustainable Anfield. And lastly, that we are able to successfully navigate the complex planning landscape. We need to be satisfied on all three points for work to proceed." Hughes continues.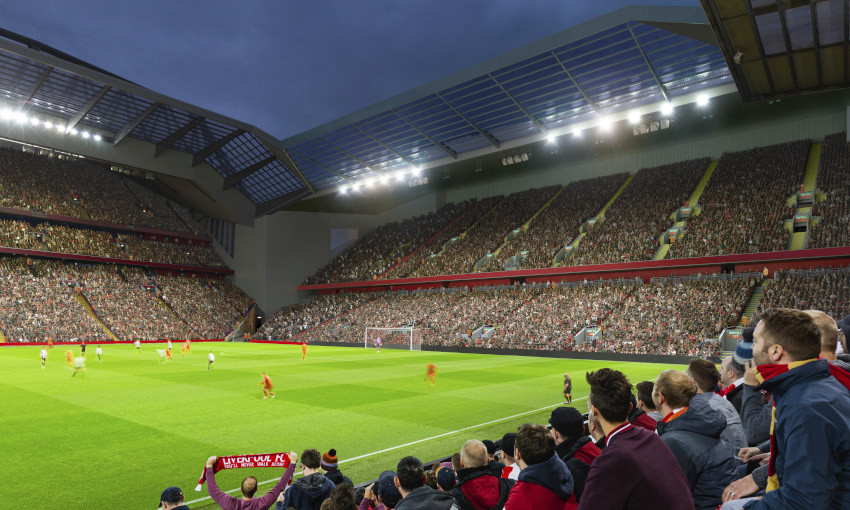 © Liverpool FC
In terms of financing, the budget is now expected to be at around £60 million (€70m). However, with unclear ramifications of Brexit, the estimate might have to be updated later into the planning/construction process. It's undderstood that LFC will handle the project via its existing banking facilities.
Another challenge is ensuring the planning permission, which in England tends to take time in some cases. That's precisely why the consultation process has to be thorough – in order to avoid appeals and protests against the development.
The first consultation phase will last until December 13 online and via traditional mail, while public meetings begin today and will last until next week. Further details, including more refined renderings, are expected during the second phase, currently hoped to take place in early 2020.
This is when we should see the revamped stadium's exterior. We should note that Anfield's overall form will change significantly, making the once-might Kop the smallest grandstand of all the stadium.