Liverpool: 1 year to decide on Anfield Road
source: ThisIsAnfield.com / StadiumDB.com; author: michał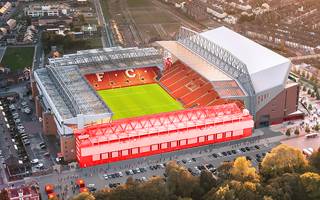 Liverpool FC have one year to move forward with their north stand expansion. The planning permission expires in September 2017.
We're just two weeks into the new main stand's operation at Anfield. Liverpool's largest stadium holds 54,097 people, but for over two years we've known it's not the end of LFC's aspirations. The goal is just short of 60,000 capacity and following up on the dream should begin no later than in the next 12 months. Why?
September 2017 is when Liverpool FC's planning permission expires as we're exactly two years into the permission now and it's valid for three years. While this would not hurt the already operating main stand, that planning permission from 2014 also gave outline approval for the north stand, along Anfield Road.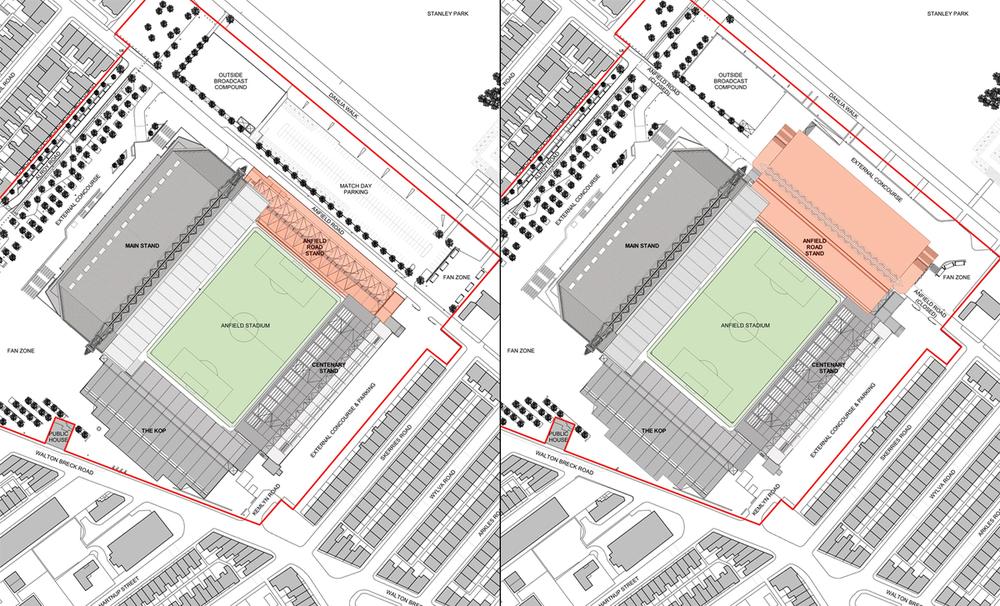 An outline permission means that the city has accepted overall volume and height of the proposed north stand, but are yet to receive exact details on the structure. Already now we know that the existing stand would be demolished in its entirety, being replaced by a much greater structure, nearly matching the mammoth main stand.
Currently Anfield Road is the smallest end at Anfield with just over 9,000 capacity. After reconstruction it would grow to around 13,800, becoming the second largest and surpassing the legendary Kop in terms of capacity (12,400 at present). The overall stadium capacity would be 58,800, though detailed number will likely vary.
In terms of capacity the new Anfield Road Stand wouldn't grow that much, only 4,800 seats. But in terms of volume and surface it would look nothing like the existing north end. It would effectively cut through Anfield Road, closing it off.
Under the seats 6 new floors would be created, mostly being used to create stadium facilities. The 5th floor would, however, offer either residential or commercial use with a possible view of Stanley Park.

It's entirely likely that we'll hear from Liverpool within the next 12 months. After all, you don't hire KSS Architects to begin work on a plan you're not intending to follow. If the club's financial position is stable and owners feel like pushing forward, ticket demand for the extra seats is a safe bet. Especially that there would be none or limited corporate seating, while the stand would gain 50 places for disabled fans.

If Liverpool follow up on the existing planning permission, they will be allowed to begin construction of the north end. LFC would have 2 years to begin the works and we might estimate the construction process to last two seasons. Even if it seems possible within just one season, that's the less likely option logistically. So, should we say 2020-2021 for the end of Anfield's expansion?