Miami: New visualization of Beckham's stadium
source: theguardian.com; author: Agnieszka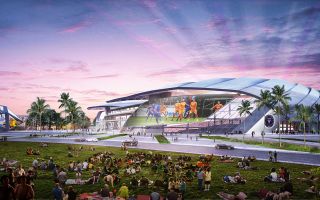 Inter Miami unveiled a new visualization of Miami Freedom Park. The state of art ground could cost up to $966m.
A short movie showing the new Inter Miami stadium has been recently published on the club's official website. The animation depicts the whole planned complex, as well as the stadium itself, including the rooftop bar and palm trees growing on it. The whole thing makes a huge impression.
According to The Guardian, the privately funded ground could cost up to $966m. The stadium will have a capacity of 26,000. The planned inauguration is set for 2022. Until then the club is going to play on the Lockhart Stadium. This ground, however, is not ready for that either. The original Lockhart Stadium was built in the 1950s and in 2019 torn down to make a place for the currently under construction new 18,000-seater. Inauguration of this ground is planned for May 2020.
The present situation at the construction site of the smaller stadium was described by Inter Miami sporting director, Paul McDonough, as "organized chaos". Works on the venue are happening seven days a week, due to the strict schedule. Inter Miami is supposed to compete in MSL next year and so the stadium has to be completed for 2020 season. McDonough assures though that they will be ready for that.