England: Torquay United to remain on Plainmoor
source: devonlive.com; author: Agnieszka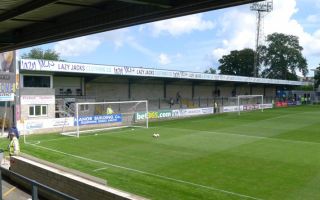 Plans to build a modern stadium in located in south-west England town of Torquay are going to fall through. The authorities of the club Torquay United anticipate, that such an undertaking would not be profitable under current conditions.
Over a year ago the owner of an English club Torquay United, Clarke Osborne announced his plans to build a brand new 10,000-seater. It was supposed to be constructed as a part of a larger complex including, among other things, a hotel, conference hall, retail outlets and residential estate.
However, as we read on devonlive.com, those plans will so far fall through. Reason? Among others, the problem is the high cost of this venture. Under current conditions construction of such a stadium would not be a profitable option.
Clark Osborne admits, that a new stadium is something highly anticipated in the area, but financing United's youth academy is right now a much bigger priority for the club.
Right now Torquay United play their home games on inaugurated in 1921 Plainmoor stadium. Currently they compete in Conference National, and, as Oborne stated, if they were to promote, that would happen on Plainmoor and not on the earlier planned new ground.