Brussels: Students to design new national stadium
source: BrusselsTimes.com; author: michał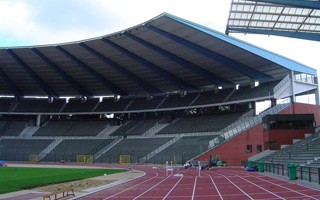 Seven universities across Belgium are taking part in an open competition launched by initiators of the new national stadium. It will likely replace the current Stadion Koning Boudewijn.
Belgian football association (KBVB) and event agency Golazo (hosts of the annual Memorial Van Damme) invited leading universities across Belgium to take part in the design of new national stadium. Of the 9 invited schools only 2 declined to take part.
Deans of respective architectural departments have already visited the existing Koning Boudewijn Stadion, taking a look on how the Rammstein concert was being organised – a major feature of current and future operation of the venue. Further visit is planned for this week, along with Memorial Van Damme, while students themselves are expected to visit the facilities on September 25.
The goal is to transform the aging Heysel stadium into a modern multi-use venue, able to hold both football and athletics, along with many other events. According to previously released information, KBVB is aiming at a 40,000-capacity arena, hopefully within the budget of €150-200 million. Universities will have time until January to prepare their bids, which will then be judged by a jury of experts (initial list of supposed jurors included footballers, which sparked controversy).
Complex redevelopment of the current national stadium is expected to take place within the next couple of years. It comes as the next best thing after failed scheme to build a brand new arena at Parking C, just across the ring-road from Heysel. The latter scheme's failure led to Brussels' exclusion from Euro 2020 host list.