Brussels: Blow after blow for Eurostadium
source: Standaard.be / SudInfo.be / HLN.be; author: michał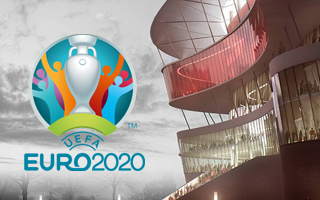 In just a week UEFA may take the unprecedented decision of stripping Brussels of its hosting rights for Euro 2020. In just a week negative opinions towards the national stadium surfaced on both local and national level.
Ghelamco, the company responsible for Belgium's Eurostadium project, had time until November 20 to submit complete documentation to UEFA about its stadium progress. "Progress" seems hardly fitting to describe the project deadlocked for almost two years.
The new national stadium, initially planned for 62,000 spectators, was in recent application downscaled to some 55,000 or even less in legacy mode but still failed to receive the green light.
Exactly on November 20 the Grimbergen borough decided on negative environmental assessment of the scheme. Some 2,500 letters of opposition from local residents were collected, as well as unanimously negative consultation with surrounding boroughs of Volvoorde, Meise and Wemmel.
Official substantiation leaves no doubt that, despite numerous efforts, Ghelamco failed to satisfy authorities in all of the problematic areas around the project.
"In terms of urban planning, it does not comply with zoning requirements for this site. The consequences in terms of mobility are, in addition, insufficiently analyzed. No account has been taken of other projects planned in this area, such as NEO. There are also fears of excessive traffic, both during construction and once the stadium is in operation. And finally, there is the problem of the internal road about which the region still has to decide. In short, this is not the ideal place for this project." the official arguments read.
Just a week from that negative decision, yesterday a new negative opinion was presented by the Department of Mobility and Public Works of the Flemmish Government. While it's non-binding as opinion, usually such evaluations are taken into account upon final decisions from the government. National authorities are expected to give their final decision on February 2, 2018.
By that time it may be all over for Ghelamco, which have until December 7 to hear UEFA's decision. Brussels/Belgium may become the first host city/country to be stripped of the staging rights for Euro if UEFA finds the stadium scheme unfeasible or under serious threat of timely delivery for Euro 2020.
With this disturbing prospect looming, UEFA decided to invite Cardiff and Stockholm back to the table. Both these cities were left out during selection of initial Euro 2020 hosts but one of them could now potentially replace Brussels. Whether it will, we'll see on December 7.