Milan: Here's why they want to demolish San Siro
source: StadiumDB.com; author: michał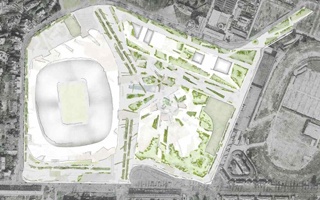 Only one murky rendering of what is a preliminary masterplan. And yet that's enough to notice why there's no room for San Siro in Inter and Milan's new scheme: it would take up space needed for commercial use.
Since yesterday we know more about the plan created for Inter and Milan. It's summed up by one rendition of the site taken out from what is described as very detailed technical and feasibility study. The document has been filed with the Milan city hall for analysis.
You can see the new stadium in the west, covering what now is Piazzale del Meazza, a vast asphalt plot used mostly for parking. The stadium would hold 60,000 people, but that part we already knew. What's more important is that Inter and Milan also have a plan for San Siro itself. Even though the city didn't express the will to demolish the stadium, this plan includes no piece of it.
As it turns out, Milan and Inter want Stadio Giuseppe Meazza torn down and replaced by vast commercial complex. Though both teams assure there would be space for sports facilities as well, nothing specific can be seen within the rendering. The commercial part is necessary, according to both teams, to make the project viable. It would see a total investment of €1.2 billion and creation of 3,500 jobs.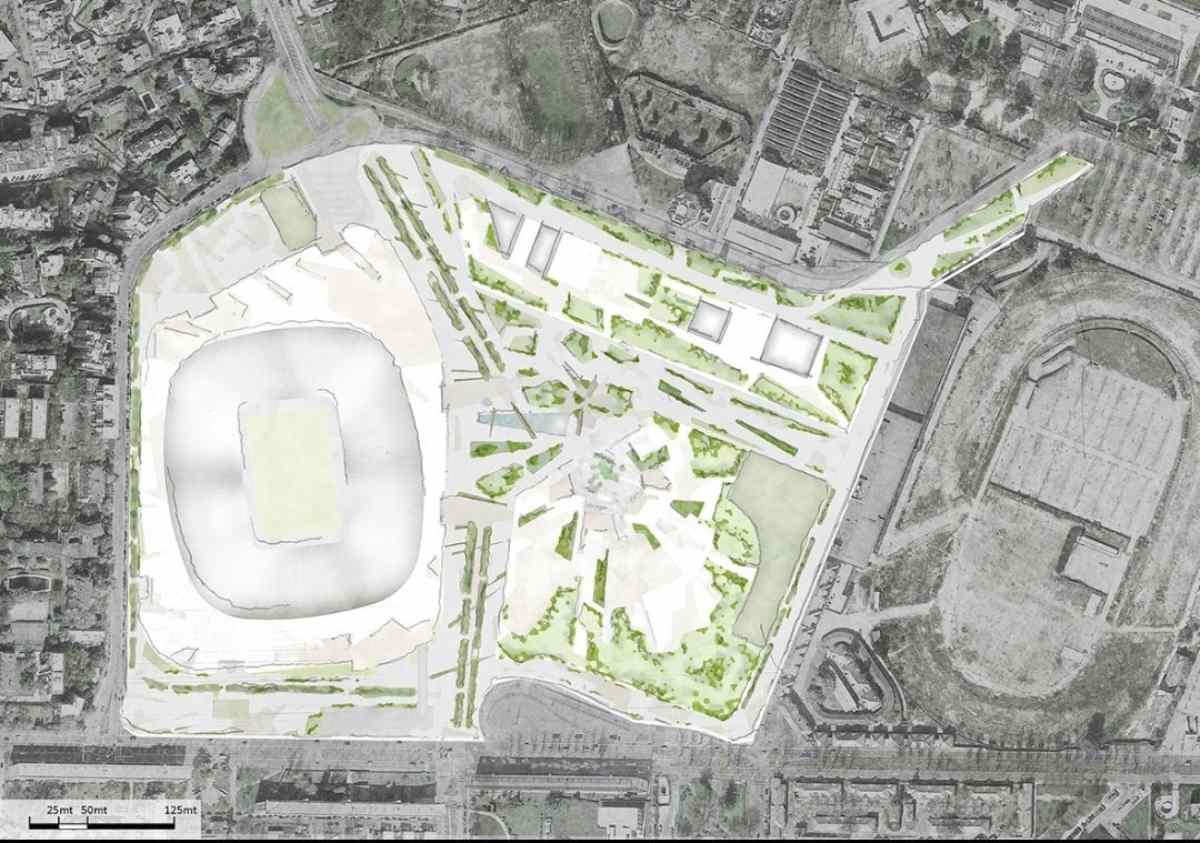 What will the city hall do?
It's long been clear that many people around the world aren't happy with the idea of San Siro seizing to exist. More importantly, however, not insignificant portion of the teams' fanbase seems to oppose it. During the recent festivities of 50th anniversary of Inter ultras, as many as 8,000 people gathered outside the stadium. Most of them seem to lean 'conservative' on the issue.
Among them Ivan Luraschi, a legend of the ultra movement, who spoke at the event. "Saving it would be the best thing and the right one, for all of us who have lived here as the second home. But we know that times change and societies follow different logics. We will fight, perhaps with Milan fans, to preserve at least part of it from being slaughtered." Luraschi said.
At least as of now, the city also refused to get on board with the football teams' idea. They've only just received the report, so any decision would be premature. Prime minister Matteo Salvini has also asked for a copy to review.
"The document received is very voluminous, it counts over 750 pages. For this reason it deserves a thorough review by technical staff from the city hall. Only afterwards will our evaluation be possible." reads a statement by the city hall.
If it's approved...
As things stand, the project's fate lies directly within the city hall, though pressure continues to mount. After architecture journalists and part of supporters, even the interior minister suggested he could not imagine San Siro being demolished. But at the same time there are assurances that the decision will be respected, whichever way it goes.
First, the city needs to establish whether there is public interest in the proposed scheme. If so, Inter and Milan would have pole position in the tender to lease land within and around San Siro for 90 years. Only then would both clubs commission a detailed plan. As for the new stadium itself, an international competition among best architects is promised to deliver its architecture.
However, at least at this point, it seems extremely unlikely that the city hall would agree for demolition to begin before 2026, even if the project is given the green light. The city has valid obligation to keep San Siro operational until early 2026, for the Winter Olympics.
Both clubs continue assuring everyone involved that retaining San Siro would hurt them in the long run. Reconstruction would be extremely challenging logistically, causing capacity reductions at least and perhaps even temporary relocation of both teams. But this point has never been argued against, San Siro would be hard to upgrade. The question is: have both clubs even taken other options into account? For answers we have to wait until the city hall's determination.
Especially for our Readers we've created a present/future comparison: