#Misja Stadion: 71-75, from Białobrzegi do Sędziszów
source: StadiumDB.com; author: michał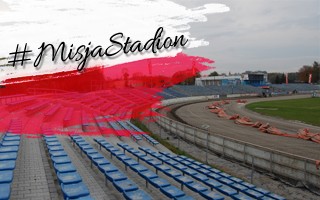 Four out of these five were visited by us personally, here are the latest additions as part of #MisjaStadion. We're three fourths done with our journey to update/add 100 Polish stadia.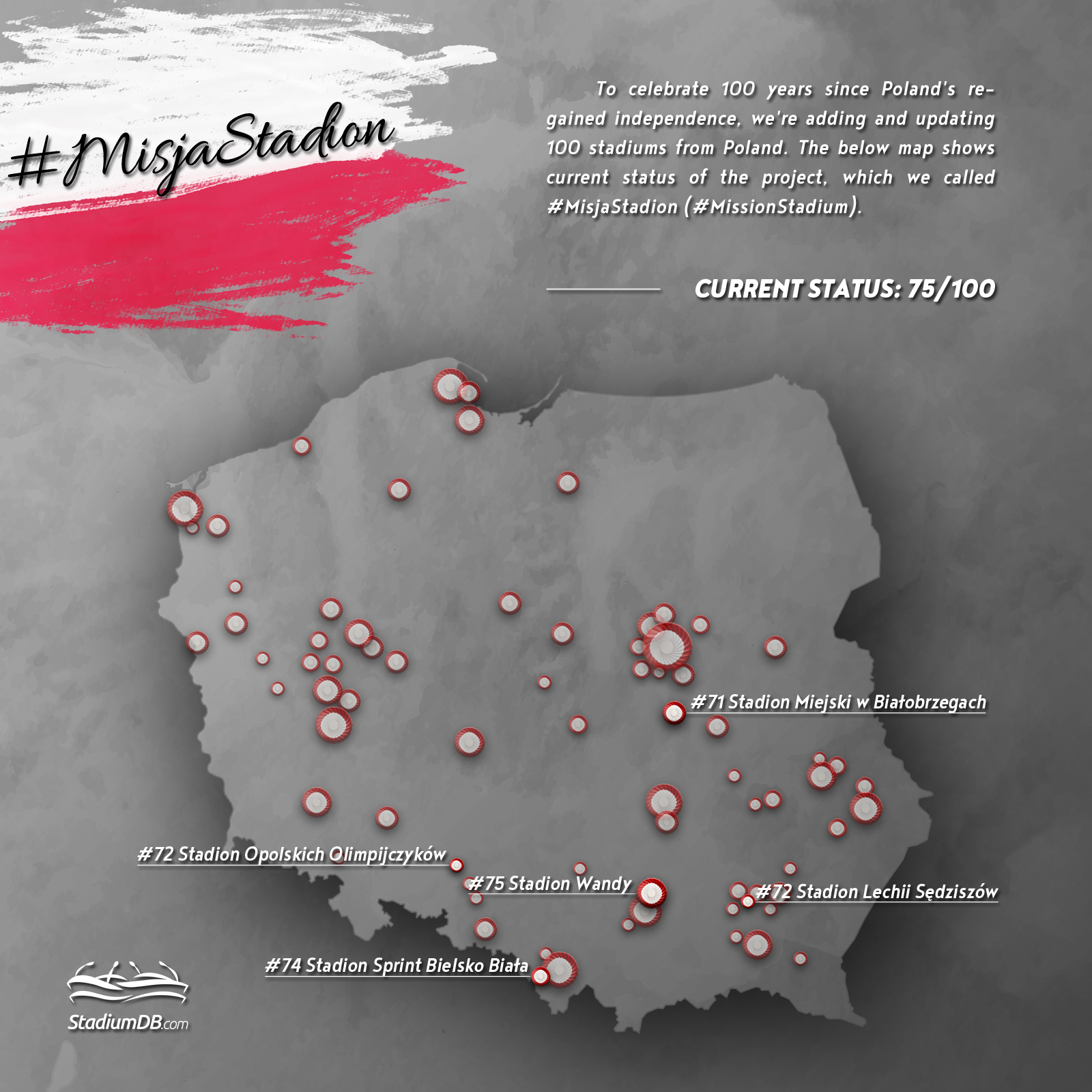 Built in 1981, the multi-use stadium in Białobrzegi covers a quarter in the west of town, along with one training field, tennis courts and minor sporting facilities. From its opening it offered only one grandstand but of a decent size. Landfill-based terrace could at peak hold up to 5,000 people but upon installation of seats in 8 of 9 sections (9th left for away fans) it went down to 2,800.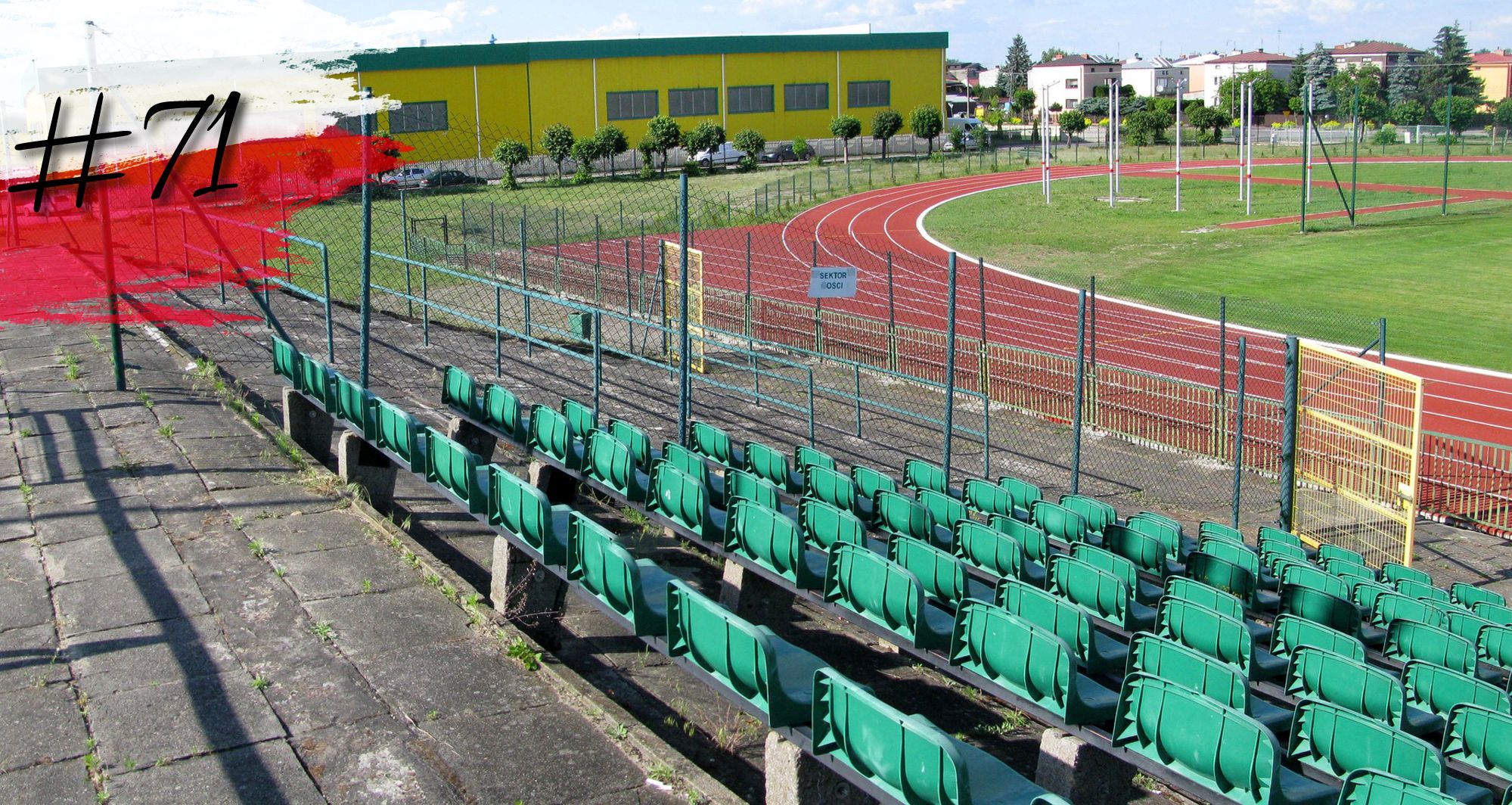 The venue remained nearly unchanged until 2018, although first major changes occured in 2016. This is when a modern 4-lane running track succeeded the old tarmac one, along with facilities for jumpers and throwers.
In mid-2018 demolition of the grandstand followed, to be replaced by a completely new one. This time with extensive facilities below, fitting both the needs of football team Pilica and other athletes, amateur and professional. The capacity would decrease drastically, to just around 800 people. While a major change since opening, it's a number sufficient for Białobrzegi in the medium term.
Remote building currently housing the changing rooms is to be left for secondary uses.
Though local team Lechia never managed to shine on national stage, the Subcarpathian club has quite a history. Established in 1914 and with first football game reported in 1923, the side has already had 5 stadiums. The significant number of relocation was largely caused by WWII, which forced changes in use of football fields.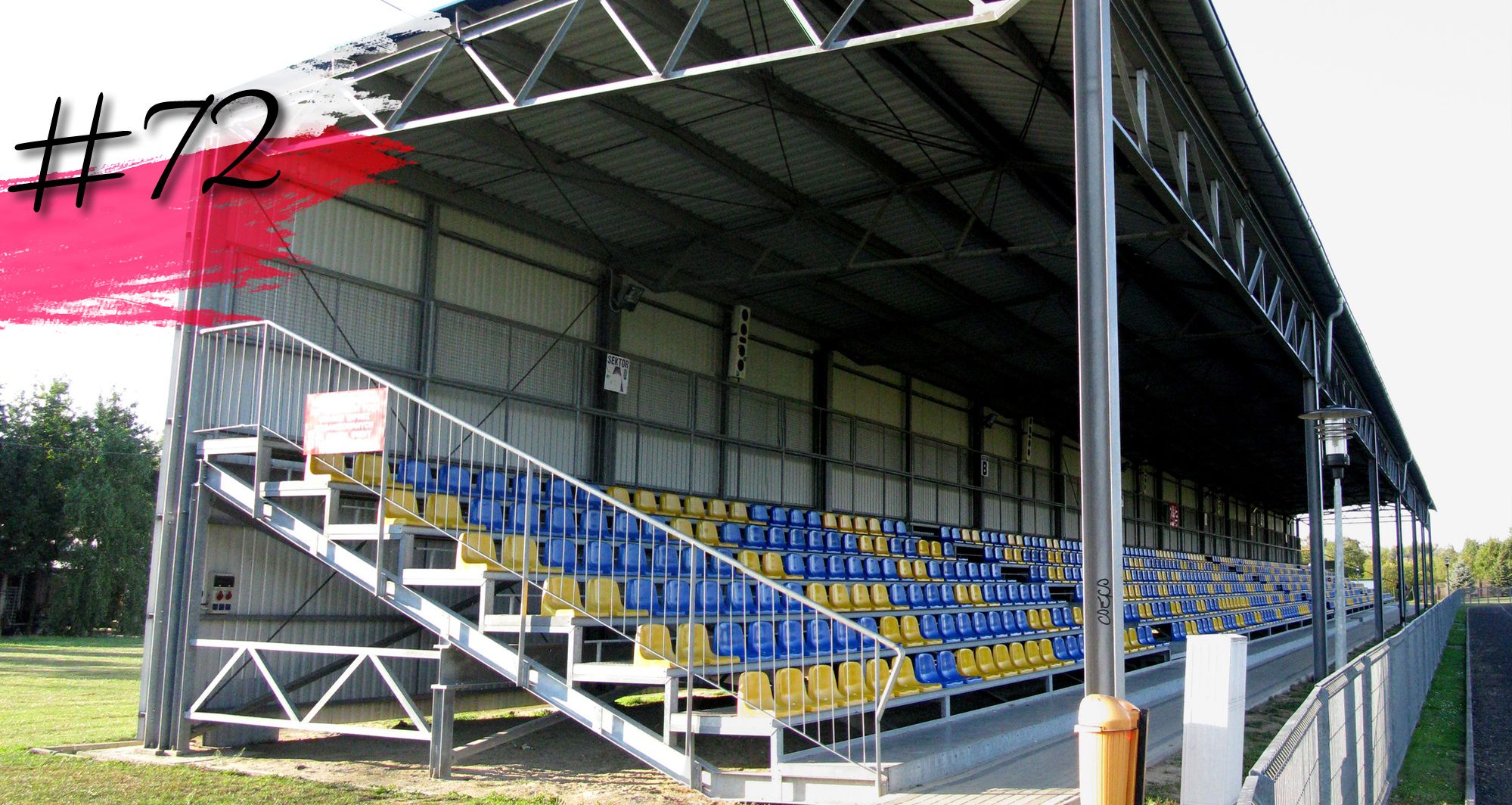 Construction of this final stadium began already in 1960s and yet it wasn't opened until 1981. There were a fair few reasons for such state. It was created on wetland, 25 private owners needed to agree terms on land swap/sale to run an access road and resources were also limited. But when it finally welcomed athletes, it offered a rare treat – small hotel built for them.
Though Lechia's heyday ended after withdrawal of local industrial partner in early 1990s, the team managed to draw the country's greatest legends both for league games and friendlies. Most notably, Lechia managed to score against Legia Warszawa in 1989, a goal highly celebrated despite Legia scoring 7. In 2014 Wisła Kraków came to celebrate Lechia's centenary.
Current shape of the stadium is owed to major revamps in 2000s. In 2008 a brand new steel grandstand was built, a year later received its shed-like cover. A pavilion with changing rooms and weightlifting facilities (in this discipline Lechia is nationally recognised) was also added, suplementing the existing facilities.
Located just 1km east of Odra Opole's historical stadium, the athletics venue was in operation already before WWII. After the war it was awarded to newly-founded Gwardia, a common name for sports clubs in socialist Poland. It remained under the club's auspice until 2005 but, like in many other cases yet again, it fell into grave disrepair following the regime change.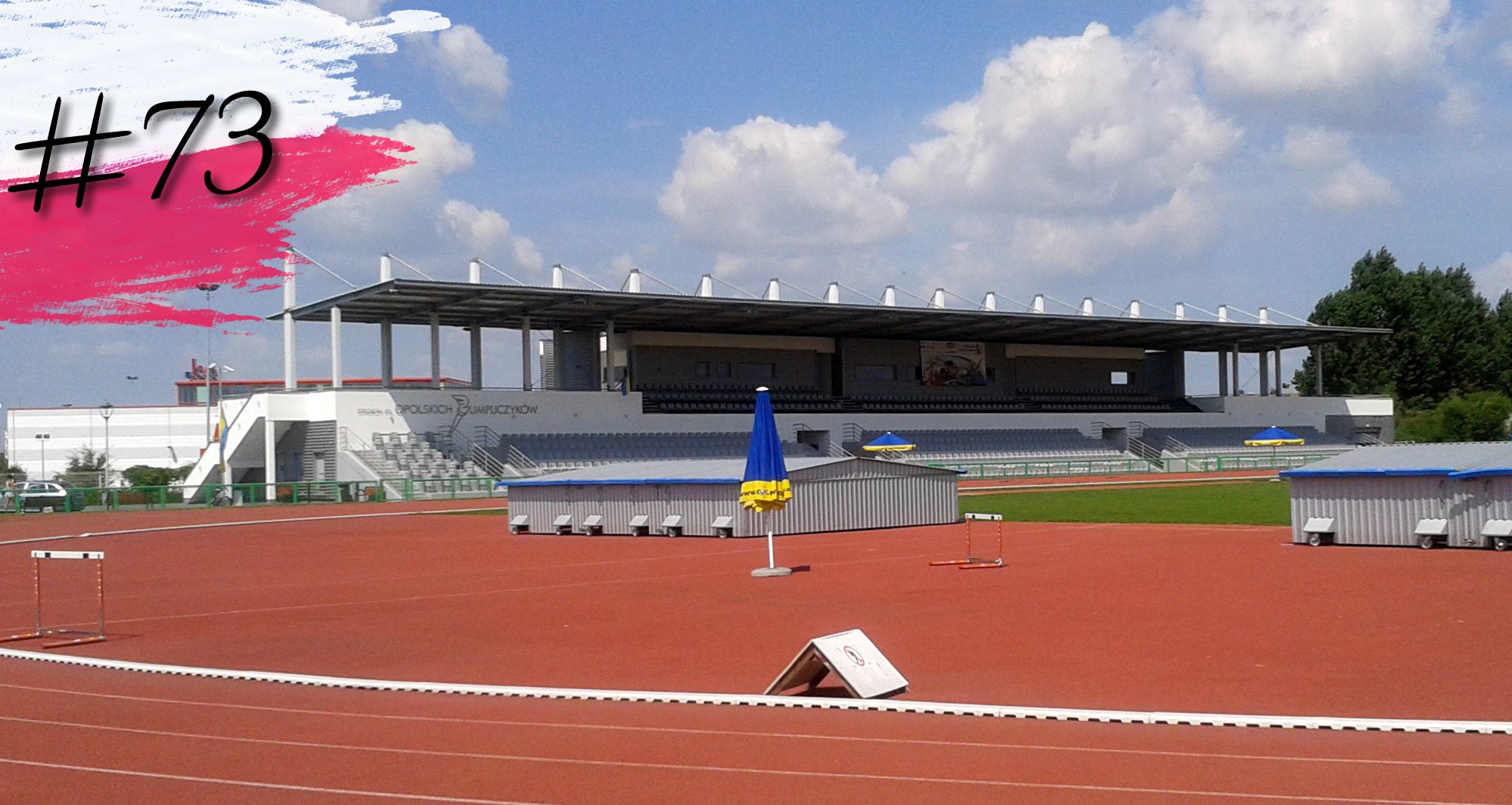 With a sports institution unable to maintain it, the stadium was transferred to the municipality in 2005, prompting first major changes. The city financed full athletics layout with 8-lane running track and all secondary elements needed to host major domestic and international events. The effort cost PLN 2.75 million.
The only thing missing was a new main stand able to hold athletes' changing rooms, media facilities and spectators. Though only barely meeting the capacity requirement of 1,000, it still became one of the best stadiums with a running track across Poland when opened in 2009.
Surrounded by picturesque woods of the Silesian Beskids, the stadium lies in an attractive, leisure-oriented part of Bielsko-Biała, beside other recreation venues and numerous running paths. The complex is significant, including a training running track beside the regular one.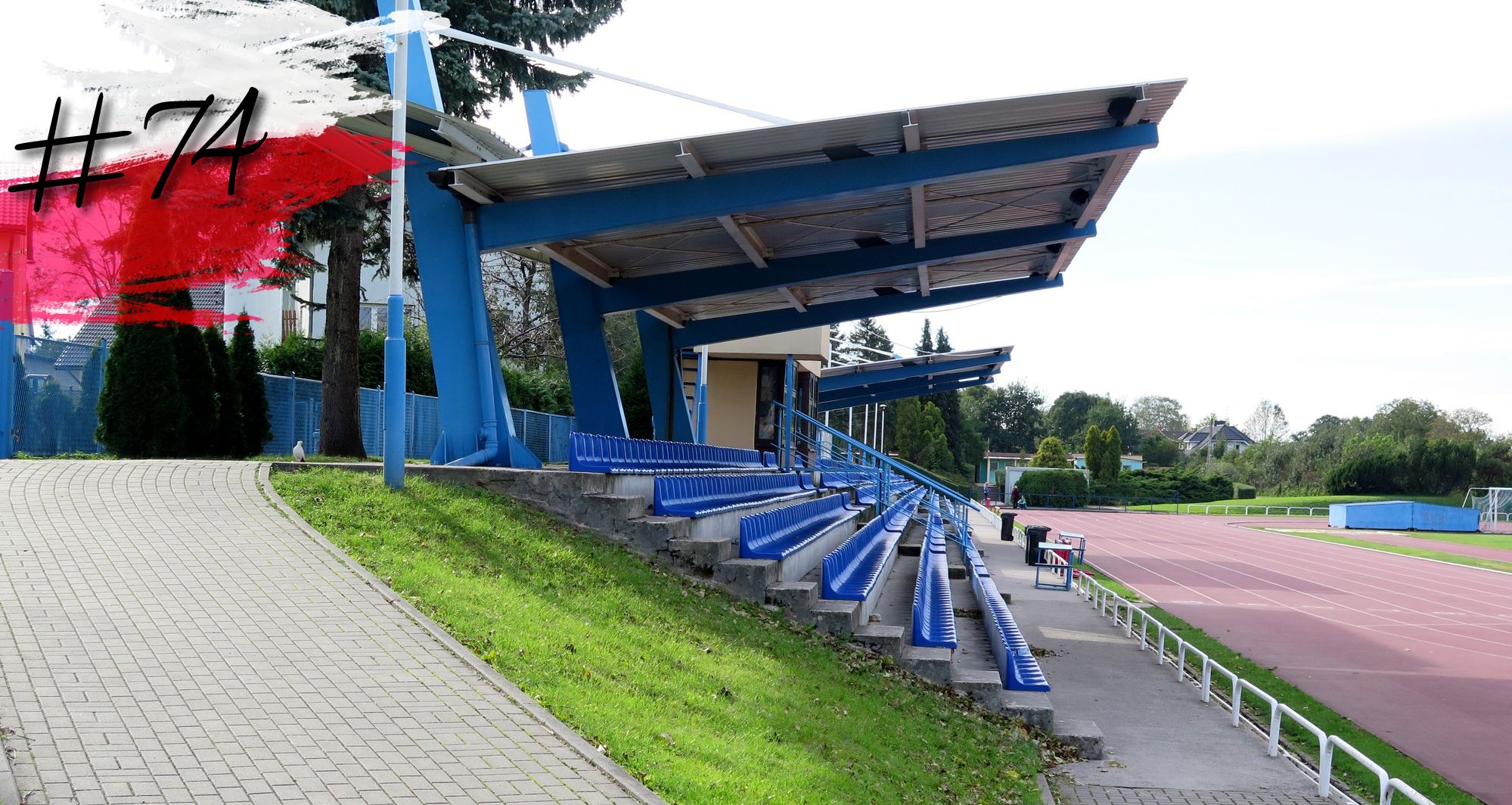 Following its 2000 renovation, the stadium hosts major domestic and international athletics events, to name just Beskidianathletics. It serves as training base for KS Sprint and local youth. Among athletes trained here is Michał Haratyk, recent European champion in shot put.
Throughout the year local residents are allowed to use the stadium until dusk, due to lack of floodlighting. It also has a football training field and hotel, all lying within the scenic Wapienica district and ecological park.
Located straight north from the socialist Central Square in Nowa Huta, Wanda's stadium was built in 1957 and at the time was among the most impressive stadia dedicated to motorcycle speedway, one of the first to have floodlights around the racing track. However, its professional career came to an abrupt end as the sports team collapsed already in 1965, seizing to exist for 28 years.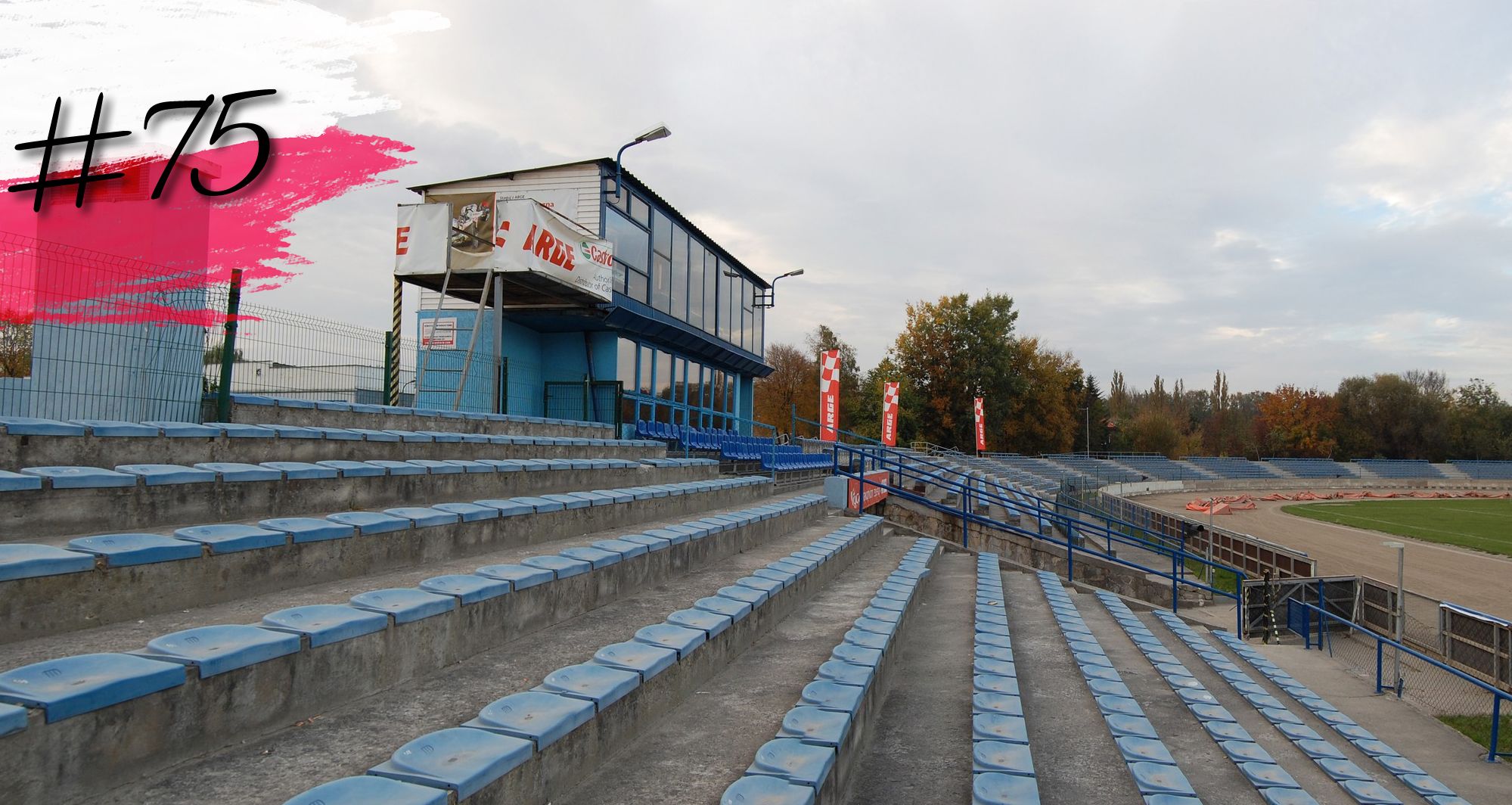 Abandoned and underinvested, the stadium gradually deteriorated and got nearly entirely overgrown by vegetation, leaving only the football field usable. Following the end of socialism, Wanda was reactivated in 1993. Six central sections of the west stand were renovated in order to allow some fans inside. Two further sections in the east stand joined later but Wanda was disbanded yet again.
The biggest redevelopment as of now began with the club's third coming to life, in 2009. Starting in 2014, piece by piece, the south curve was reclaimed from nature, then joined by several areas of the north curve (2016). Finally, in 2017 and 2018 the entire auditorium was rejuvenated.
This is when the stadium officially became an all-seater. Interestingly, the landfill basis created in 1957 is still there, the rows of terracing were simply covered in fresh paving onto which seats were installed. Eventually floodlights are hoped to return, while skyboxes should join the west stand.
Even though the football field has been in use more often than the racing track, the stadium was never famous for football. Most notable events were always accompanied by the engine roar. In October 1960 a massive crowd of 25,000 people watched Poland get beaten by England in speedway, one of two internationals being held in Nowa Huta historically.