Miami: Lockhart Stadium demolition begins
source: theRealDeal.com / NBCMiami.com; author: michał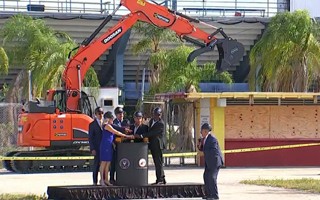 The famous Floridian football stadium will soon be no more. Its demolition has officially begun on Wednesday despite competing bidder for the site still being eager to appeal the decision.
On 9am local time a brief ceremony preceded the very first moves of heavy machinery in Fort Lauderdale. The digger struggled for a moment to tear down the ticket booth but it didn't stop pink flares going off in the enthusiastic crowd. First day of demolition means Inter Miami CF is moving closer to the first of its two new stadiums.
While clearly ceremonial, the move begins what is the end of Lockhart Stadium's 60-year history. It's been one of the most important stadiums across Florida and one of the crucial venues for American soccer, from its very early days. It's only fitting to see a major football/soccer hub being planned here. Although...
The Wednesday ceremony wouldn't have been possible if not for last Friday's court decision not to put it on hold. The party appealing against demolition is FXE Futbol llc., the company which competed against Inter Miami for the site's future tenancy.
While FXE plans to further challenge the project, demolition will now follow. It's necessary because time window for a new Lockhart Stadium is extremely limited. By the summer construction of the succeeding stadium should begin and is expected to end in May of 2020.
While named Lockhart Stadium as well, the new ground will be built in a slightly different location within the site. With 18,000 individual seats and simple steel structure, it will serve Inter Miami CF as interim home ground until the Miami Freedom Park Stadium opens in 2022.