New design: The great Nottingham afforestation
source: StadiumDB.com; author: michał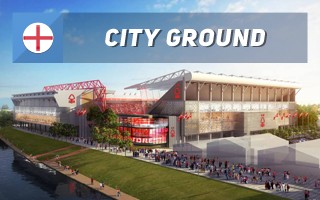 After over 120 years of staying beside the river Trent, Nottingham Forest plan to expand. The goal: becoming the strongest club of East Midlands, with the region's biggest stadium. And all that by means of just one new grandstand.
Nottingham is one of the most unique derby cities worldwide, where to large stadiums are divided by only 200+ meters and a river. Sitting closer to its banks is City Ground, the home of Nottingham Forest of over 121 years. It hasn't seen major improvements since post-Taylor changes of 1994. Now that's about to change, with a very ambitious plan of owner Evangelos Marinakis, who hired Benoy architects to plan expansion.
Reconstruction of City Ground will focus around one crucial area: the replacement of current south stand, the lowest of all four. Current single tier will be expanded by a large upper level for 10,000 people. This way total capacity should reach 38,000, making the stadium East Midlands' single largest.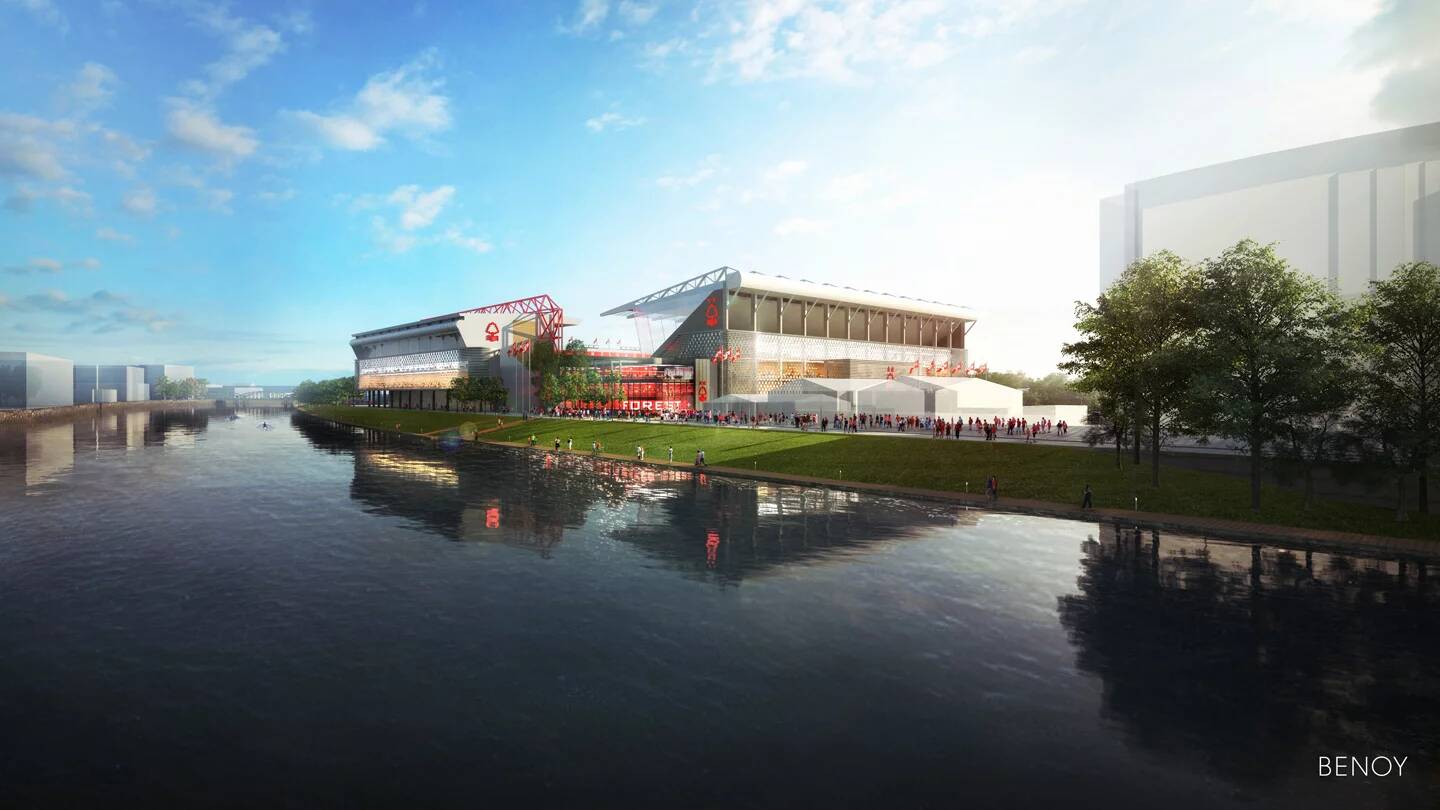 © Benoy, Nottingham Forest
Two tiers of regular seating would be divided by a strip of hospitality facilities, including smaller boxes and lounges, connected with dining facilities. Integration of these functions in one system ensures optimal function and flexibility on non-matchdays, for smaller events. The grandstand's western extension is a pavilion with red glazing and premium amenities overlooking the river Trent.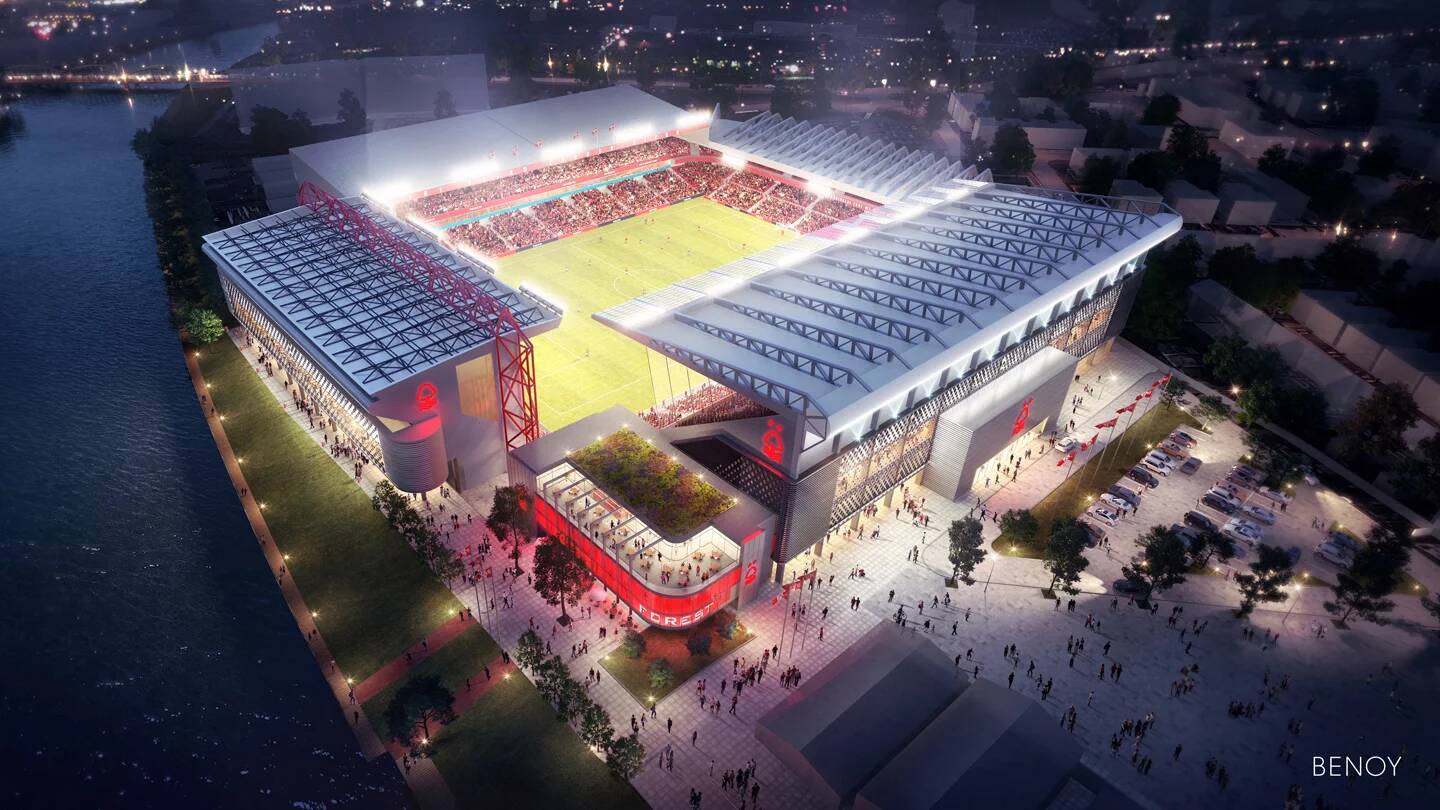 © Benoy, Nottingham Forest
New south stand would house club offices, museum and Nottingham Forest megastore. Despite rather simple structure and shape, it should still be impressive thanks to a modern facade created by Benoy. Interestingly, the architectural team was directed by Tom Cartledge, a Forest fan himself. Eventually some of the south elevation will be hidden behind new residential development planned along with stadium reconstruction.
"Every home game I sit with my old man and my young sons. As a family, we have been red for 72 years, and we intend to be for many years to come. A recent trend has seen clubs move their new stadia to non-city centre locations, but never has this been on the table for the Forest owners.
"The brief was clear, this is our home, we stay, we develop and we build upon or 125 year history on the banks of the river. The City Ground has evolved and grown, and remains a unique experience for fans and players, and this will only get better." Tom Cartledge, CEO at Benoy.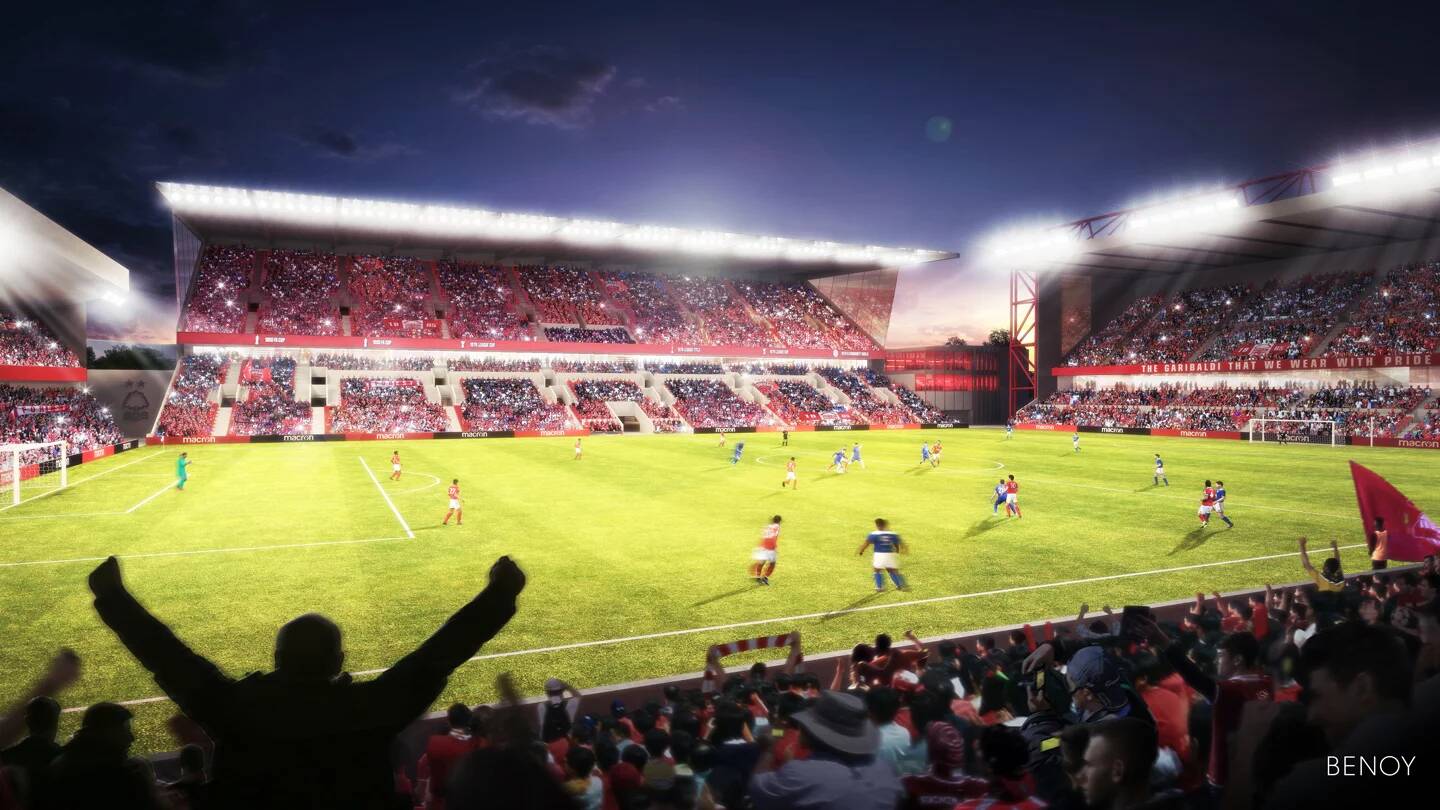 © Benoy, Nottingham Forest
Three remaining stands, which haven't seen major improvements since 1994, will also be upgraded as part of the project, though only the east end is rendered to see significant structural intervention as it's expected to reach two tiers throughout its length.
So far we know the concept, now consultation is about to follow the recent announcement. Only once this phase is complete, planning application will be submitted. Thus the expected groundbreaking time of late spring of 2020, once the 2019/20 season comes to an end.