London: West Ham would gladly buy London Stadium, but...
source: BBC / Standard.co.uk; author: michał
The Premier League club would like to take full control of London Stadium, however not under current conditions. Particularly not as long as the running track is used, according to vice-chairman Karren Brady.
Speaking to London Assembly on Wednesday, lady Karren Brady discussed the 'difficult' relation between West Ham United and LLDC/E20, the public operator of London Stadium. One major upside of the meeting was the news that there's been progress in recent days, most notably regarding the synthetic carpet around the field.
In case you're not up-to-date, West Ham has been criticising the current light green surface for quite some time and pledged to cover the cost of replacement, as long as the new one was in club colours of WHU. LLDC in turn agreed to change the surface if the club increase their rent for the stadium instead of one-time payment for the operation.
As it turns out, there is a way out that satisfies everyone. The new surface might be laid by Christmas and be majority claret (primary WHU colour) with just some navy blue (LLDC colour). It will include the team's symbol, two hammers.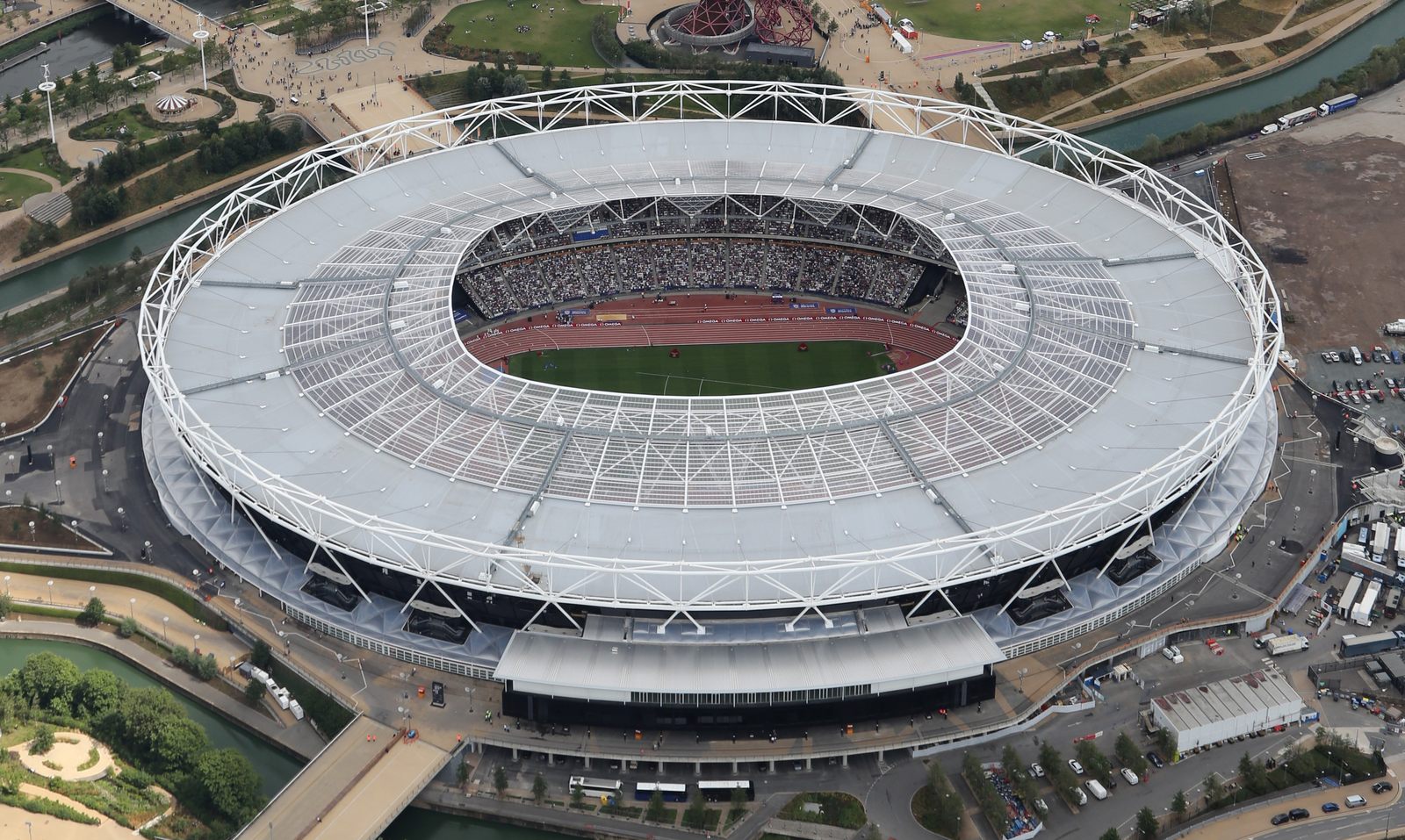 © Queen Elizabeth Park
Harsh words for LLDC
You may remember that LLDC has recently been bitter towards West Ham, whose every game means loss to the taxpayer. London Stadium is expected to lose £140 million over the next decade and the operator blames conditions of West Ham deal for part of that burden.
It was thus expected that vice-chairman Brady would retaliate with similar accusations and so she did. "I refuse to accept any criticism that our rent is too low, because that is simply not the case. Costs are too high," Brady insisted. She also argued that securing naming rights should be "relatively easy" and yet LLDC has failed despite having spent almost half a million pounds on the effort so far.
Speaking to a London Assembly hearing, Brady says it is "hugely frustrating" that offers of help have been rejected. She claims to have approached the stadium with offer of help 15 times and having been denied the attention.
She said "nobody" at the group responsible for running the stadium had any expertise in that field. Brady said that on matchdays, the stadium was "generating millions of pounds", adding: "There should be a surplus".
WHU would like to take control
Just like with naming rights, West Ham would gladly take over entirely at the stadium, even if Brady refused to give a decisive answer at this time. She mentioned conditions which would have to be met for such transition to be possible.
"The problem for this stadium is the cost of the seat moves for athletics. That is what drains this proposition of all its revenue." Brady noted. It's worth keeping in mind the preferred retractable seating system, which was never implemented, was supposed to bring conversion costs from football to athletics (and back) to some £300-400,000. Meanwhile, the current way of moving stands has inflated to giant £11 million per annum! Without London Stadium dropping athletics or finding a more suitable solution, this is financially unsustainable for West Ham.
"We would like more control over our matchdays, no one knows how to do that more than us. When we first wanted to move in, we offered to buy the stadium, and we would have been responsible for all costs and that was rejected.
"London Stadium craves direction, it should be a jewel in the crown. It needs financial control, it needs investment, it has nowhere near reached its potential and that's incredibly frustrating." Brady complained.