StadiumDB Newsletter: Issue 49 – Our weekly roundup
source: StadiumDB.com; author: michał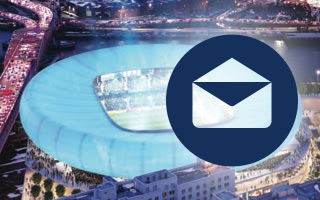 While Russia is gearing up for the World Cup and domestic leagues are gradually moving towards their climax, we've spent our last week mostly on adding interesting stadium designs and construction photos. More content is coming your way this week, but first let's see what made headlines on StadiumDB over the past 7 days!
If you enjoy getting weekly updates straight to your inbox, be sure to subscribe to our newsletter through the blue form above!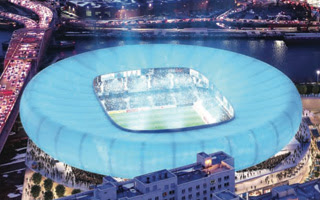 Ranked in order of importance, we have to begin in New York. Of all places the Big Apple is perhaps the one waiting longest for a brand new football (soccer) stadium. While Los Angeles will get its second MLS venue on Sunday, in NY it's been a long series of missed opportunities since 2011. Perhaps it's time to change things round? This South Bronx site might become a spectacular place to build in, partly on the riverfront and partly above ground. 26,000 seats sounds far too modest for NY City FC's potential, but it woud still be far better than long-term tenancy at Yankee Stadium.
Staying in the US, StadiumDB earned two versions of Hayward Field, the legendary US track and field stadium. One as the existing ground, with all its charm and limitations. Another, as the future arena it's meant to become from 2020 onwards. According to University of Oregon, you're looking at the world's next best athletics stadium. Well, are you? Judge for yourself here!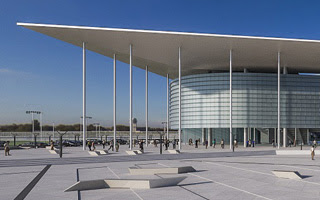 Breaking news comes from Croatia, where NK Osijek is surprisingly looking to break the Zagreb/Split/Rijeka dominance in domestic football. What's more important is whether they manage to break the indolence of all three bigger cities, which have all planned new stadia and failed, at least so far. The proposed 12,000-seater in Osijek is indeed impressive. But we'll be impressed once photos replace renderings, we've seen enough of those landing in the bin in Croatia...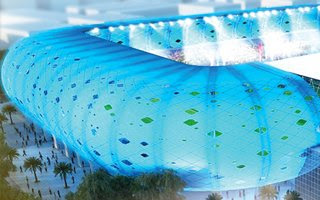 Finally, the frsh addition from United Arab Emirates, the final version of Al Maktoum Stadium plan. Modest when compared to the most bold proposals from the Emirates. At the same time easily sufficent for everyday needs, possibly even excessive. 15,000 seats is more the size needed for 2019 Asian Cup games rather than regular ticket demand of Al Nasr Club.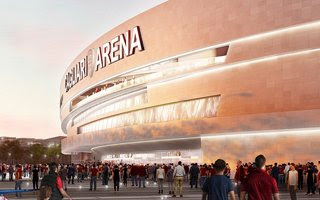 In other design news, Cagliari Calcio selected their preferred stadium concept and it's the one leaks have suggested as the most likely winner. It seems well earned, though, so let's not nit-pick. In Poland a more difficult issue arises in Sosnowiec, where the local sports complex is already proving to be 30% more expensive before construction tender was even announced. But even that isn't as bad as the situation in La Plata, Argentina. Here, construction of the new Estudiantes stadium is on hold due to lack of funding.
Did we actually manage a whole week with only one article from Russia? No worries, it'll change soon as the new stadiums in Saransk, Nizhny Novgorod, Volgograd and Rostov are ready to join the Stadium Data Base! And more...