Russia 2018: Mission impossible in Samara
source: Kommersant.ru / StadiumDB.com; author: michał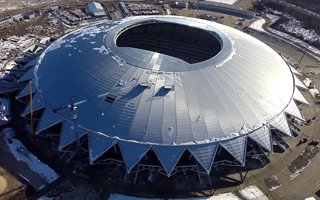 They failed in December, failed in March. The latest deadline for Samara Arena is April 25, just 3 days (!) before the first game. This cannot end well and it won't. According to fine reporting by Kommersant, more issues with the stadium will surface.
Samara Arena has taken over the reins as Russia's most troubled stadium, at least for now. You can almost hear the sigh of relief in Saint Petersburg, where the notorious spaceship stadium is in operation and Zenit is indeed drawing crowds beyond expectations.
Meanwhile in Samara the stadium, which was initially hoped to be ready in mid-2017, failed to meet several deadlines and became the most delayed Russian venue for the 2018 World Cup. When the mid-2017 date was already too optimistic, it was contracted for late December. No. Then for end of March. Nope, not happening, even if the deputy prime minister Vitaly Mutko held on to that date as late as March.
It's April 8 and work is still ongoing. Quite a lot left to happen, too. With no time to sow field from scratch (frost only gave way several days ago), it was agreed for grass to be imported from Germany. First of the 22 trucks went on the road on Friday. It's just one of the frantic efforts to make the stadium usable by April 25. This time no delay can take place, because on April 28 Krylya Sovetov is about to play the very first game. Ironically, this test event is also late compared to FIFA's preference.
Will the stadium be ready? No, it won't. We specifically wrote 'usable', because it will only meet the minimal requirements to safely hold a game, at best. This means all crucial access/egress routes, plus facilities for players, media and VIPs and a portion of the general admission seats. If carried out safely, it will be enough, but not the end of works.
It's somewhat sad, because Russia 2018 was to avoid the issues of Brazil 2014, as assured by Vladimir Putin himself. Meanwhile Samara is almost exactly in the position of Curitiba, except worse. Worse not because there's actual risk of losing hosting rights, those seem safe. But actual issues may begin after the World Cup ends, when regular use of the stadium will begin.
According to information gathered by Kommersant, noticable part of engineering and installations are not up-to-standard and not compliant with the documentation. "There are serious questions on drainage systems, storm water drainage, power networks. They obviously do not match the project and the [contractor] probably looked for savings." says the newspaper's informant.
This may mean issues with receiving the crucial use permit. It's a matter of national prestige, so we may see the process go smoothly, but it's entirely likely further costs will accumulate after the World Cup, when repairs or amdendments can be expected.
Budget issues from the start
Looking for savings is nothing new and one cannot entirely blame it on PSO Kazan, the general contractor. Samara's new stadium is one of Russia's most impressive projects, maybe one of the most impressive 45,000-seat stadiums globally. Except that it proved far too lavish very soon after selection, due to the economic downturn in Russia and collapse of the ruble.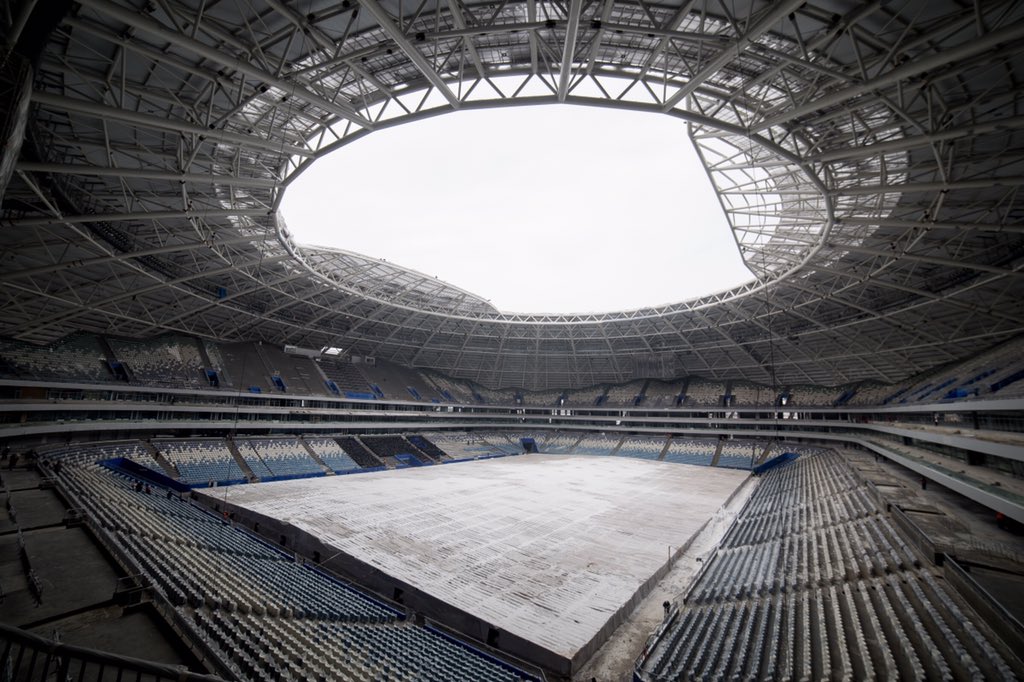 © Anar Movsumov, Sama Region Press
Initial contract was worth RUB 13.4 billion back in 2014, which by 2016 was worth only 65% of the starting value. For a project with numerous elements imported from abroad, this meant huge issues. In mid-2016 PSO Kazan suggested that their internal estimates put actual, up-to-date value of required works at RUB 28 billion! They even threatened to abandon the site permanently, halting works for some time. No wonder, a difference of this size might threaten a company's overall balance.
Current cost estimate for the stadium is RUB 18.9 billion ($327 million) and we'll risk saying that it's not at all final. Some relief to the public coffers might come from lawsuit filed by the sports ministry against PSO Kazan, in which the Moscow authority demands RUB 1.2 billion in compensation for delays. It might not be the only lawsuit, but for now priority is on delivering it altogether.
With all the above issues it's no wonder that cost-cutting efforts in Samara began long ago, back at the design stage. Its initial cosmic dome was scaled down. Instated of covering it with translucent polycarbonate PSO Kazan proposed to use simple metal sheet on part of the dome, eventually using the cheaper material on the entire roof. It lowers the architectural value, but down went the cost as well.
More headache coming
When global spotlight moves away from Samara in July, locals will have even more problems. Let alone the suspected issues with drainage and electrics, actual maintenance of the 45,000-seater is the problem.
Krylya Sovetov, the main tenant, is one of Russia's most popular football teams, but this season their average turnout is just over 5,000, peaking at 7,000+. That's still the single best attendance across the country's first league (2nd tier), but just a shade of what Krylya used to be. Back in 2008 no other Russian team could boast crowds of 20,000 on average, which is even more impressive when you take into account the harsh weather on many occasions and roofless old stadium.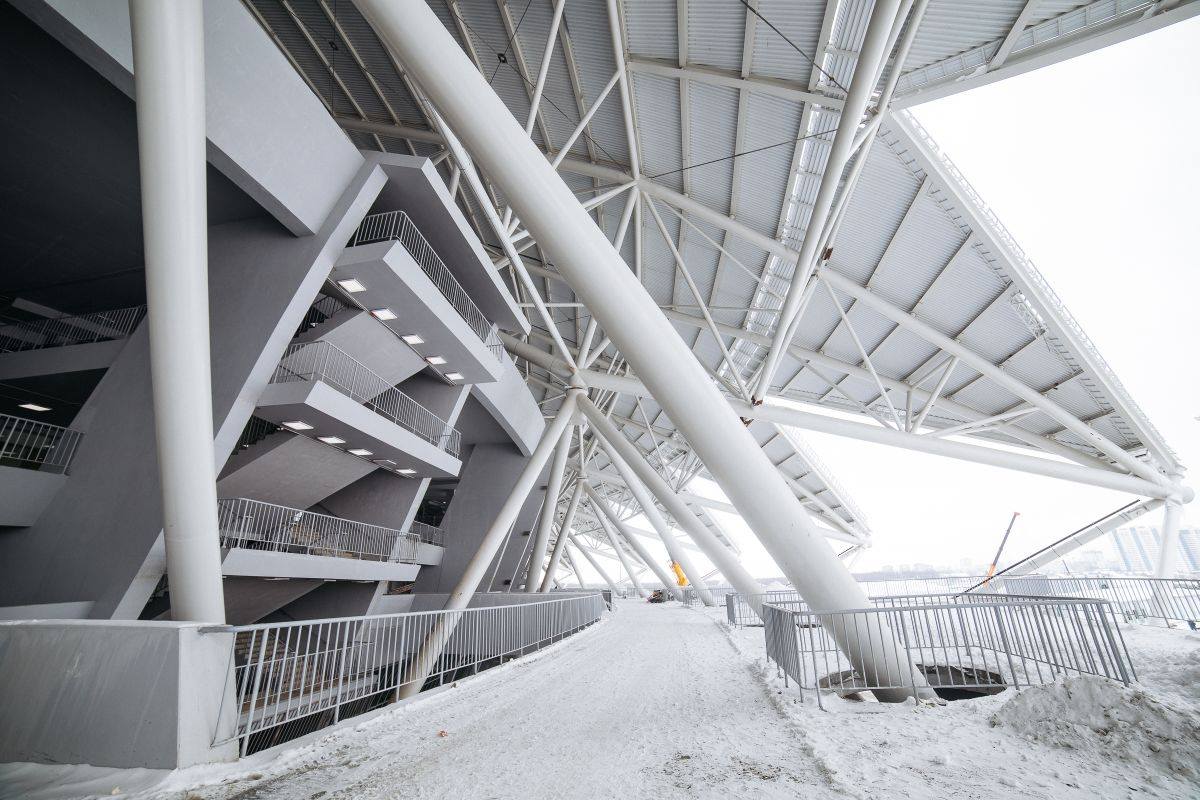 © ПСО Казань

First season of Krylya at the new stadium will surely see a boost in attendance even in the 2nd lague, but that wave will pass soon. Only long-term success in Premier Liga and reaching European competitions could ensure the stadium's profitability.
How unlikely is that to happen? The stance of local authorities gives you an idea. The Samara government is unwilling to take the stadium from federal authorities, fearing the annual maintenance of RUB 200 million ($3.5m). That's why, after the stadium is transferred to local authorities in 2019, Russian government will still cover part of the cost.
Unfortunately, there are few ideas on how to improve the stadium's balance sheet, most likely to be deep into the red in its first few years. Concerts? Of course, but competition for such events across Russia has just multiplied and they might not be as profitable as one might hope. Local football association suggested a football museum. While a very nice idea, it's more likely to generate further loss than profit. And, for now, that would be it...