Russia 2018: Another alteration in Samara's dome
source: 63media.ru; author: michał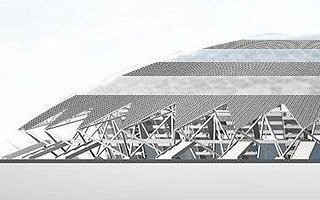 As cost-cutting efforts continue, the iconic dome of Samara Arena will be covered by polycarbonate in less than 50%, while the remainder will be simple profiled tinware.
Ever since the Samara Arena design was first presented in 2013, its iconic roof stood out among 2018 World Cup venues. Reaching massive 80 meters in height, it would have been one of the largest structures of this kind worldwide. However, downscaling quickly insued as Russian economy began to slow down.
First, the dome was lowered to just 60 meters, even if still impressive. Another major change came in recent days when the general contractor PSO Kazan informed that only about 50% of the stadium will be covered by polycarbonate. The remainder will be clad with much cheaper tinware.
And while the stadium's official social media profile suggests part of the roof will be 'silvery', silver has nothing to do with it. It's not the first time that the general contractor attempted to change the project in order to make it cheaper but as late as May of this year the governor of Samara region Nikolai Merkushkin had confirmed that the whole stadium will be covered in two shades of polycarbonate.
Another question asked by the journal Samarskoe Obozrenye is whether such changes can be carried out in short time. We're in mid-September already and there are just over 100 days of construction left. According to the source, no supplier for the new elements has been named yet.