New design: A not-so-welcome gem for Nantes
source: StadiumDB.com; author: michał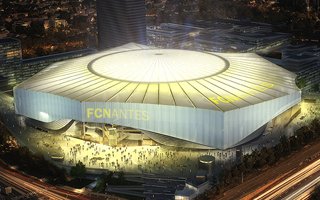 It could be one of the best stadiums across Europe. But major questions surrounding its plans are left unanswered despite last week's presentation of these amazing renderings.
Last Thursday, during one of the last consultation meetings in Nantes, the official presentation of YelloPark stadium plans took place. The new stadium itself was created by world-class joint team of HKS Architects (USA) and Atelier Tom Sheehan & Partenaires (ATSP, France). Their vision is unique for a couple of reasons, which together would make the stadium one of the most versatile in the world of football.
First, the stadium would have a cable-supported retractable roof, the largest of its kind. With diamater of 125 meters, the opening part would occupy 12,000 m2, almost exactly half of the permanent roof! In practical terms this means both being weatherproof during bad weather and securing ventilation and sunlight access for the football/rugby field.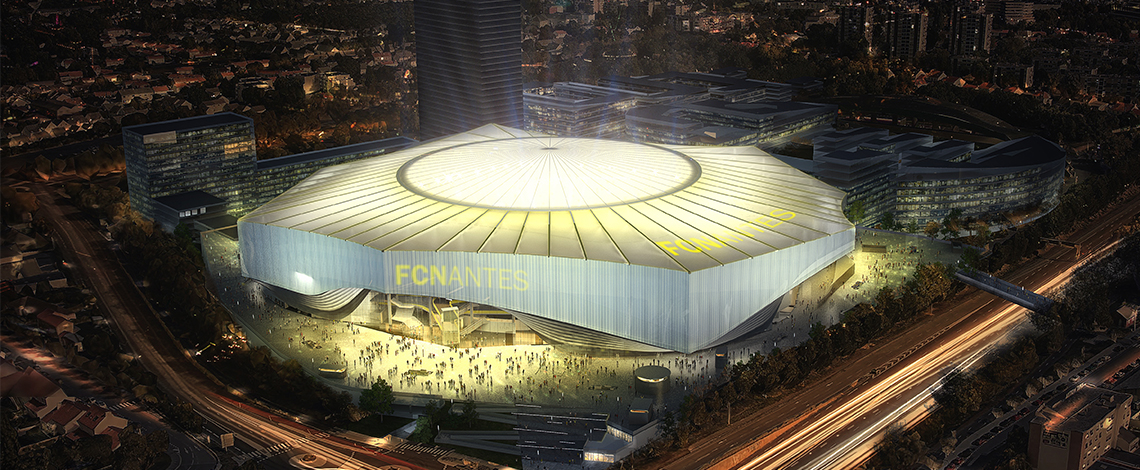 © Yello Park
Second, the interior would be designed for a variety of uses, even if FC Nantes would hold priority. The team's fans would receive 7,000 seats across a single tier in the south, creating a cauldron of support. The west stand would also provide 4 separate levels of lounges and boxes for premium customers. Before being topped by the roof at 37 meters, the auditorium would also be surrounded by a 360° screen, one of the largest worldwide.
Due to the compact surface envisioned for the stadium, public concourse around its would be pushed under the asymmetric canopy (resembling the outline of France), providing shelter to visitors walking around. No public parking would be available on ground level, rather spread across the whole quarter as underground sites.
Questions remain
We're not going into aesthetics here, even though there were voices of excessive and imposing architecture. That's more a matter of taste at this point, it seems the vision is still subject to change. What metters much more is the logic behind the entire scheme.
The new stadium in Nantes would be placed just west of the old Stade de la Beaujoire, which would later be demolished to make way for further commercial development, altogether spreading across 23 hectares. The stadium would become just a part of a vast scheme covering all of the quarter currently occupied by la Beaujoire and secondary facilities, all to be delivered by 2028.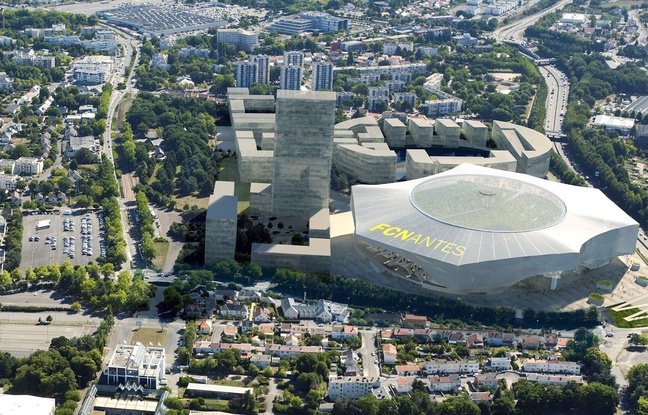 © Yello Park
On what conditions?
As we've already written, there are quite a few people in Nantes seriously concerned over the project's value for FC Nantes. While certainly lucrative for club's owner Waldemar Kita and real estate giant Réalités, it might prove a burdensome move for the Ligue 1 club.
FC Nantes would most likely have to pay no less than €4 million annually for playing at the new stadium, which is over 28-fold what it pays at Stade de la Beaujoire. The massive difference is caused largely by the extremely low rent at present (€140,000), but €4 million sounds very seriously, let alone combined with additional fees or conditions, including revenue share, marketing rights, etc.
It's thus no surprise that supporter association A La Nantaise with their 5,000+ members are strongly against what they see. In short, they're afraid of seeing their club being forced to play by the conditions set by Réalités. There are cases across France of how football clubs and developers operating their stadiums don't fully get along.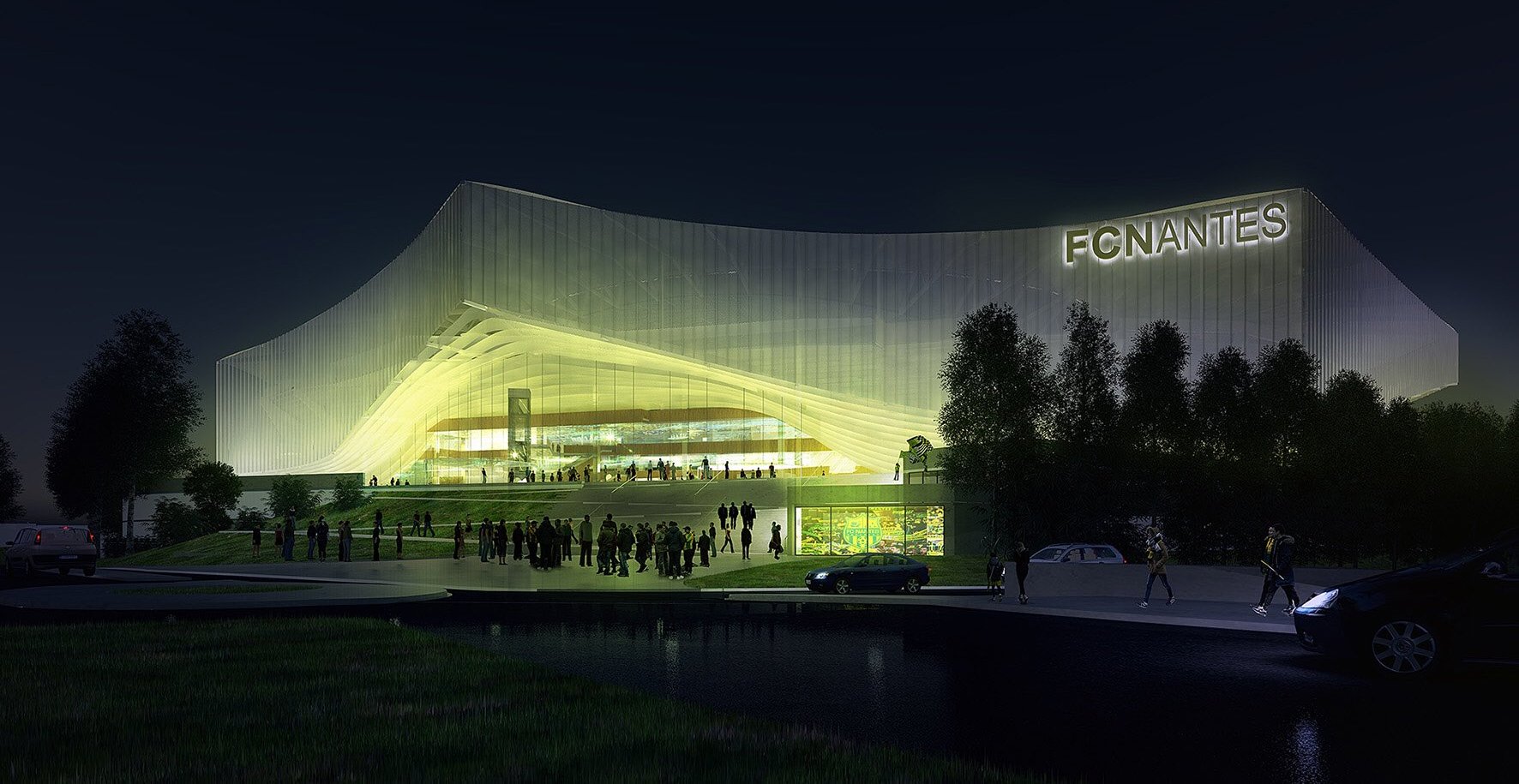 © Yello Park
How much will it cost?
Authorities of the Nantes agglomeration are encouraged by the scheme and have already invited further work on it. Unlike most public-private partnerships in France, the city doesn't have to put taxpayers' money into the project, which sounds really well.
What's worse is that there is no reliable information on the stadium's cost. Back in September Réalités CEO Yoann Joubert suggested €200 million, while almost 3 months later Waldemar Kita went for €150 million. We've already written that the architect behind Stade de la Beaujoire cannot believe these optimistic estimates and now, having seen what's planned, neither can we.
Only one comparable stadium in France was built for less than €200 million (Matmut Atlantique) and it offers none of the cost-increasing features of YelloPark. If, along estimates of A La Nantaise, the cost moves closer to €300 million in reality, this could mean even less preferable terms of use for FC Nantes in order for the investment to be recouped.
Is the consultation process real?
The question of actual cost matters for one more reason. If the investors already have a detailed estimate, then it means the project is basically ready for further work (StadiumDB understands it is not, at this point). If so, what's the point of consulting it with both enthusiasts and sceptics in the community?
Already on Thursday such questions were heard: why release the final concept when consultation on its possible shape is still ongoing? Contrary to what's going on at the same time with Everton's Bramley-Moore Dock consultation, one might indeed feel that the meetings were set up just to give people the appearance that their voice matters. Which hopefully isn't true, but with the strong group of opponents ready to reach for such assumptions Réalités and Waldemar Kita could have been more careful.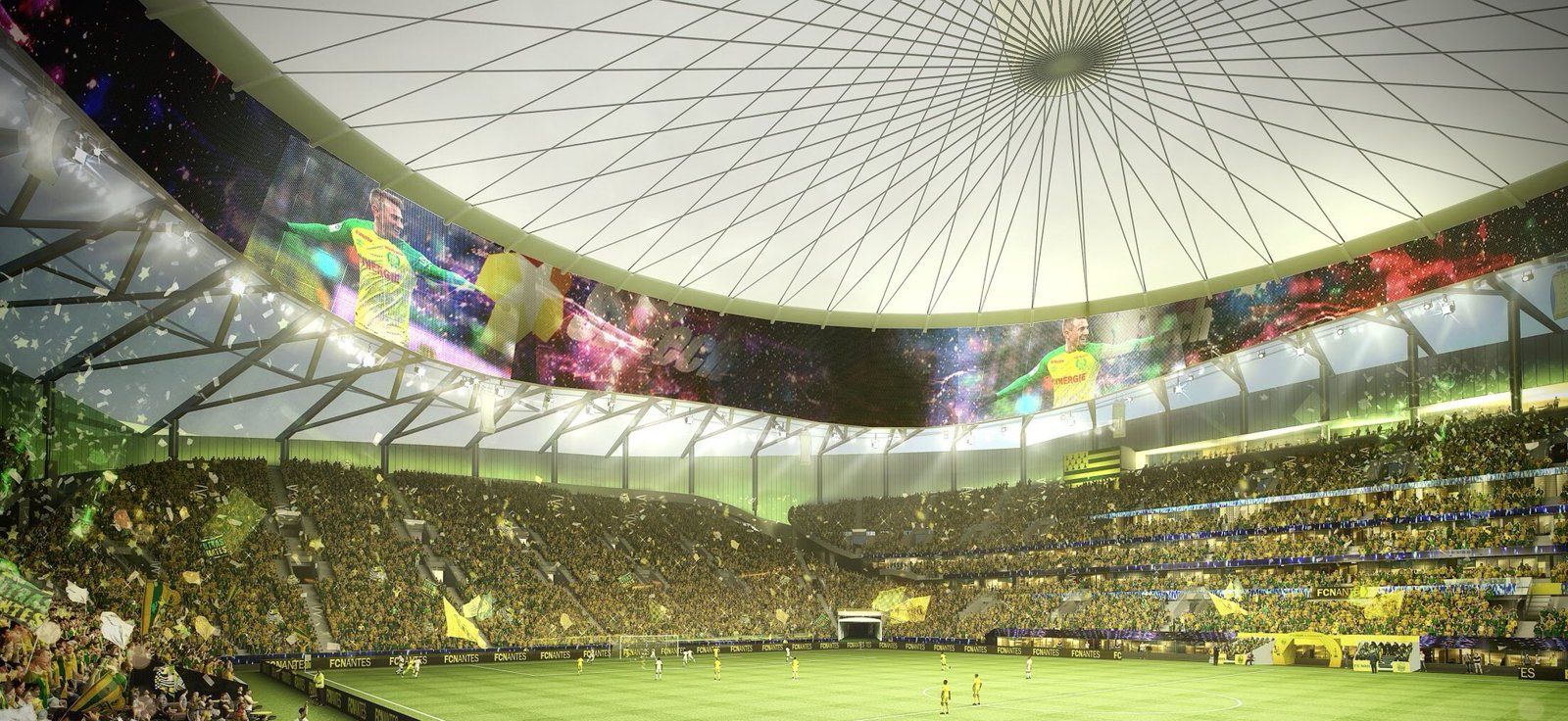 © Yello Park
Finally, what's so bad about La Beaujoire?
The existing stadium in Nantes has both enthusiasts and opponents, but what it lacks is the answer about its possible future use. Of course in terms of infrastructure the stadium needs serious upgrades, having been built 34 years ago. Structurally, however, it could still serve for decades, albeit with revamps along the way.
Waldemar Kita seems to have failed in convincing FC Nantes supporters that their club would be better off in a new stadium, but circumstances aren't also in his favour. After all, La Beaujoire is going to host the 2024 Olympics and might be on the list of 2023 Rugby World Cup, which both suggest the stadium is close to meeting international standards. Indeed, the club's director for infrastructure admitted that only 2 elements need to be changed in order for it to receive UEFA Category 4 certification, the highest officially awarded.
If it's good enough for major international tournaments, why couldn't it serve FC Nantes after thorough redevelopment? It seems the question is more about lucrative partnership between Waldemar Kita and Réalités than about the stadium itself. While surely beneficial in many respects (new residential use, jobs created in the thousands), the project is yet to convince all FC Nantes fans.