Liverpool: Meis gives fans a taste of Everton stadium
source: StadiumDB.com; author: michał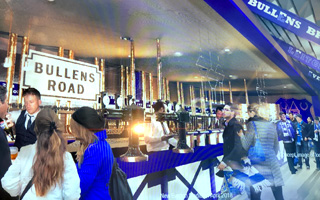 Already the second stadium concept within a week with massive Spion Kop stand inspired by Borussia Dortmund's Gelbe Wand. Not that Everton fans complain to get a 15,000-seat stand!
It seems a large single-tiered stand for home side's supporters is becoming an obvious choice for new stadium designs. After YelloPark last week, now the new stadium of Everton is also shown to have a huge and imposing, steep single-tier stand in the south. In both cases Borussia's Gelbe Wand (Yellow Wall) is quoted as inspiration. Repetitive? Perhaps, but it's high time for this basic expectation of vocal supporters to be commonly recognised.
News of the large singing section surfaced after architect Dan Meis arrived in Liverpool earlier this week for a series of consultation meetings. On Monday evening he met with a forum of fans inside a very fitting building, the St. Luke's church in north-western corner of Goodison Park.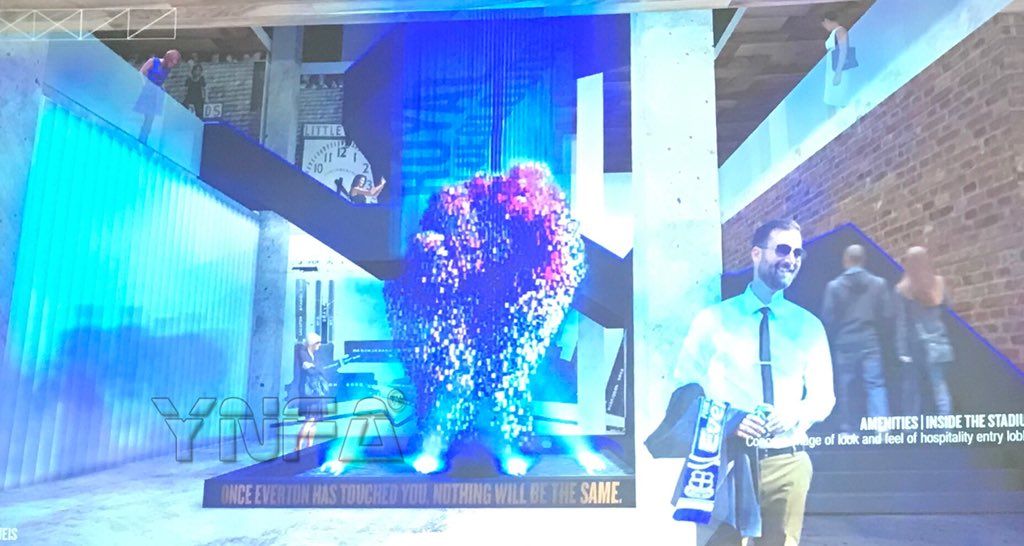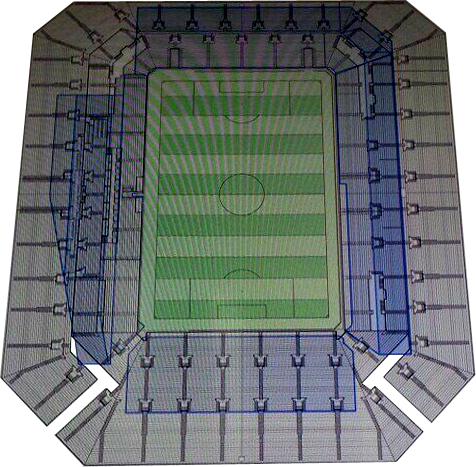 Meis came to listen to fans' suggestions, but also to update them on the work he's been doing in recent months. This of course concerns Everton's relocation to Bramley-Moore Dock, which is still kept somewhat in secret.
To this day we don't know its final capacity and we don't mean an exact number. Expected to be within 50,000-55,000, the venue was hinted on several occasion to grow bigger, somewhere under 60,000. What we did learn from the architect's presentation is the seating bowl, which is quintessentially Meis – no overhanging sections, very compact and well cut entirety.
Each grandstand would be different (you can see comparison to Goodison's footprint above). The main one in the west would have 3 tiers, with the middle one entirely dedicated to corporate hospitality. Overall this part of the stadium would hold almost 4,000 business seats, 300+ of them in private boxes and a few dozen in semi-open loges.
The yellow seats are listed as 460 milimeters wide, light blue slightly wider (480 mm) and the premium seating should reach 500 milimeters or more.
The north side is the smallest with only 2 tiers of roughly 20 rows each. Growing towards the east, it would be accompanied by the new away section (north-eastern corner) and massive 2-tier east stand. Here additional business seats would be found, around 1,000.
But the star is of course the south stand, expected to hold 12,000 to 15,000 fans on 62 rows of a single tier. This element probably raised concerns of Liverpool FC supporters, whose Kop would no longer hold supremacy within the city (just look below!), because we've seen quite some activity and comments on LFC's messageboards.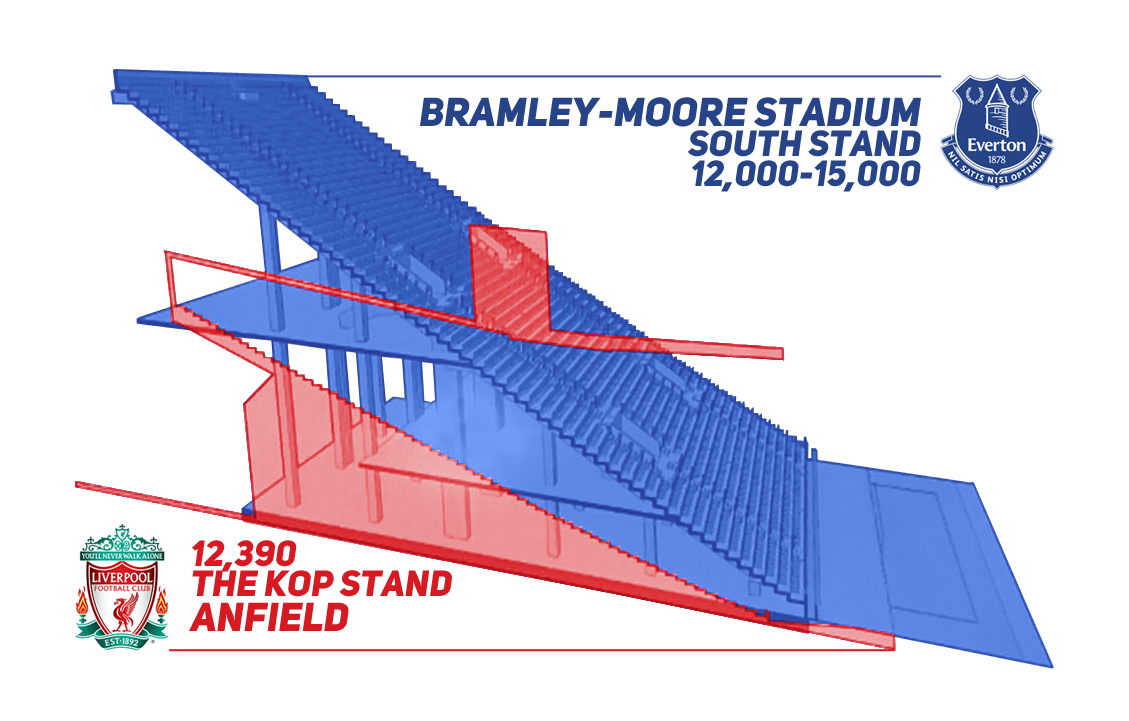 Especially that half of Everton's south stand could be converted to safe standing, should regulations allow it. It would not raise capacity (1:1 ratio is presumed by Meis), but might further improve atmsphere, of course with the right pricing policy and ground rules.

As for aesthetics, only partial renders were presented to supporters, including significant amount of industrial style, combining raw steel trusses and beams with, concrete, brickwork, glazing and large amounts of club symbolism. For example, 1,878 seats in the north stand would be moved from Goodison, creating a bond between the two sites despite relocation, at the same time commemorating the establishment date.