Stadium of the Year 2017: Nomination process over, thank you!
source: StadiumDB.com; author: michał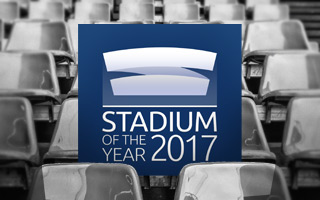 For almost two weeks we were open to learn which stadiums opened in 2017 deserve to be nominated for Stadium of the Year awards. The nomination process is now closed, the vote will begin on January 29.
It's hard to believe that we've already been doing it for so many years. The 8th edition of annual Stadium of the Year award is upon us and today we officially open the nomination process. Everyone around the world can submit a stadium worthy of competing for the title until and including Friday, January 26.
To nominate a stadium just comment the nomination post on facebook, respond to us via twitter (adding #SotY2017 or #StadiumOfTheYear is welcome) or write an email to us ("Nomination" in the title will facilitate the process) and we'll take your voice into consideration. If verified positively, it will be included in the list. The nomination process is open until midnight (CET) on January 26.
It doesn't matter how many times a stadium is submitted to us, each proposition will be taken into consideration. However, as every year, each stadium has to meet specific criteria in order to be included in the final competition. These are:
being built from scratch or substantially reconstructed;
opened to the public after completed works between January 1 and December 31, 2017;
of 10,000 capacity or more and enabling the use for association football (soccer).
Any debatable case (for example: partial opening or extent of reconstruction) will be evaluated individually before we decide whether to add a stadium onto the list or not.
Stadium of the Year vote
Once we complete the list of nominees, the Public Award platform will be launched on Monday, January 29. From then on you will have 5 weeks to send us your vote, until midnight on March 4 (CET).
Importantly, votes will only be accepted via the dedicated platform, no other form will be considered. Last year we enjoyed an almost record-breaking number of 82,826 valid votes cast and with your engagement we might go for 100,000 this year.
Along the Public Award, the Jury of stadium specialists will reveal their choice of best stadium built in 2017. Winners in both categories will be announced before March 10. Make sure to visit stadiumDB for further details!
Final list of all approved nominees