Brussels: Change of fate for Eurostadium after all?
source: HLN.be; author: michał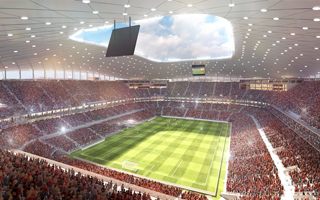 The Flemish Brabant executive decided that road no. 3 can be demolished without consequence. This again opens up possibility for new national stadium to be built in time for Euro 2020.
Yesterday the Flemish Brabant executive gave a decision which may prove crucial to the Eurostadium project. It's decided that internal road no. 3 (buurtweg 3) running across Parking C can indeed be demolished without consequence, not having been in regular use for over 30 years.
"We make this decision for the sake of clarity, not to comment on projects that can be realized on this site", said commissioner Tom Dehaene. However, it's clear which project may benefit from such decision. Ghelamco, who want to build the 61,000-seat national stadium here, wasted no time with further steps after they received the good news yesterday.
In the afternoon the company announced they will now appeal negative decision of the Grimbergen city council, who in March denied them planning permission. One of the reasons was the mentioned road, which is no longer an obstacle.
Should the Flemish Brabant authorities overwrite the council's decision and allow construction to commence by mid-2017, Ghelamco will still have over 2.5 years to deliver the stadium and then a couple more months to test it before Euro 2020.