Stadium of the Year 2016: Meet the Jury Vote finalists!
source: StadiumDB.com; author: michał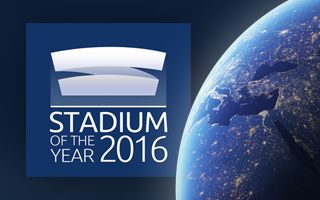 It's not the list we would have expected, but this makes it even more exciting. Here are the stadiums selected by our Jury for final evaluation!
Stadium of the Year 2016 Jury Vote is now narrowed down to only 10 stadiums. Not to test your patience, here is the list of finalists:
As you can see, the list is in alphabetical order. Even the Jurors themselves don't know how many points each stadium received after all their individual votes were summarized. This way they can focus on further evaluation without any indication how others voted.
Every member of the Jury will now, also individually, cast a second vote. There are three criteria under consideration: what visual impact the stadium has, how it relates to its surrounding and how innovative it is.
Announcement of Jury Vote Award winner is planned for March 6, hopefully with no need for additional deliberation to reveal the single best stadium.
The Jury Vote Award is independent from our Public Vote, in which everyone can cast a vote. The Jury consists of five architects recognized for their work in stadium design. The list includes Peter Bordas (Hungary), Przemek Kaczkowski (Poland), Marten Leringe (Sweden), Robert Mankin (USA) and Andy Simons (England). You can read more about them in the Jury Vote section and we will also give you more insight into their work in the near future. Now let's leave them to the difficult task of selecting the best one out of these 10 fascinating finalists!