Russia: Only short-term renovation for Kuban
source: RBC.ru; author: michał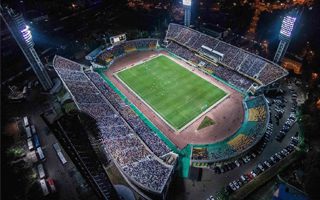 It was expected to get a complete reconstruction, then a major upgrade. Now, one of Russia's most famous stadiums is left with only cosmetic works that won't prolong its lifespan significantly.
Back when Krasnodar was still considered a FIFA World Cup host city, it was expected to get a major stadium, built from scratch most likely on the place of current Kuban Stadion. Even after being dropped from the list, a major project was promised, considered by some as form of consolation.
Finally in 2015 only a major upgrade of the aging Kuban was to take place, including expansion and covering with a roof. Now even that option is out of the table. Instead, a rather modest upgrade of the 56-year-old stadium is taking place.
Having begun in June 2016, the project includes new changing rooms, media facilities, fresh paintwork for the façades and a new playing field. In total the project is expected to cost RUB 134 million (100 from the federal government, 34 from regional authorities), which, though looks impressively, represents only $2.2 million.
All changes will be complete by the end of 2017 without forcing FK Kuban out of the stadium. The effort will make it suitable to become one of Russia's 64 training bases for the 2018 World Cup participants and one of two in Krasnodar, along the new FK Krasnodar stadium.