Qatar 2022: Lusail Stadium contractor selected
source: StadiumDB.com; author: michał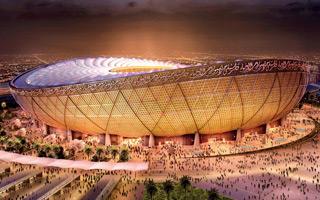 HBK Contracting and China Railway Construction Corporation Limited will deliver Qatar's most impressive stadium, the host of 2022 World Cup final.
On Monday the Supreme Committee for Delivery & Legacy (SCDL) announced contract signing for Lusail Stadium construction. The football venue will be built by a joint-venture of HBK Contracting (Qatar) and China Railway Construction Corporation Limited (CRCC, China).
It was previously announced that only offers below QAR 2.8 billion ($800 million) would be considered. According to Chinese media the currently agreed amount is $767 million.
Both companies should move to the site in 2017 as Qatari organizers of the 2022 World Cup hope to deliver the stadium by 2020. Enabling works had been ongoing since 2014. Most recently early works and site office construction projects were completed by Galfar Al Misnad, with levelling and grading works and site and access roads completed by local contractor Marbu Contracting.
The stadium site is located on a one square kilometer precinct plot along the Al Khor Expressway in the western edge of Lusail City, with the south facing the Commercial Boulevard of Lusail City.
Lusail Stadium will become the opening and final venue for FIFA's very first World Cup in the Middle East. It will also be the largest stadium to hold a World Cup game since Soccer City in Johannesburg hosted the 2010 final. Capacity was previously announced to be around 86,000, but according to media in China the contract signed by CRCC is for an even larger 92,000-seat stadium.
Since it's Qatar's new national stadium, particular care was given to the design. Only after repeated competition Foster + Partners were selected to work on the stadium's architecture. So far they've completed the schematic design phase.
While there are no official renderings yet (to be revealed in early 2017), we… found one. Not able to confirm whether its final or not, but this image presents the stadium in its actual planned location, which makes it the most reliable depiction of Lusail Stadium as of now, far more accurate than the initial 2010 images.