Qatar 2022: Foster to design the iconic Lusail stadium
source: StadiumDB.com; author: michał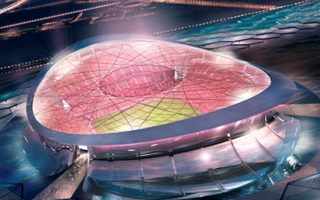 It's not common for an investor to turn down all ideas from the world's best architects. But it was the case with Lusail Iconic Stadium. After second competition Lord Foster will design the stadium.
The Supreme Committee for Delivery and Legacy (SC) announced today Lord Norman Foster as the winner of international competition to design Qatar's most impressive stadium. The Lusail Iconic Stadium will sit at the heart of newly-raised Lusail city, a €38-billion project north of Doha. In 2022 it will host the final of FIFA World Cup, regardless of summer or winter schedule.

Back in 2010, when Qatar presented their bid to FIFA, this stadium was to be the very first in history to have its entire roof foldable (!), a feature no-one ever managed to incorporate. It also seems more impressive than actually needed.
But that design by Manica and Foster is already a thing of the past. Now the latter architect is to deliver the final concept, which may or may not have similarities with the above initial vision. What is clear is that net capacity will stand at 80,000 (86,250 in the Qatar bid of 2010).
Lord Foster, Chairman and Founder of Foster + Partners, said: "It is an honour to design this centrepiece stadium – we are delighted to have won the international competition. This is an exciting step forward in stadium design – it will be the first to break the mould of the free standing suburban concept, and instead anticipates the grid of this future city, of which it will be an integral part."
Interestingly, the selection of architects was marred with unexpected controversy. The initial competition for best concept was canceled by the Qataris as none of the presented concepts presented the quality they expected. It sounds like a bitter pill to swallow as the world's best offices were running for the job.
Another competition, this time with only four companies invited, was launched in May last year. Now we know that Foster is on the job, but the London-based practice will be supported by two stadium-design giants, Populous and Arup. Together these three offices are responsible for dozens of the best stadiums ever built. Lord Foster himself has two showcase stadium works: Wembley in London and the approved (but never implemented) redevelopment of Camp Nou.