Qatar 2022: Unexpected setback for Lusail Iconic Stadium
source: BDonline.com; author: michał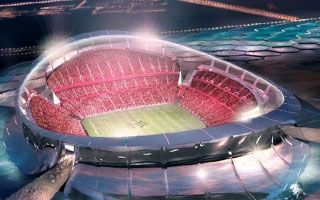 After months of waiting architects from around the world were informed that none of them won the competition for World Cup final arena's design. Report by BDonline.com.
Initially the international competition for Lusail Iconic Stadium's final design was expected to end in late 2013. Then decision was postponed until recently organisers reached the conclusion that none of the participants satisfies their expectations.
Well-placed sources in Qatar told BD's sister title Building a "key reason" for the decision was that none of the bids "[adequately] reflected Qatari design and culture" and consequently "didn't hit the right note".
"This is meant to be the iconic stadium and they're not enamoured by the designs so far," one source said.
While this stadium may be among world's most expensive and has to fit expectations of Qatari hosts, it was also a very costly bidding procedure for architects, who are understood to be disappointed with the outcome. At this point it's not clear how the re-tendering will be organized, but the decision is sure to delay groundbreaking significantly.
Initial concept submitted to FIFA: