New stadiums: Crane, blooming bud and long sleeve
source: StadiumDB.com; author: michał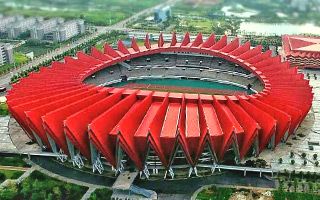 This title makes absolutely no sense, right? But this is what was used as inspiration for these three Chinese stadiums' design. With 30,000-37,000 capacity these are modest in Chinese scale.
As the year is slowly coming to its end, we're looking around China to see what's been built there. Surely we're missing dozens of fantastic designs from the world's most populous country, so here are three very interesting venues opened between 2014 and now.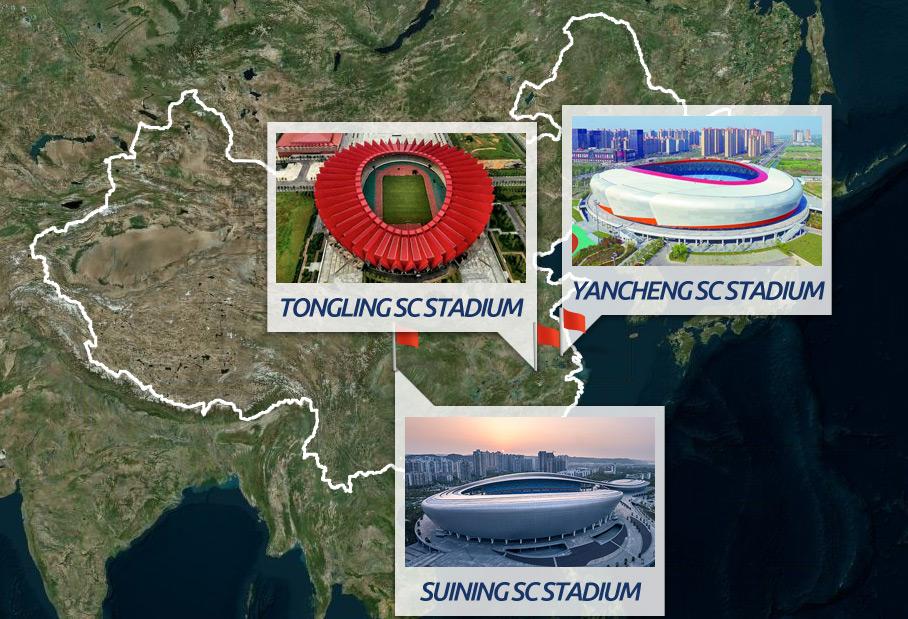 As late as 2010 this place was a rural suburb with farms, but by 2011 the new stadium's construction was in full swing, with most of the steel structure of future roof in place. This area of 41 hectares in southern Yancheng was 'cut out' by wide new avenues leading to new downtown district up north.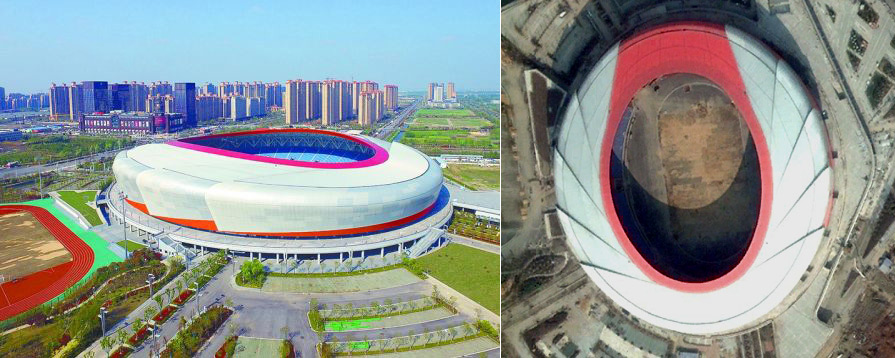 Though by 2016 only the stadium was delivered, the complex also has an indoor arena (8,000 seats), natatorium (1,500) and a tennis arena planned. Those three venues will be shaped to resemble salt lumps, rooted in the city's traditions (Yancheng literally means the Salt City).
The main stadium may have different symbolism, but all major buildings were smoothened in shape to lessen their impact on the landscape. Such efforts seem warranted as the main stadium rises to 45.6m in height. It's designed to symbolize the red-crowned crane, a bird associated with longevity/immortality in Chinese culture.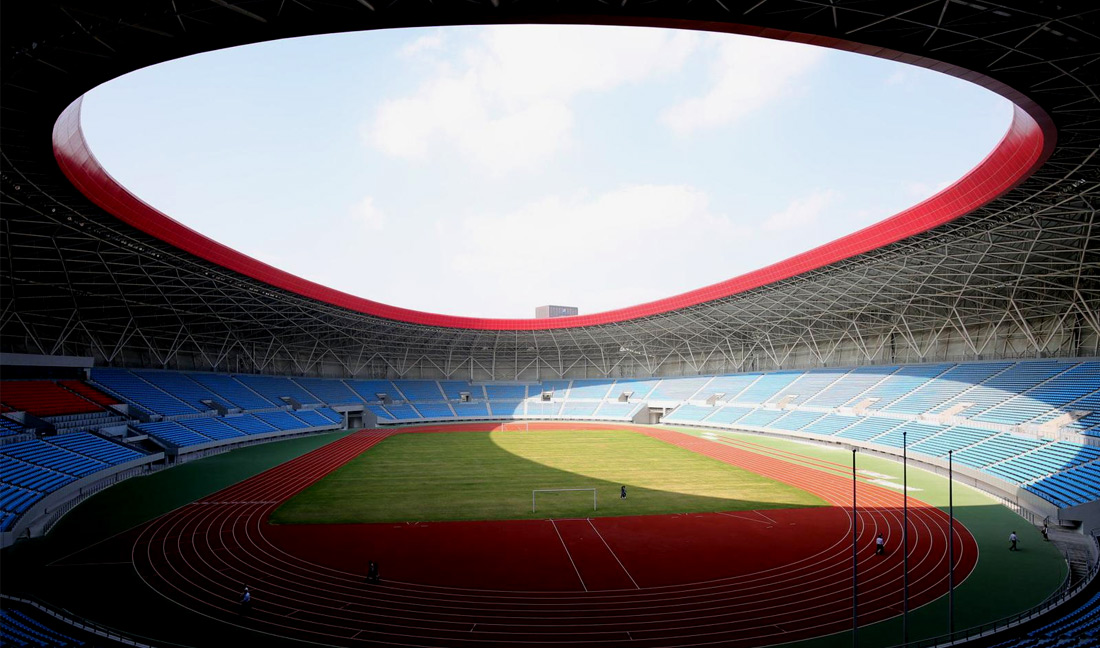 With four shades of grey and intense red, the stadium is clad with 30,000 trapezoidal aluminum-composite panels, covering a total of 60,000 m2. All shaped to resemble large wings encompassing the stands. Beneath the surface are single-tiered stands for over 37,000 people and four floors of infrastructure, a total of 57,000 m2 in construction area.
The complex is aimed to become a very sustainable one. Rainwater collection will not only supply sprinkler systems or toilets, but also a car wash. Then 4,000 solar panels will heat water and cut energy bills.
New provincial sports complex in Tongling was envisioned as part of a Massie expansion of the city to the North. New districts were planned and delivered (from 2008 onwards) largely within previous wet farmlands. No wonder the sports complex required 2,500 piles to be driven into the ground to stabilize future structures.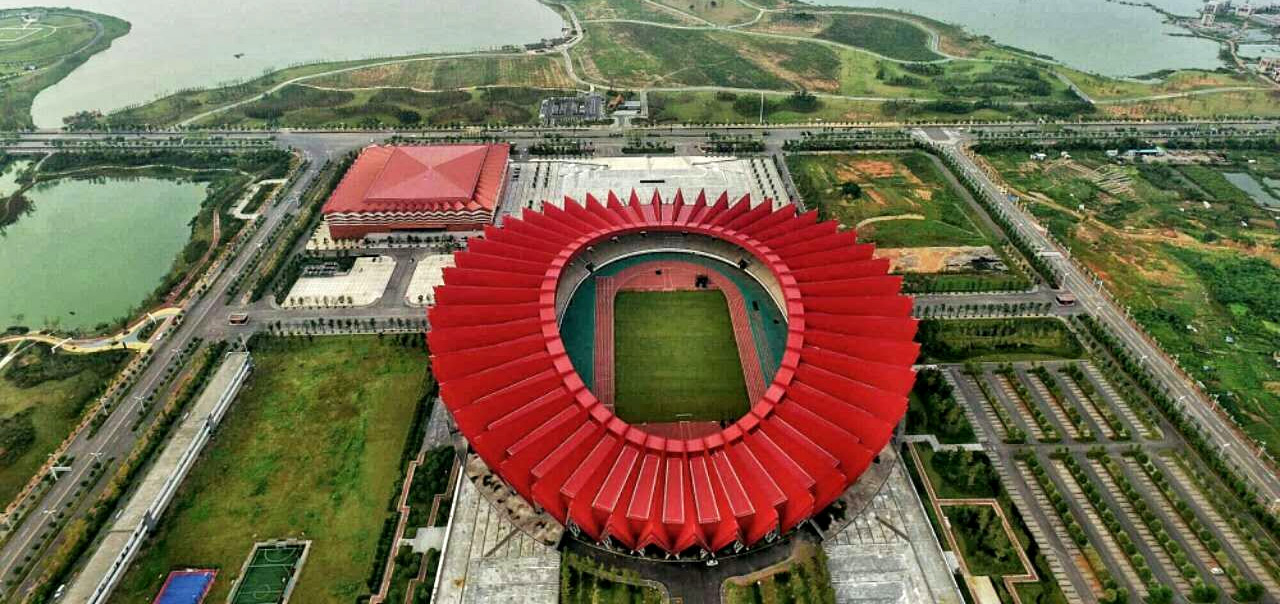 The stadium itself occupies 44,111 m2 out of vast 23.5 hectares and stands at the heart of the complex. Next to it a 5,000-spectator indoor arena and a secondary stadium were built. The main stadium itself provides 6 floors of infrastructure at peak (west stand), but majority of its infrastructure, including numerous changing rooms, is located at ground level with the 2nd floor being devoted to the main promenades with toilets and catering facilities.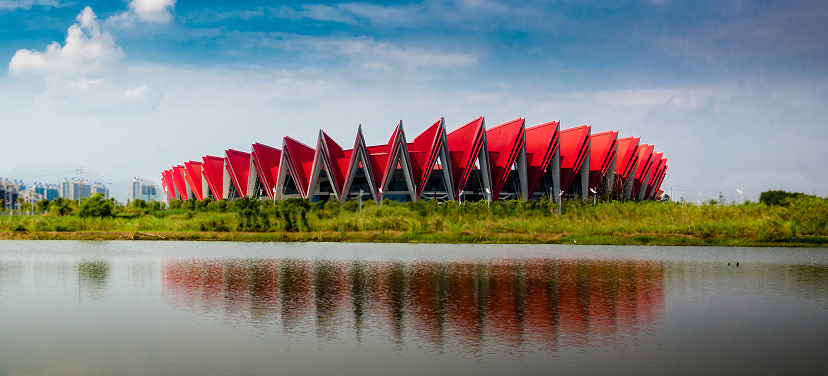 The stadium clearly stands out in local landscape thanks to its bright red colour and dynamic, sharp shape. At the tallest point it rises to 47 meters and is designed to resemble a blooming flower bud, celebrating vitality and nature.

The only problem of it is actual delivery of the stadium. Ground was broken back in December 2010 and was then halted due to funding shortage just several months later. In August 2013 it restarted again to see the stadium almost complete by 2014. Except that it then took several more months until the international-standard running track and actual field were laid in mid-2015. The project was 99% ready back then and was considered delivered by the end of 2015, but to this day we haven't found a single photo with all 30,000 seats installed inside…
The sports complex consisting of a multi-use stadium and covered natatorium was built in Suining (Sichuan) in 2014. It became a landmark thanks to the charming location just off the Fujiang riverside in eastern part of the city.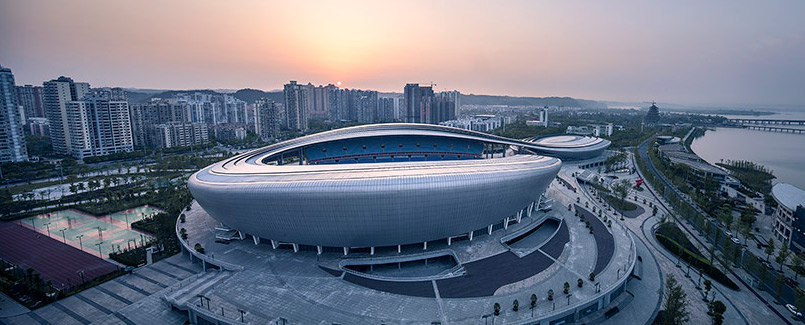 With total construction area of 79,190 m2 (of which the stadium covers 59,780 and the swimming hall 19,410), the center also provides extensive public green areas, as well as tennis, basketball, volleyball and other open-air sports facilities.

The two main venues are connected by a seemingly fluttering roof. Its elaborate shape was designed by renowned Tongji University architecture institute (TJAD) and symbolizes movement. Not just any movement though, it's inspired by shuixiu, traditional form of dance with long wavy sleeves. Just as the sleeves, the composite-covered roof encompasses the two buildings, leaving only an opening in the south, towards the river.
The stadium was built in order for Suining to host the 2014 Provincial Games of Sichuan.