New stadium: New home at Gellertstraße
source: StadiumDB.com; author: michał
Over a month before official opening a stunning number of 50,000 people visited this stadium. First wedding took place here already, while German international Michael Ballack leased one of the skyboxes.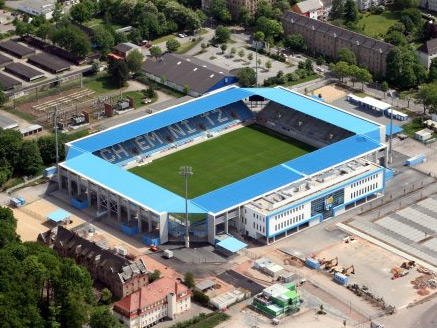 This past Saturday saw the very first event after completion of new stadium in Chemnitz. The municipality estimates that some 50,000 people came to the event, which included the very first wedding to take place after reconstruction.
Home team Chemnitzer FC (3. Liga) cannot hope for similar numbers, but now that they've signed a long term lease, the ambition is to draw 9,000 on average. Ambitious, surely, but within reach if we consider that the previous season saw crowds of 7,454 people at this address.
Before the 3. Liga season begins, Borussia M-gladbach is coming to officially open the reconstructed venue on August 2. And while it hasn't been inaugurated formally, the new stadium already has some story to it, while supporters had their chance to try out all stands apart from the western one, built last.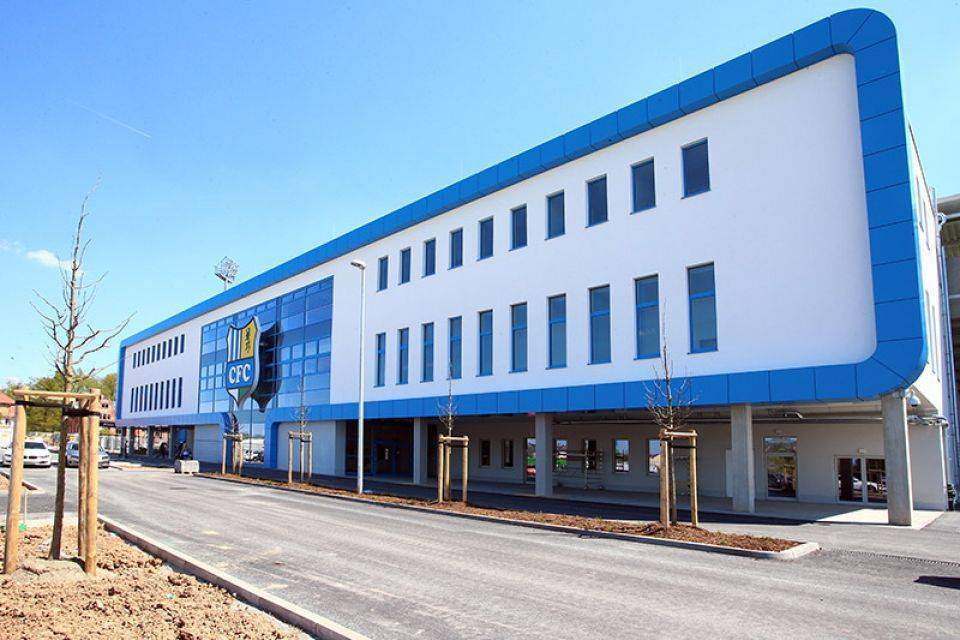 The first stadium at Gellertstraße was opened on 1934, though the landfill stands around the field had nothing to do with what we can see today. Current ground's history begins in 1999, when the four floodlight masts were erected, then left to serve after complete reconstruction. Although placed 7m higher, they remain part of the arena today.
The scheme of complete reconstruction was approved by the councilors in 2011 and design work was awarded to agn-Gruppe. Like in several other concepts by these architects, the main club colour is placed on the roof, making the stadium stand out from aerial perspective. Inside the Chemnitzer FC identity is secured by blue seating and corner frames. Because, despite having no stands in each corner, the building is enclosed to not pollute the community with noise and keep atmosphere inside.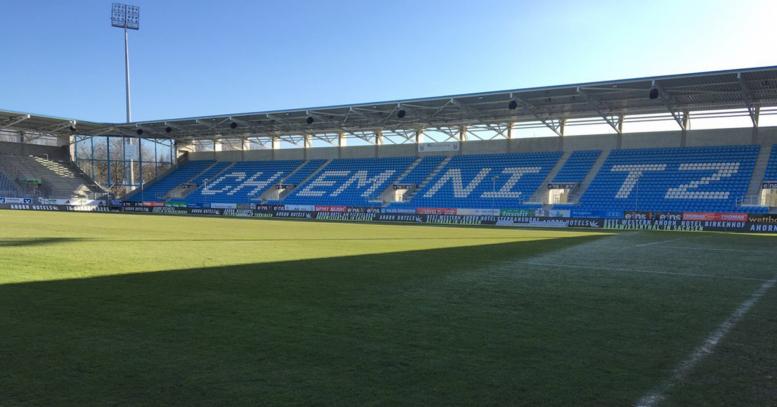 Simple prefabricated stands were each built independently in phases. Works were divided to allow constant use of the stadium with no less than 10,000 capacity. First came both ends, then the east and finally west stand. The latter one offers 13 private boxes (one already leased by Michael Ballack who began his career here) and over 800 business seats.
Overall, capacity exceeded 15,000. Much less than records of CFC's heyday (then named CFK, they drew 28,000 people to the stadium in 1966), the stadium is hoped to furtile basis for CFC to grow and reach the Bundesliga. At the heart of the new stadium is the south stand with almost 5,300 standing places across 42 rows, accommodating the most vocal support.
The project consumed roughly €27 million, somewhat more than initially planned (€23-25m). The price includes parking delivered west of the ground, where a large industrial depot used to be.