Liverpool: Anfield reopening sealed for September
source: ThisIsAnfield.co.uk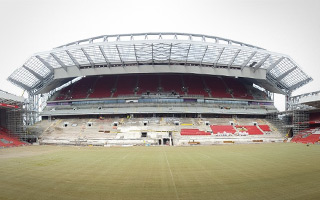 The Reds reached an agreement with Burnley and will play their first home game no sooner than September 11. This leaves enough time to make the new main stand operable, though not finished.
At first glance you might think it's really nearing the finish line already. The new western grandstand at Anfield has all of its unique red glass façade and almost complete brickworks. Inside, red seats are being installed throughout the lower tier, while the upper one is already covered in seating. Once opened, the stand will increase Anfield's capacity to 53,783.

© This is Anfield
The question of opening date is now also answered. First the Premier League agreed for LFC to begin away, now the club and Burnley agreed that their fixture on August 20 will be played at Turf Moor.
This gives Liverpool time until September 10 to make the stand operable. We're using the word operable on purpose, because the project won't be delivered in its entirety until January, 2017.
Also, the new club megastore is scheduled for opening later next year, because construction is yet to begin on that independent building. Until it's ready, supporters will have a temporary container complex to use, fitting very well with Anfield's industrial theme.