Liverpool: Changes around Anfield expansion
source: StadiumDB.com; author: michał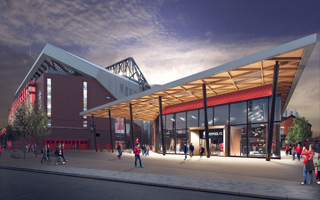 New multi-million club megastore, changes in the public plaza and possible giant banner decorating the new main stand. Add to that new construction photos and it's a massive update package on Anfield!
Inside the main stand at Anfield construction and installation works are progressing, we might see updates on furnishing soon. That's unfortunately as detailed of a report as we can offer, because current progress inside the stand itself is unclear. What is clear is that Liverpool FC are fighting against time to deliver at least the most important facilities for their 2016/17 opener.

And it's not a won battle just yet, even with Premier League agreeing that Liverpool play their first match away. Now LFC are hoping to see the second fixture (vs. Burnley) also changed. If rivals agree to host the game in late August, The Reds will have until Sept 10-11 (vs. Leicester) to deliver the expanded stadium. One thing certain is that the first game will be Liverpool's largest since 1977, when West Ham drew 55,675 people to Anfield.
Hospitality areas are crucial for the 2016/17 campaign, because they're the most expensive for fans and demand is high. The Anfield Dugout packages are running out already, with 90% of the 2,000 seats already booked, remainder expected to be sold by the end of June.
New club megastore
As we wrote last month, early months of the expanded main stand will go without new LFC megastore. Instead, containers will be set up to make the most of increased capacity and commercial potential.
In June the club submitted their planning application for the long-awaited megastore, worth an estimated £5 million ($7m). It will stand between the west and south stands. Designed by KKA Architects, it would follow the new stand's aesthetics, as seen in the below renderings: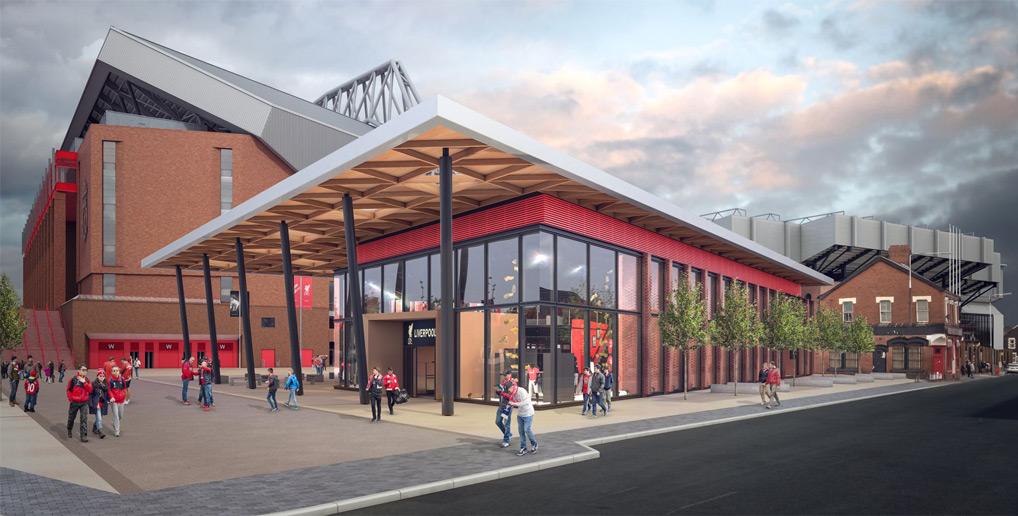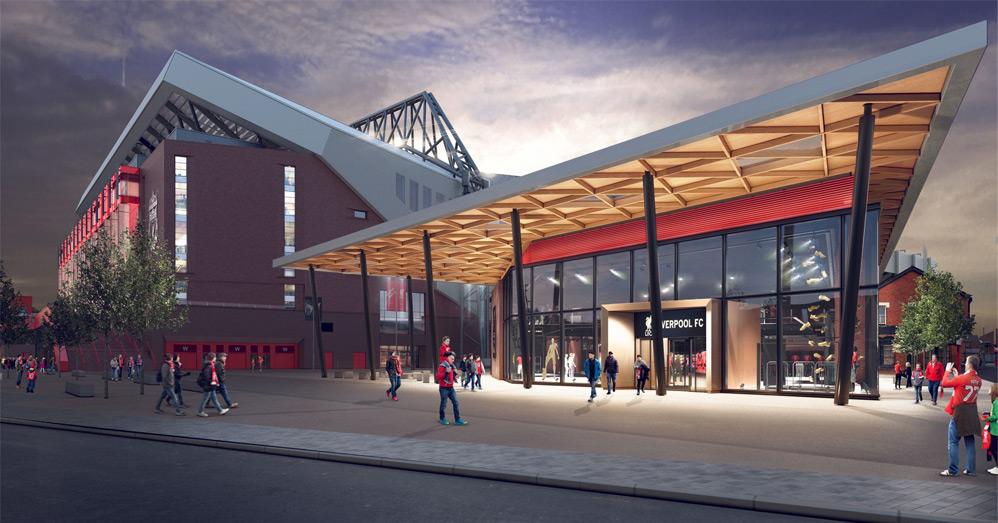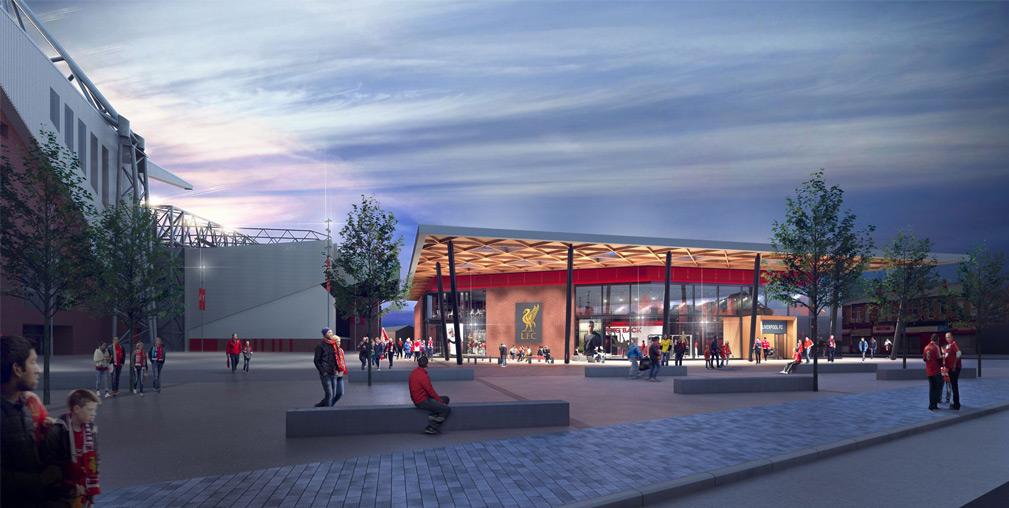 West plaza commercialized
Following similar moves by other major clubs, Liverpool submitted another planning application in recent days, this time to capitalize on the western plaza where housing used to be. New project called "The Men Who Built Anfield" will see concrete blocks serving both as benches and monuments dedicated to Anfield legends, including the likes of Bill Shankly or Steven Gerrard.
Dotted along the new main stand, the blocks will be surrounded by potentially thousands of bricks available for purchase. LFC supporters may contribute to the stadium's expansion literally by buying a commemorative stone plaque for themselves. Smallest ones are priced at £99 ($145) and most expensive at £499 ($730).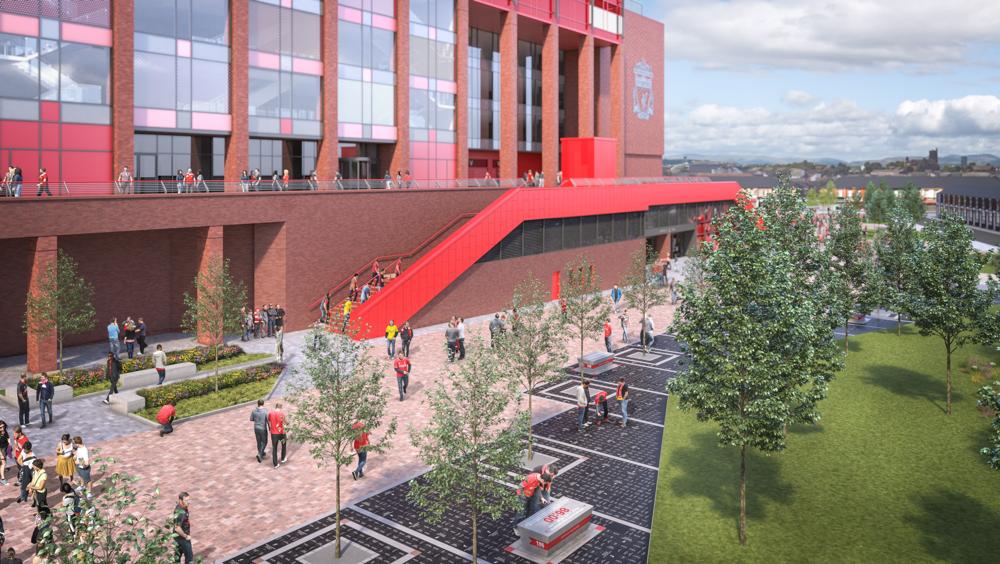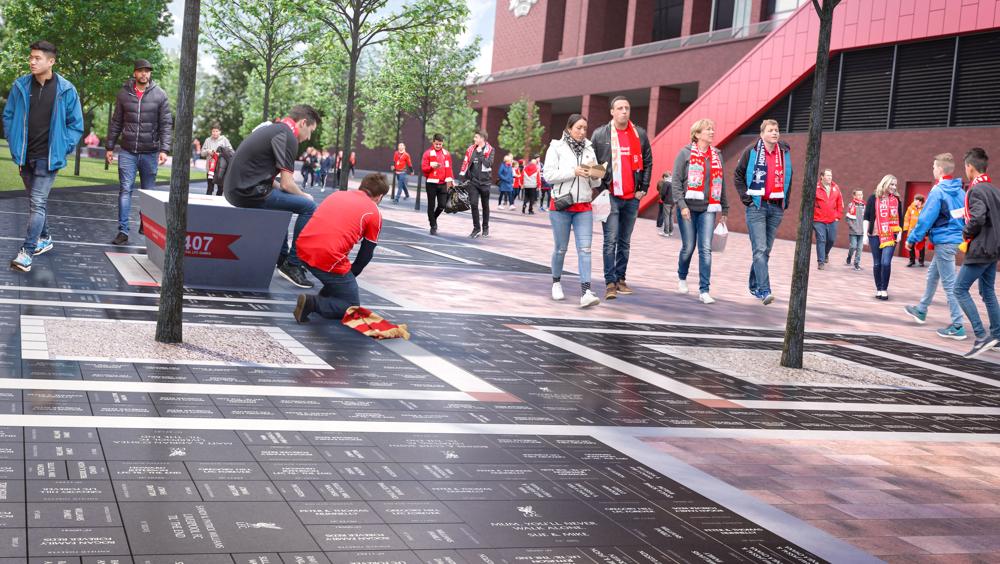 Giant banner for Klopp's team?
Liverpool also submitted a planning application for their new stand to be decorated with a banner honouring the current team. Aimed at improving the atmosphere of unity and togetherness, the banner would most likely present the players holding hands, as suggested below (subject to change). While this article present renderings of what's planned, you may also see current construction photos in our latest gallery, courtesy of This is Anfield!