Florida: Land deal signed for Orlando City stadium
source: OrlandoSentinel.com / BizJournals.com; author: michał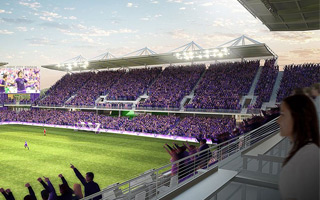 Orlando City SC's purchase of city owned land in Parramore for its new MLS stadium closed on Friday, with the team paying about $22 million.
That figure includes about $19 million for the land, plus a $3.1 million refund the team will pay the city to cover stormwater pond modifications, a city spokeswoman said. Orlando's City Council approved the sale in January.
A final survey determined the property was about 542,000 square feet (50,000 m2). Orlando's Major League Soccer franchise plans to erect the $155 million stadium along Church Street in time for the opening kick of the 2017 season. With capacity increased to 25,500 seats, it will be among the larger MLS venues once finished.
The team is expected to pay the purchase price over the next 15 years. Under its agreement with the city, Orlando City is tied to the venue for at least a decade, or until the team's mortgage is paid, whichever comes later.