Euro 2016: The largest Euro in history
source: StadiumDB.com; author: michał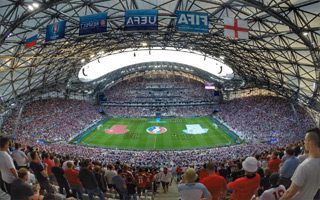 Average capacity of every stadium outgrew all European Championships held in this century. Ticket number highest in history, but how does attendance look so far? Let's see!
Late yesterday we watched the last game of group phase's first round. 12 matches held at all 10 Euro 2016 stadia brought a stunning average attendance of 46,759 per game! This is owed largely to two fixtures being played at the 80,000+ Stade de France, of course.
Overall yesterday evening Euro 2016 exceeded the 500,000-mark. According to UEFA's official matchday reports, supporters used exactly 561,104 tickets or invitations. One more number that should impress everyone, even if the overall occupancy rate isn't exactly a "sell-out". To date (not including today's fixtures) games enjoyed a median occupancy of 91.5%.
No Euro with stadiums that big
Below we present a graphic with the most precise capacities we were able to establish for each host stadium. In case you think such info should be easy to find, you're right. It should and yet it's not. UEFA released final capacities very late (still vary depending on language version of their website!) and even among the final numbers some are inaccurate. So here's as close as we got to getting the numbers right: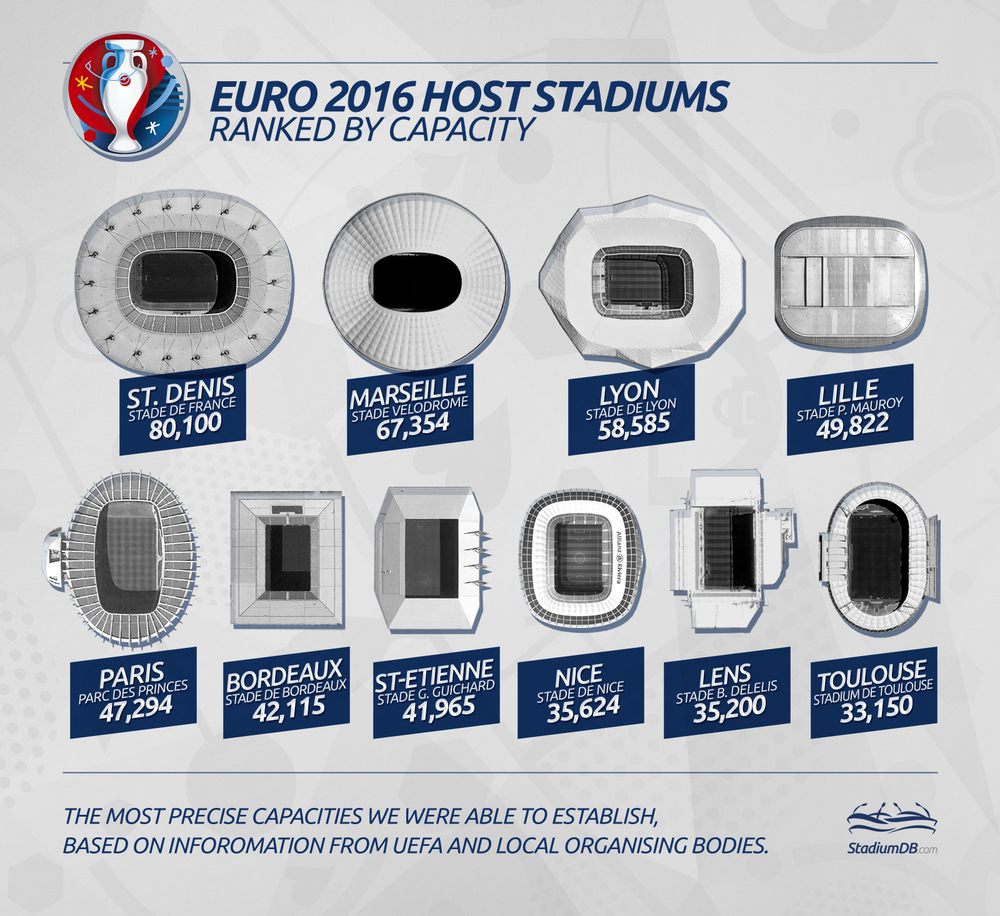 Why the problem? As usual with tournaments like these, capacities change for the few weeks as additional giant screens, press seats or TV studios occupy some room within the stands. But even reduced, capacity of Euro 2016 is beyond anything we've seen during our lives. 49,121 seats per stadium is the highest average of any Euro held in the 2000s, just see the comparison below: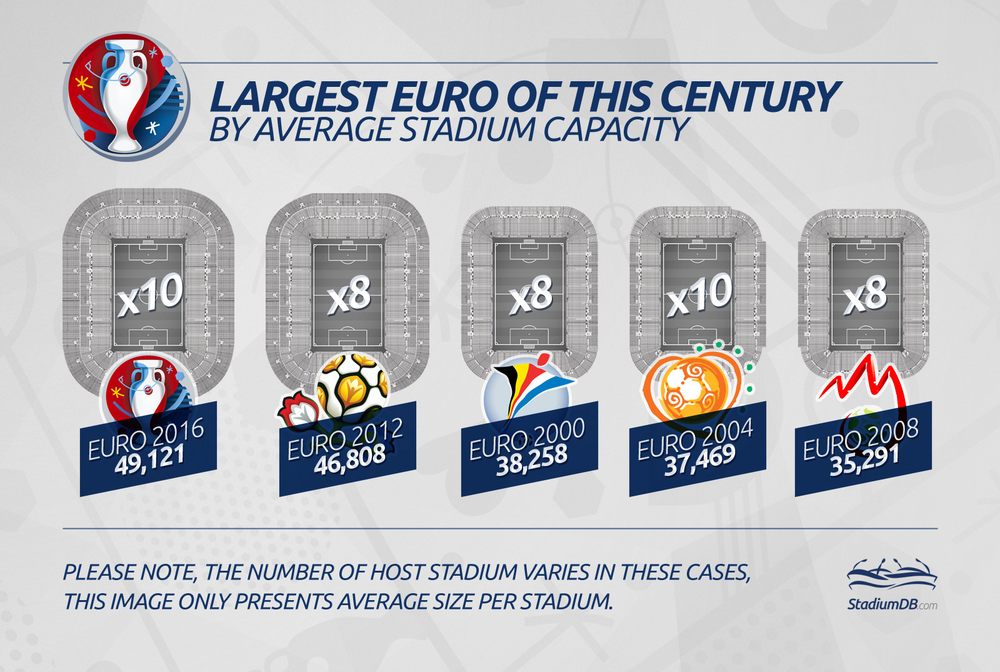 Interestingly, there were tournaments in the past with higher average capacity. West Germany had 8 stadia of 65,305 each, when they held the 1988 tournament. Earlier, Italy prepared 4 host venues of 75,441 each back in 1980. But those were different times, before the all-seater era (post-1990).
Still: France larger than ever
Even if we consider that the French have smaller stadia than those of 1980 and 1988, the ongoing tournament will be larger than any other since Euro was born in 1960. This of course is owed to the expansion from 16 to 24 teams, which increases the number of games played from 31 to 51. This means that some 2.5 million tickets went on sale, compared to "just" 1.4 million in 2012.
Even bigger in 2020
After UEFA's decision to host the 2020 tournament in 13 cities across 13 countries, the upcoming "Euro for Europe" will outgrow this year's tournament by far. While works on some stadiums are yet to begin (yes, Brussels, we mean you), the average capacity of each stadium could reach 60,400 with the same number of teams and games to be played…