Poland: Bittersweet show at Narodowy
source: StadiumDB.com; author: michał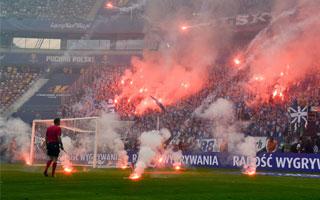 Beautiful choreographies during Polish Cup final got overshadowed by a group of radicals throwing pyrotechnics onto the pitch. Not exactly the kind of event organizers were hoping to deliver.
For the third consecutive year the Polish Cup Final is included in the country's May weekend. May 1 and 3 are national holidays, so the day in between is perfectly set for the great game. We wrote last year about how much of an effort is made to create a brand for this event, a true showcase of Polish football.
That said, the game is yet to be great. Football-wise Polish Cup is hardly Europa/Champions League, so it's largely about the massive PGE Narodowy and football fans. Yesterday, just like the year before, Lech Poznan faced Legia Warszawa, guaranteeing instant sell-out. And we mean instant. As soon as both finalists were known and open sale of tickets began, it didn't even last an hour, resulting in sell-out crowd of under 49,000 yesterday.
Legia fans were given 12,000 seats in the south end, Lech the same amount in the north. Fans from Poznan hired 9 trains for the journey, while Legia supporters simply marched from their home ground to Narodowy.
Once inside, the obvious proved true: in terms of football the game was disappointing at best (Legia won 1:0 after poor performance), but in terms of atmosphere it was hotter than any Champions League game. Fans of both sides opened the game with huge choreographies and those from Warsaw seemed to use too much smoke flares because the vast cloud was unable to leave the stadium for a while.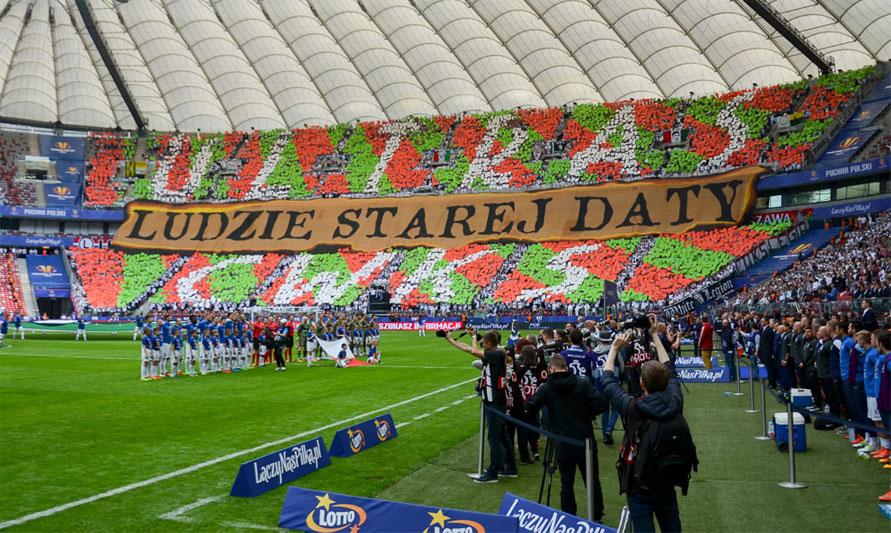 © Legionisci.com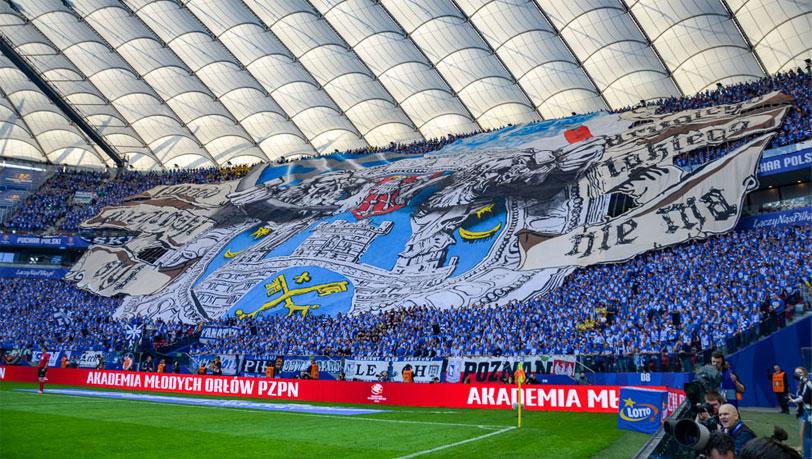 © Legionisci.com
Overall each set of supporters had three large displays on the day, all in videos embedded below. In April the fan community collected over 110,000 zloty ($29,000) among themselves with slightly less being collected in Poznan ($23,000). All of the funds were to cover what you're seeing in the photos and videos.
And the event would have been impressive atmosphere-wise if it wasn't for the actions of some Lech supporters following Legia's goal in the 70th minute. Some of them were actually targeting Legia goalkeeper Arkadiusz Malarz with flares. He was hit once, though not suffering any injury. With the offences repeating time and time again, the referee could have ended the game, but decided to wait and resume. Now Lech await their penalty, might even be disqualification in the next year's edition…