Rotterdam: Feyenoord chose riverside stadium site
source: StadiumDB.com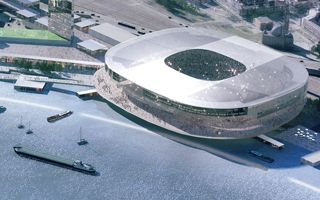 After consultation, both Feyenoord and the municipality of Rotterdam selected the northern riverside site as the preferred location for new 60,000+ stadium. What will happen to De Kuip? A whole lot!
Yesterday another working meeting in Rotterdam brought somewhat unexpected progress regarding the new Feyenoord stadium. Already now the preferred site was selected out of three available options shortlisted earlier this year.
The site agreed upon by Feyenoord and the city lies several hundred meters north of current De Kuip. Since space on land is scarce, the new 60,000+ stadium will be built largely on water, offering a chance to create landmark of global scale.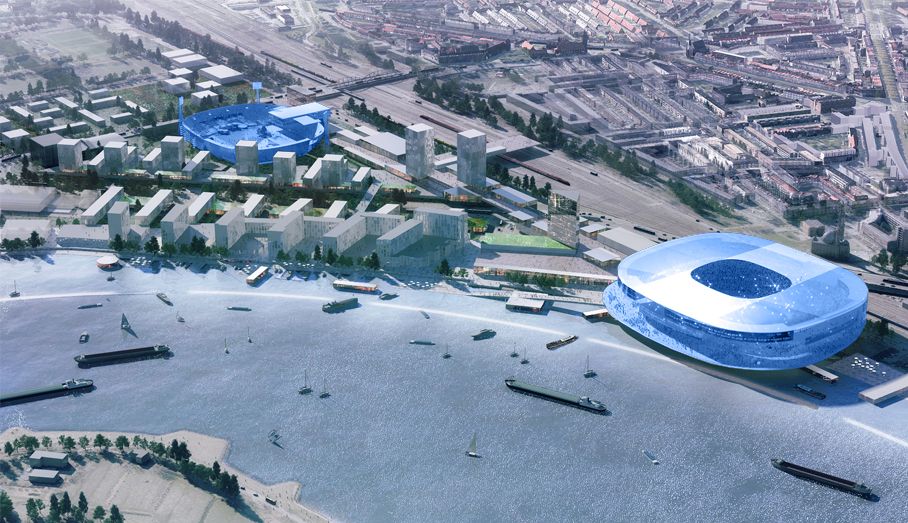 Details of the planned stadium will be worked on in upcoming months as the Rotterdam-based OMA architectural office proceeds in planning. Another major update will come in mid-Summer of 2016 and we should then know more about the stadium itself.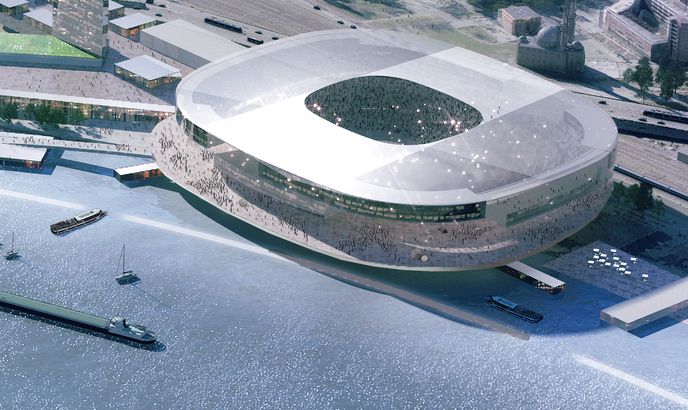 Perhaps even more interesting is the future of De Kuip. As we wrote previously, the stadium has to receive a legacy use, preferably without being demolished entirely due to its historical monument status.
It's thus proposed that the stadium bowl will be largely retained, though with a large opening in the south. Inside there will be room for commercial and leisure spaces. The site will also accommodate housing and spaces for supporters, who will have their football temple somewhat saved.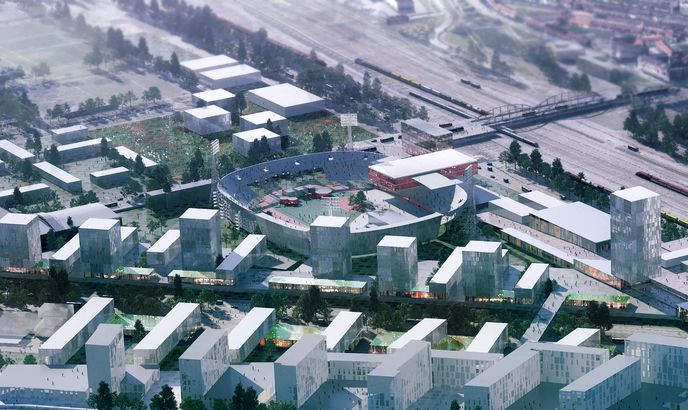 President Commissioner Cees de Bruin of the Feyenoord Stadion NV is enthusiastic about the choice: "At the river with a view of the city, this site has the best chance of optimal use. We have full confidence in the next phase of the project development".
On behalf of Feyenoord, President Commissioner Gerard Hoetmer is equally thrilled: "A stadium with which the club can move forward into the upper echelons of the national league and therefore also European. Furthermore, and proudly so, we will have a permanent destination for de Kuip as the home of our fans".
Over the coming months, the preferred option will be further developed with OperatieNL, the architects of OMA, the financial advisors of First Dutch, and various other parties.