New stadiums: Five stadia from three leagues in Japan
source: StadiumDB.com; author: michał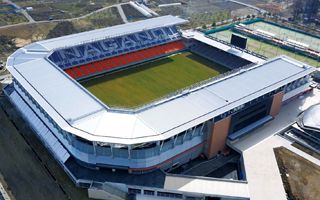 A couple seasons ago Japan launched their third professional football league. Now it's time for us to keep up with presenting their stadiums. By popular demand here are first Japanese stadia this year!
It's the last country you wanted updated in last year's polling on Twitter. So here are five stadiums used by four clubs from three leagues in one country. Do these numbers make sense? Well, the stadiums surely do!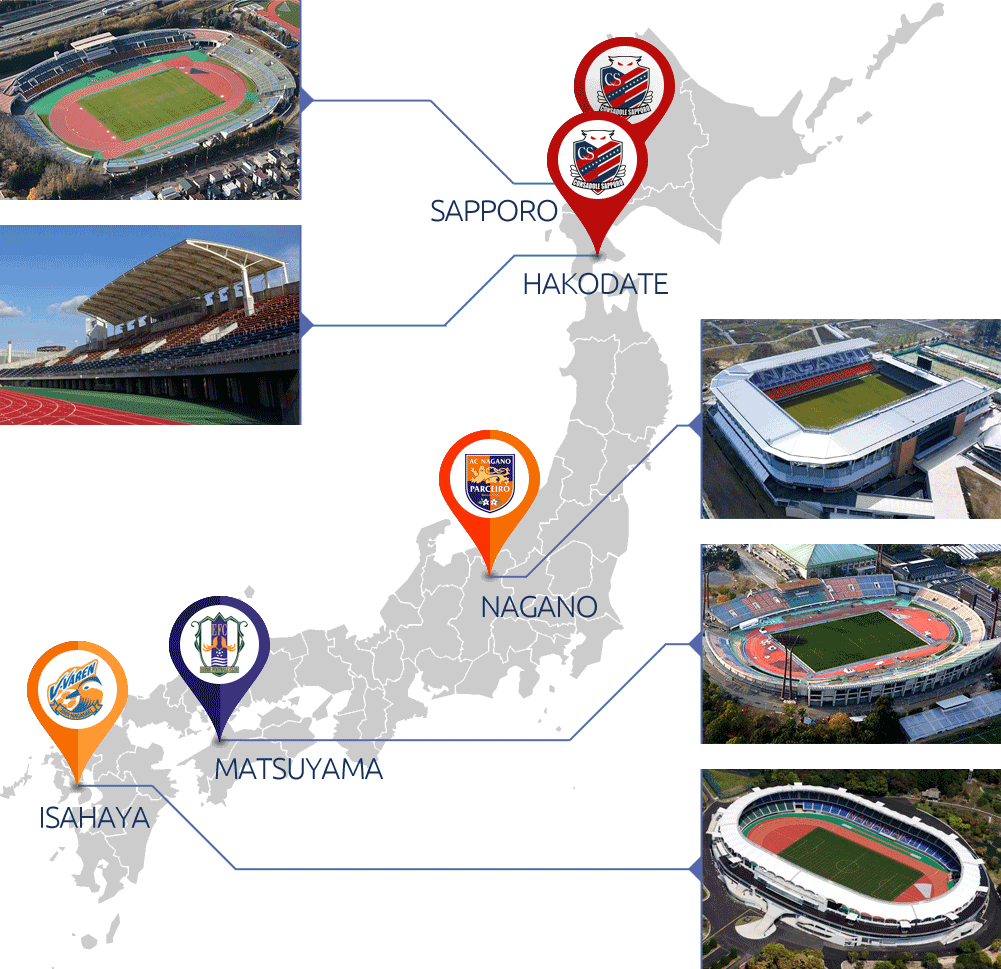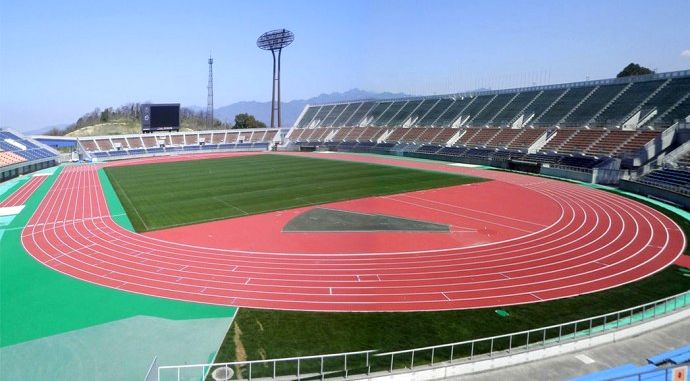 Property of the Ehime Prefecture, this athletic stadium was built in southern Matsuyama in 1979. At that point it had only one concrete grandstand in the west, while remaining sides were surrounded by low artificial slopes covered with grass.
Its distinctive floodlight masts arrived in 1994. Interestingly though, the first floodlit game took place already in 1993, when temporary lighting was used for the Sanfrecce – Antlers game.
Following the success of Ehime FC (promoted to 3rd league in 2003 and 2nd league in 2005), the stadium had to grow. Initial increase meant adding 5 rows of benches on the formerly green landfill.
This proved insufficient for the prefecture's aspirations (both in football and athletics) for the venue, prompting a much greater expansion in 2012. This time much greater additional sections were added on both ends, while by far the largest stand was built in the east, holding over 9,000 people. In 2015 this was complemented by installation of a 9-lane running track.
To finance at least part of the above works the prefecture signed a naming rights contract back in 2008. Called Ningineer Stadium officially, the stadium is often abbreviated as Ninsuta by locals.
Interestingly, Ehime FC doesn't usually use all of the stadium. The club opens only half of the stands (north and east) for regular games.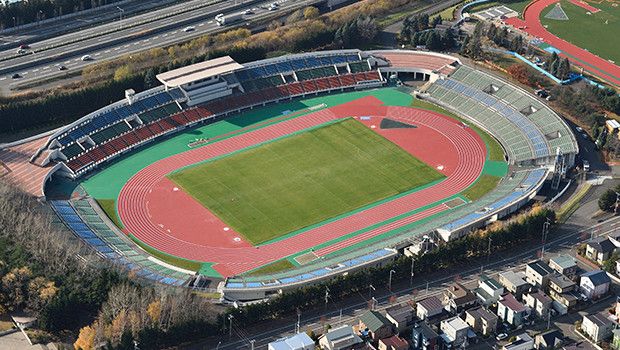 The multi-use stadium in south-east Sapporo was opened in 1986. Its early years saw only one grandstand operating (west), while remaining sides were green terraces. However, when a major tenant arrived (Consadole, 1994), it began growing with more permanent seating on other sides.
With J League requirements changing, floodlights had to be installed, but… never were. Instead of permanent lighting masts four cranes are used to lift the lamps when needed.
Atsubetsu has a special place in the hearts of Consadole fans. During first two seasons here the team was unbeaten and won 21 times, all this despite hardly being a powerhouse of Japanese football. This earned the stadium its "Holy Land" nickname.
Over the years magic began losing to infrastructural requirements, though. Atsubetsu is still a part of Consadole's every season, but only as few as two games were played per year in this location as the team moved most fixtures to Sapporo Dome.

The first stadium of Isahaya (east of Nagasaki) central sports complex was built in 1969. Its simple landfill stands maybe weren't among the largest, but proved enough to even hold an international game between Japan and South Korea in 1991. The stadium offered seating on the west and east sides, with ends left open. But due to distance and slope the sight lines were rather poor, even after addition of further rows in the 21st century.
This led to demolition of the aging structure in 2011 and construction of a brand new stadium. This time entirely with concrete and steel, the arena has two tiers of seating around the running track. The upper tier almost completely hangs above the lower, which makes the required roof surface modest.
While we're at the roof, its impressively shaped columns are the defining aesthetic feature of the stadium. Membrane cover helps collect rainwater to special tanks under the structure, later used for irrigation and toilets within the stadium. Solar panels were also used to increase sustainability.
Altogether the stadium offers 29,000 square metres of floor space, largely in the western grandstand. This part of the stadium, just like it was with its predecessor, is accessible via a slick promenade. Altogether there are 1,100 parking spaces, some 500 of which were added in recent reconstruction.
Professional team V-Varen Nagasaki currently play their home games at the stadium. Their most vibrant fans occupy the southern curve.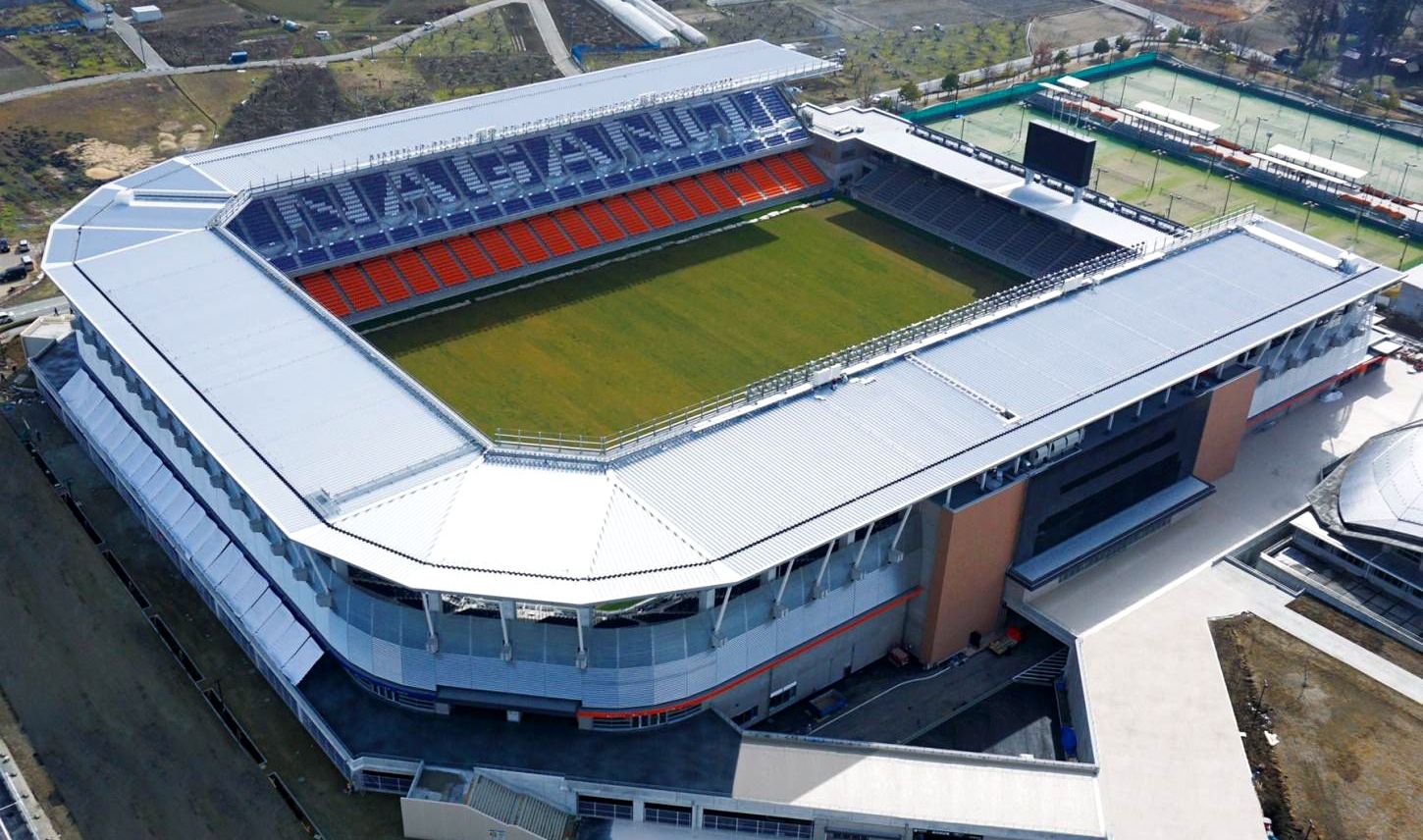 The Olympic complex in southern Nagano is usually associated the 1998 Olympics or baseball. These two thoughts are obviously true, but it's high time to think of this place as a football hub too. In 2002 a modest stadium was opened on the east edge of the park, holding up to 6,000 people, though very few seated.
In these circumstances local club AC Nagano Parceiro began to thrive. Especially when the plan of joining newly-formed J3 League was announced. The team joined the league in 2014, forcing investment in infrastructure. A brand new stadium was planned, now with 15,000+ seats to meet the J1 League regulations, should the club reach the Japanese top flight in the future.
Due to site constraints the stadium nearly touches the tennis court complex in the west. Main access route comprises of a vast ramp leading from the north-west, while smaller complimentary ramps are located around the stadium. All of these lead to the ground level.
At this point fans may either choose the lower tier with 12 rows or take the stairs up to the 14-row upper deck. Only the south end differs significantly in height and size, opening the stadium visually to the mountains just a few miles away.
The project was eventually worth almost ¥8 billion ($66m / €60m), noticeably above the initial estimations of 7.1 billion. Vast majority was publicly-financed, shared by the central budget (3.8bn) and municipal bonds (3.2bn). Despite large extent of work for a stadium of this capacity, all works were carried out in just 14 months.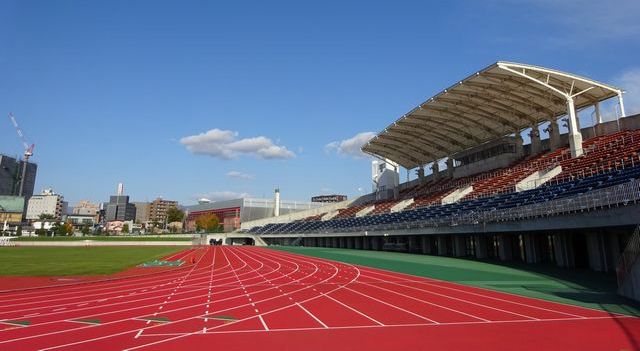 The stadium occupies over 30,000 square metres in central Hakodate. Ever since its reconstruction in 2001 it has a rare layout with the main grandstand built in the east rather than west. This side offered best access as a baseball stadium was built just beside it, both using the same plaza for public entry.
Only the main stand has seats, over 5,000. Remaining three sides are either grass terraces (west and north) or concrete terracing (south). When all are open, up to 15,000 people may enter the stadium, though one game in history saw an even greater number. This was when Consadole played their home game here against Gamba in 2001. Historically it's the Sapporo team who have played most fixtures in the otherwise tenantless stadium.