Kaliningrad: Construction still yet to begin
source: TASS / StadiumDB.com; author: michał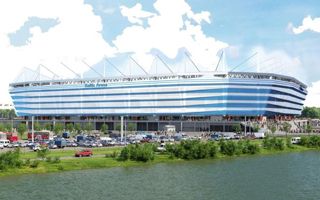 As shocking as it may sound, Kaliningrad is as late as a host city can be in beginning stadium construction ahead of the 2018 World Cup.
Fencing, site clearance and temporary water/electricity links. These are the works that were carried out on Kaliningrad's Oktyabrsky Island since mid-2014. Over a year and no foundation was even laid.
Now there are literally 2 years and 7 months left until first World Cup game is to be played in Kaliningrad. This means it's by far the most delayed stadium in Russia's first World Cup. Even more so, it's more delayed than any Brazilian or South African stadium was at similar stage. Maybe equaling Curitiba (the only Brazilian city threatened to lose its spot by FIFA last year), but that project required less work than is required in Kaliningrad.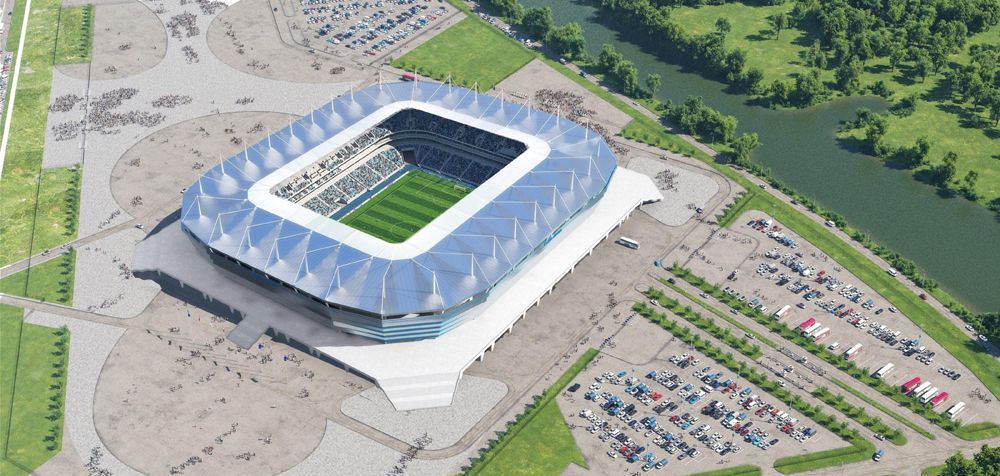 The news is troubling also compared to domestic deadlines. As we wrote in 2014, the Russian Sports Ministry required all stadiums to break ground by the end of 2014. In Kaliningrad that's yet to happen almost a year later. Of course piling works began in September and actual construction should follow soon, but this still leaves only 2 years for crucial works to be finished.

While all the above sounds extremely alarmingly, there's also good news. Kaliningrad's stadium project will be one of two most simple designs of the tournament and one of two smallest stadiums to be built. Using largely prefabricated elements it should begin to grow fast once works get in full swing next year. So while it's late, it's also realistically timed to be ready as required.
Time frame aside, the budget also has a question mark to it. Back in September, when we showed you the first piling photos, cost was estimated at RUB 17.5 billion ($270m / €255m). That's already well above the governmental cap of 15 billion. Now authorities admit it might still go up.
"The estimated cost of building the stadium is 18 billion rubles. Maybe a little bit more. We will try to use as much Russian equipment as possible", said Kaliningrad Governor Nikolai Tsukanov in his most recent interview with TASS.